« Sunday Morning Open Thread [Ben]
|
Main
|
Sunday NFL Thread [OregonMuse] »
October 21, 2012
Sunday Morning Book Thread 10-21-2012: Leftovers [OregonMuse]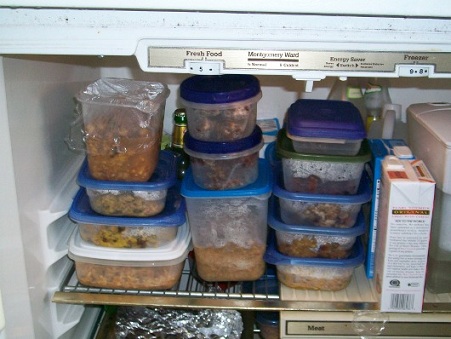 Meh. I've Seen Worse

Good morning morons and moronettes and welcome to the stale, funny-smelling, dubious-looking, too-long-in-the-back-of-the-refrigerator, yet maybe still tasty Sunday Morning Book Thread.

Odds & Ends From Last Week
In last week's book thread, which was a fun thread, I made a couple of egregious errors that I think deserve a revisit.
First, I said this:
There are two kinds of men in this world, poker players and chess players. Bush, according to those who knew him during his college years, was an excellent poker player and he won like crazy. Now, on the other hand, I can't imagine RN sitting down at the table with the boys for an evening of Texas Hold 'Em. But I think he'd have been a frightfully good chess player.
This howler prompted responses from at least half a dozen morons who informed me that no, actually, Richard Nixon played quite a lot of poker when he was in the Navy, and in fact did so well at it that he financed the down payment on a house with his winnings. So there. I obviously need to hire a fact-checker. I wonder if Mary Mapes still needs work?
I think my point about men being either chess players or poker players still stands, though. Me, I'm a chess player. Don't like poker, never have. I'd make a lousy president, or for that matter, a lousy CEO or other big-time decision-maker. I think the environment in which executives have to live and move and have their being can be more successfully negotiated by poker players.
And then later, I observed that the last American President to write a serious policy book was Jimmy Carter. But moron commenter Sawbuck refuted that:
Check out "A World Transformed" by George H.W. Bush and Brent Scowcroft about the diplomatic issues and opportunities with the collapse of the Soviet Union. A pretty good read
You can check out the Kindle edition here. It actually looks like it would be worth checking out.
Oh, and I almost forgot Grant's Memoirs. I didn't list every book by every president in last week's thread, but it seems I left off an important one. Leaving this one off the list last week was a colossal mistake. I did not know this, but apparently Grant's Memoirs are one of the best damn ass-kicking memoirs in the history of memoirs. Or ass-kickery. Seriously, if you only read the memoirs of only one president, Ulysses S. Grant's are the ones you want to read. And the Kindle edition is only 99 cents, so even cheap bastards like me have no excuse. And I haven't checked, but Project Gutenberg probably has it for free.

What I'm Reading
I've just finished Chicken Every Sunday: My Life With Mother's Boarders a few days ago. It's a reminiscence written in the 1940s about the funny, unique, and even crazy people whom the author's mother took in as boarders for extra income in Tuscon, Arizona around the turn of the (20th) century. It's in turns touching and hilarious, and I especially enjoyed it as a "slice of life" glimpse into the early days of Tucson, back when it was in the process of growing from a smallish town into a large, bustling city. [Update: I have been advised in the comments that Tucson is not, in fact, a 'large bustling city', but rather, a dump. I deeply regret this error.] A very fun read. I would like to read more books of this type, that tell of earlier times in America.
Boarding houses. Do they even have boarding houses any more?
Books By Morons For Morons
AoSHQ reader Michael Banzet, known on the internet for writing 'Why I Quit' after he retired from the Air Force after 22 years of service, has published a book about his experiences in Iraq, 'A Flowershop in Baghdad'. It's available on Kindle and at the createspace site. In his email, Mike says that he's "really hoping this book explodes, not only because I make a couple bucks, but I think that it may nudge people in the election, I'm not kindly to Democrats."

From the Mailbag
Thanks to those of you who have sent horror suggestions for the upcoming Halloween-themed book thread, which will be next week. And it's not too late for contributions, so if you could send me your favorite zombie/horror books, whether written by you or someone else, I'll see if I can incorporate it into or at least mention it on the thread.
Moron Scott writes in to ask:
Heyo,

Do you think those who have published books (hardcopy or e-copy) would mind sharing how well their sales are doing? Something like number of copies all-time, per month, against price per copy, etc.

It would be inspiring to the rest of us aspiring literamorons.
I've often wondered this myself. Any words on this in the comments from you moron authors would be greatly appreciated.

As always, book thread tips may be sent to aoshqbookthread@gmail.com
So what have you all been reading this week?

posted by Open Blogger at
10:50 AM
|
Access Comments