« Gallup: Romney 50, Obama 46
Bonus: UPI Poll Shows 3 Point Romney Lead, 49-46
|
Main
|
Claire McCaskill: The Good News Is, Our Emissions Are Down, Because of the Recession »
October 16, 2012
CAC And I Talk Polling And The Election
Calling this a podcast would be overstating the facts just a bit. Call it....an experiment that might lead to an actual HQ Podcast.
In the meantime enjoy CAC talking about his favorite thing....polling.
We don't have a fancy (or any) theme song (yet) so we pick the action up right away with CAC talking about everyone's favorite swing state....Ohio and the myths about early voting numbers there.
Oh and a bit of caution...this is the first time I've ever actually spoken to CAC and he has a bit of a potty mouth So if you're at work....use your headphones.
Also, below the fold, John E. illustrates what happens when a lightweight like Obama tries to throw Hillary under the bus.
Hillary Smash puny morons like Obama.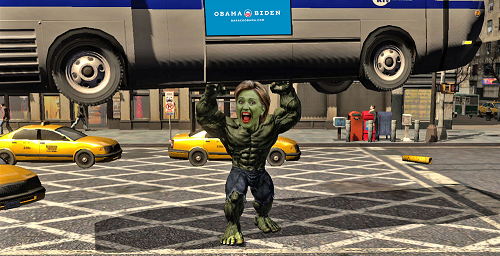 posted by DrewM. at
01:47 PM
|
Access Comments