« Intercepted Phone Call That The Administration Relied Upon To Claim A "Protest" At Benghazi ALSO CONTAINED ACKNOWLEDGEMENT FROM AL QAEDA THAT THEY WOULD PROCEED WITH THE PLANNED ATTACK
|
Main
|
USS Cole, Part II »
October 12, 2012
Twelve Years Ago Today: The Bombing of the USS Cole
In memory of the 17 US Navy sailors who lost their lives in an attack by Al Qaeda on the USS Cole. The is the Cole Memorial, at Norfolk Naval Station.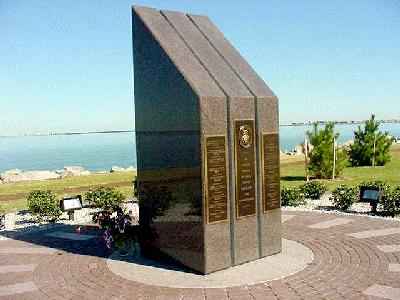 We let our guard down or show weakness, this is what they do. Just like last month. Only this time they were thoughtful enough to tell us they were coming.
39 other sailors were injured in the attack. Below the fold, the names of those who perished.

via Viv Lee
Also from the sidebar, Command Sergeant Major Basil Plumley, US Army, passes at 92. A combat veteran of three wars, remembered forever in Ia Drang glory. May he rest.
Chief Petty Officer Richard Costelow
Signalman Seaman Recruit Cheron Luis Gunn
Seaman James Rodrick McDaniels
Seaman Recruit Lakiba Nicole Palmer
Operations Specialist 2nd Class Timothy Lamont Saunders
Ensign Andrew Triplett
Seaman Apprentice Craig Bryan Wibberley
Hull Maintenance Technician 3rd Class, Kenneth Eugene Clodfelter
Mess Management Specialist Seaman Lakeina Monique Francis
Information Systems Technician Seaman Timothy Lee Gauna
Engineman 2nd Class Mark Ian Nieto
Electronics Warfare Technician 3rd Class Ronald Scott Owens
Engineman Fireman Joshua Langdon Parlett
Fireman Apprentice Patrick Howard Roy
Electronics Warfare Technician 2nd Class Kevin Shawn Rux
Mess Management Specialist 3rd Class Ronchester Mananga Santiago
Fireman Gary Graham Swenchonis Jr.


posted by Dave In Texas at
03:06 PM
|
Access Comments