« Thursday Night Football
|
Main
|
Speculation About Today's Job Figures: 8.2% Unemployment, 113,000 Jobs »
October 04, 2012
Overnight Open Thread (10-4-2012)
A Fascinating Interview with Nolan Bushnell
Nolan Bushnell is most famous for founding Atari and creating the entire video game industry in the 70's and starting the Chuck E Cheese pizza chain in the 80's. These days he's now focusing on micro-games and software to improve learning.This may not sound so exciting but then this is Bushnell we're talking about.
Bushnell is also famous for hiring a local kid - Steve Jobs - despite his lack of a college degree or any formal training in electronics. Later Jobs brought in his friend, Steve Wozniak, as consultant on the Atari video game, Breakout. Jobs always admired Bushnell and considered him a mentor in business and in life. Watch this video and you can begin to see why Jobs was so impressed with him.
It's a long interview but well worth it to hear Bushnell discuss the connection between video games and learning, the importance of 'flow', why college loans are slavery, how welfare is a poison to the soul, the Arab Spring, the existence of God, as well as how to protect your privacy on Facebook and Twitter. I think I now know where Dos Equis got the idea for their ad campaign.
If you're in a hurry and don't care about Atari history, jump to 18:00 where it really starts getting good.
During the memorial service for Libyan ambassador, Chris Stevens, Obama said this:
Chris Stevens loved his work.  He took pride in the country he served, and he saw dignity in the people that he met.

Two weeks ago, he traveled to Benghazi to review plans to establish a new cultural center.
And Mark Steyn points out how wrong this was and how it fails the classic test for aspiring diplomats:
What does that phrase "the country he served" mean? The country Ambassador Stevens was supposed to be serving was the United States, just as Libyan diplomats in Washington are supposed to serve the national interest of Libya. Yet in the context of his surrounding remarks (which are all about the place he was posted to: Chris "crafted a vision for the future", "supported the birth of a new democracy", etc) the President appears to give the impression that he thinks "the country he served" was Libya.

This would seem to be a failure, at the very top, of the old George Schultz test.
But how about a nod to the man who predicted tonight's outcome well over a month ago, in Tampa, with a speech and prop that were widely derided at the time by the chattering class.  We refer, of course, to Clint Eastwood and that famous empty chair.  Well, that empty chair (and empty brain at the other end) were on full display in Denver tonight.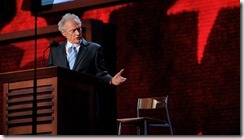 Do you use : ) or  :-) as a smiley? Well one marks you as a young punk and the other as an old fogey:
But emoticons with noses cluster separately from variants without noses. So one cluster includes : ) ; ) : D and = D and another contains :-) :- D :o) ;-) and :-P. Emoticons with noses are historically older. Since it is words that unite and distinguish clusters, this means that people who use old-fashion noses also use a different vocabulary-nose users don't mention Bieber or omg.
Could Japanese Troops Protect the Senkaku Islands?
Probably not at the moment which is why Japan is scrambling to get up to speed in amphibious warfare in case they have to retake the islands from a Chinese force.
As China steps up its activities in the waters of East Asia, the Japanese military is building up its capabilities for defending remote islands. That's why 40 troops from the Ground Self  Defense Force have been on Guam and nearby islands in the past few weeks, receiving training from U.S. Marines on amphibious war tactics.

In a worst-case scenario - highly unlikely at this point - where Japanese troops actually have to defend an island, how would they do? During our recent trip to Guam, JRT posed the question to some real pros from Japan and the U.S. Their conclusion: GSDF troops are well-trained, professional soldiers, but when it comes to specific skills required for landing on and defending an island, they still need training.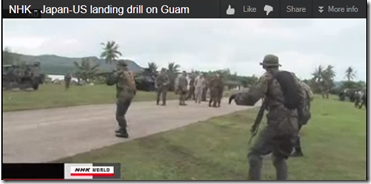 A WSJ interview with Count Anton Wolfgang von Faber-Castell, famous for his pencils, where he points out the marvel of modern pencils and answers such questions as where does "Mongol" come from on the pencil label, how we ended up with hexagonal and now triangular pencils, and what is best pencil in the world.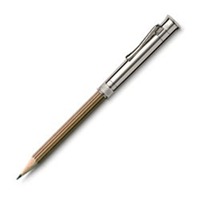 An Interview with Ms Hannah Minx
From 2010 so it's a younger, less worldly yet minxier H. Minx. Also sadly it's with the execrable Cenk Uygur but he's less obnoxious than usual here.
Yahoo group. That is all.
And my Twitter spew.
Tonight's post brought to you by October: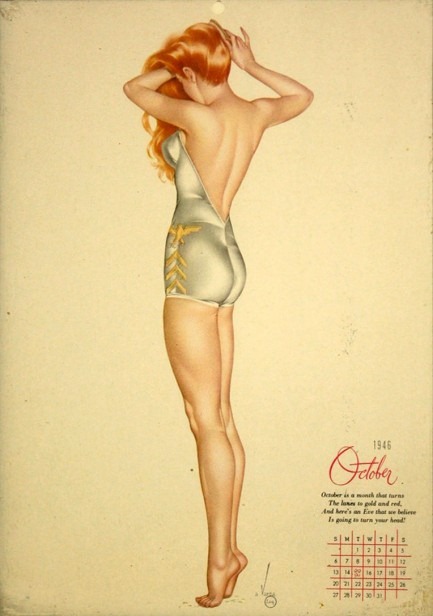 Notice: Posted by permission of AceCorp LLC. Please e-mail overnight open thread tips to maetenloch at gmail. Otherwise send tips to Ace.

posted by Maetenloch at
10:06 PM
|
Access Comments