« Comments SNAFU; Wheels... Not Quite In Motion
|
Main
|
Top Headline Comments 10-2-12 »
October 01, 2012
Overnight Open Thread (10-1-2012)
[Above-the-post Update - Andy: I broke out the emergency comment site while we wait on Pixy to round up a spare TRS-80 floppy. Old-school comments are back.]
[Above-the-post Update - Pixy: Do you know how hard it is to get TRS-80 floppies these days? I had to overwrite my copy of Zork. :(]
He was buried at sea with a US Navy honor guard aboard the USS Philippine Sea (CG 58 ) on Sept. 14th. Captain Steve Shinego, commanding officer of the USS Philippine Sea presented the US flag to his wife, Carol Armstrong, following the service.
Space Combat vs. 'Aircraft Carriers in Space'
Naval analyst Chris Weuve explains the difference and how movies and books get it wrong:
There are so many that are so bad. Star Wars is probably the worst. There is no explanation for why X-Wings [fighters] do what they do, other than the source material is really Zeroes [Japanese fighter planes] from World War II. Lucas quite consciously copied World War II fighter combat. He basically has said they analyzed World War II movies and gun camera footage and recreated those shots. Battlestar Galactica has other issues. One thing I have never understood is why the humans didn't lose halfway through the first episode. If information moves at the speed of light, and one side has a tactically useful FTL [faster-than-light] drive to make very small jumps, then there is no reason why the Cylons couldn't jump close enough and go, "Oh, there the Colonials are three light minutes away, I can see where they are, but they won't see me for three minutes?"
The Dictatorial Impulses of the Left
Many people on the Left have become so comfortable with the desire to control everyone else's lives that they barely even bother with the pretense that they're somehow in favor of freedom
It is difficult now to imagine a modern university intellectual saying something as simple and unequivocal as "I disagree with what you say, but I defend to the death your right to say it." He would be more likely to think, if not actually to say out loud or in public, "I disagree with what you say and therefore rationalise to the death my right to suppress it." In public, he would be more circumspect, presenting a suppression of freedom as an actual increase in freedom; that is to say of real freedom, not the kind the leaves everyone free to sleep under a bridge. But he would know perfectly well in his heart that what he was after was power: the greatest power of all, that to shape, mould and colour indelibly the thought of others, a power to which he believes that he has a right by virtue of his superior intellect, training and zeal for the public good.
And let's not forget the equally progressive efforts to shape young minds at Queen's University, which decided that students' private lunchtime discussions were in need of monitoring by hired eavesdroppers called "dialogue facilitators." Eavesdroppers whose uninvited "interventions" would "encourage discussion of social justice issues" and "issues of social identity, power and privilege," as defined by them and whether welcome or not. "Positive spaces and mindsets" would of course be created. If that doesn't sound sufficiently creepy and absurd, take five minutes to read how this "facilitation" was supposed to happen. Then ask yourself how you might respond to such monitoring and linguistic intervention. And note that, when challenged on their intentions, these champions of "social justice" were all too willing to lie.
Also: College Professor Offended by Free Speech Wall
Max Boot: Why Aid to Egypt Makes Sense
Foreign aid is intensely unpopular among American voters and it has often backfired and failed to produce growth, as Governor Romney noted in a recent speech. But in this case the U.S. aid is not designed to promote long-term growth; it is designed to tide Egypt over to prevent an immediate crisis. And extending more aid to Egypt actually enhances our leverage over the new government-something that President Obama was able to take advantage of after the embassy attack to tough talk with Morsi, forcing Egypt's president to strongly condemn the anti-American violence and to order a more vigilant role by the security forces in protecting the American diplomatic outpost.
I have no problem with using aid as bribery - but in this case if all we got for our nearly half a billion dollars was a condemnation of anti-American violence and some promises of better embassy security, then we ain't getting our money's worth. We could be moderately despised at a tenth that amount.
Global Warming Killed 5 Million People in 2010!!!!
Well not really once you get past the dishonesty and deliberate exaggeration:
When the study reports that 4.975 million people die in 2010 from the "combined climate-carbon crisis", the reality is that 4.575 million have not been caused by global warming.

Essentially, the report's authors claim that 0.4 million actually die from global warming (this number itself is very likely exaggerated, as I have described in my book Cool It, but a closer examination is beyond the scope of this article). Yet the impression clearly intended for the media was almost 5 million deaths, or a more than twelve-fold exaggeration.
And so far this year another 42 million people have died from the combined climate-carbon-old age/disease-not-getting-outa-my-way-fast-enough crisis.
The Perils of Partying with Lindsay
Where a staffer for Republican Congressman Jim Shimkus (IL) learns that Lindsay parties kinda rough:
Lindsay Lohan tussles with congressional staffer in Manhattan hotel room over cellphone photos, tells cops he choked her.

It's unclear if she already knew LaBella, who works for Republican Rep. John Shimkus of Illinois and is the nephew of comedian Heather McDonald.

Cops say Lohan took Christian LaBella's cellphone so she could delete pictures of her partying - and he got physical with her trying to get it back.

After Lohan called the cops, LaBella was initially charged with misdemeanor assault for Sunday's blowup at the W Hotel Union Square.

But law enforcement sources said the assault rap will be dropped - and LaBella, 25, and Lohan, 26, will both be hit with low-level harassment violations.

It would be Lohan's second legal scrape in as many weeks, coming on the heels of her arrest for leaving the scene of a minor car accident.
Poor Lindsay - always the victim of completely random bad events. :roll:
Lohan is on her 23rd strike here so at this pace she might actually spend a complete day in jail sometime around 2016.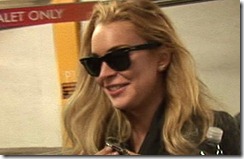 Well I like bicycling but in general I hate bicyclists. Not that there's anything wrong with riding a bike - but something about riding them more than occasionally seems to bring out the passive/aggressive nature and smug sanctimony in people. And the more spandex and semi-pro gear they wear, the stronger the douche factor.
This article by a self-proclaimed asshole cyclist doesn't really help:
I'm an asshole cyclist. I'm that jerk weaving in and out of traffic, going the wrong way down a one-way street, and making a left on red. I'm truly a menace on the road.

...And some of us are trying to get better. I've recognized that my bad behavior keeps others from taking up riding, and keeps politicians from investing in things I care about, like more bike lanes. So I've stopped riding on sidewalks and try to keep my illegal lefts to a minimum. But I've been a jerk for a real long time. So, let me say this to drivers, pedestrians, and my fellow riders alike: I'm sorry. See, aren't cyclists the nicest, most polite people in the whole world?
And when you get organized groups of asshole cyclists like Critical Mass, it's not a shock when this happens.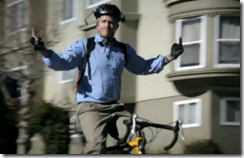 It's Decorative Gourd Season, Motherfuckers
I don't know about you, but I can't wait to get my hands on some fucking gourds and arrange them in a horn-shaped basket on my dining room table. That shit is going to look so seasonal. I'm about to head up to the attic right now to find that wicker fucker, dust it off, and jam it with an insanely ornate assortment of shellacked vegetables. When my guests come over it's gonna be like, BLAMMO! Check out my shellacked decorative vegetables, assholes. Guess what season it is-fucking fall. There's a nip in the air and my house is full of mutant fucking squash.

...And I'm just going to thread another gourd onto my necklace without breaking their gaze and quietly reply, "It's fall, fuckfaces. You're either ready to reap this freaky-assed harvest or you're not."
The Yahoo AoSHQ group. Bla bla bla.
And my twitter thang.
Tonight's post brought to you by rifles and guns: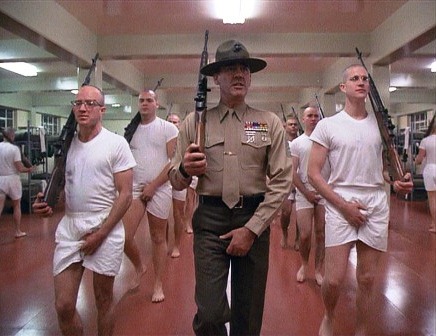 Notice: Posted by permission of AceCorp LLC. Please e-mail overnight open thread tips to maetenloch at gmail. Otherwise send tips to Ace.

posted by Maetenloch at
10:10 PM
|
Access Comments