« Update: How The DCBOEE Might Have Inadvertantly Tweeted That Link
|
Main
|
Top Headline Comments 9-28-12 »
September 27, 2012
Overnight Open Thread (9-27-2012)
I was pleasantly surprised to be able to get most of these without having to think too hard. How many can you name?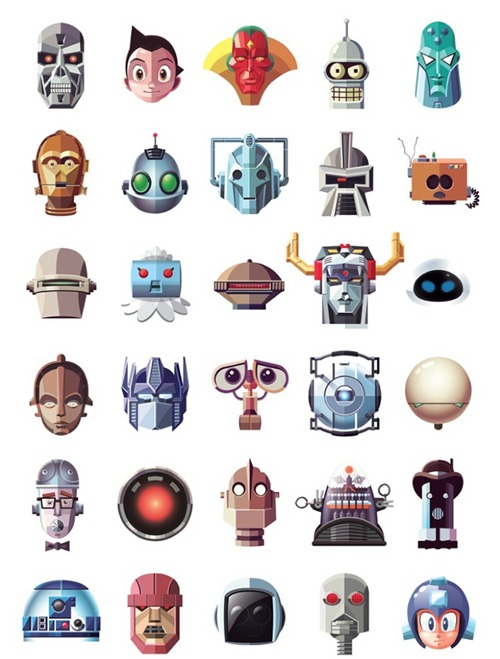 (Answers below the fold)

Thomas Sowell on why redistribution always results in poverty:
You can only confiscate the wealth that exists at a given moment. You cannot confiscate future wealth -- and that future wealth is less likely to be produced when people see that it is going to be confiscated.
Is It Racist to Call Obama-Phones 'Obama-Phones'?
Yes - says the Atlantic's Elspeth Reeve (you may remember her from her fabulist husband, Scott Beauchamp):
Let's start by saying it's racial. The Obama Phone video belongs to a genre popular on conservative blogs in which poor people, usually black, confirm conservatives' worst 47-percent fears by saying they can get something for nothing because Obama's in office. The message is, "Here's what Obama's supporters really look like."
Well except that the term had become so common that even one of the providers referred to it as such in 2010 press release.
It's been known to drive some men to insanity but John Crace harnessed the vajayjay-crayzay to produce art:
As I began my research - I cannot recommend the findings of Dr Pfaus's MRI scans of the cervix too highly - I began to make some remarkable discoveries. A vagina that is neglected can easily fall into a deep depression; indeed, I encountered several that had self-sealed in an act of suicide. Meanwhile, a pampered vagina is capable of acts of great creativity. It is a little-known fact that Edith Wharton wrote the House of Mirth with her clitoris. And while it is true that the vagina may sometimes become addicted to her own happiness, this is something society ought to celebrate, rather than control with a strict 12-step programme that insists on submission to a male God.

...I had experience of this directly when a male friend, whom I shall call Neanderthal, offered to host a party in celebration of my vagina. "I've made some vulva-shaped pasta that I've named cuntini," he laughed. I gasped as I noticed he was also serving champagne out of deliberately phallicised bottles and had not even had enough respect to circumcise the sausages. My vagina went into a three-year spasm during which I was unable to do anything except write to Ban Ki Moon and insist that verbal insults to the vagina be considered a war crime.
And Florence King delivers some classic snark on Wolf's giney as well:
Naomi Wolf's new book makes going back to the womb sound more like going through a car wash. We are knocked down by streams of gushing hormones, we slip and slide on slick layers of lubrication, we are thrown to the floor by violent throbbing, we collide with G-spots, we are challenged by a clitoris demanding "Who goes there?" and yanked in by a cervix with a strength more often found in bar bouncers.

...Far from saying anything new, this oleaginous mess of a book is a reprise of the feminist heyday of the Seventies, which Wolf calls "a pretty good decade for the vagina." Much of it reads like The First Sex (1972), by Elizabeth Gould Davis, who claimed that in the era before recorded history, people worshipped goddesses, matriarchy reigned supreme, and women, the dominant sex, dropped their babies in birth buckets during pit stops at the chariot races while passive, adoring males chewed on umbilical cords like beef jerky.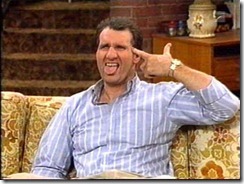 Oh Goody: Code Pink Going To South Waziristan To Protest CIA Drone Strikes
Seven Members of Veterans For Peace are part of a 40-member delegation organized by Code Pink and planning to be in Pakistan between September 28th and October 10th. VFP members Leah Bolger, Dave Dittemore, Bill Kelly, Jody Mackey, Rob Mulford, and Ann Wright will meet with drone victims' families, elected officials, tribal elders, and residents of South Waziristan, where U.S. drone strikes have killed thousands, while injuring and making refugees of many more. Code Pink's Medea Benjamin is an associate member of VFP
Well I'm sure hilarity will ensue followed by a growing understanding on both sides that we're really not all that different under our pink floppy vagina suits after all. Or maybe not:
Yeah, the Taliban just love them some more so called NGO's necks to saw off, before they rape/sodomize them. Hell, they may even make it onto YouTube in a hostage video. Canadian and owner of Jihad Unspun, Beverly Giesbrecht (aka Khadija Abdul Qahaar), WAS a Taliban sympathizer. She died while in their captivity.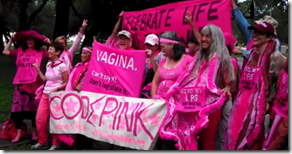 Mona Eltahawy: It Was Civil Disobedience - Not Free Speech!
So now she admits that spray-painting over public posters is actually against the law - but that's okay because she's civil disobediencing:
Some New Yorkers have called 311 to complain about the racist ad, some engaged in civil disobedience. Find your way to say #FuckRacism
- Mona Eltahawy (@monaeltahawy) September 27, 2012
And Aaron Worthing talk about what civil disobedience really means:
In Dr. King's case that seems reasonably applied.  I mean technically, the law wasn't unjust in the way it was written, but it was being applied unjustly, but I think people can consider that a reasonable application of his principle.

But what is the unjust law here?  The law against defacing property?  The law against graffiti?  Because that is what she is being charged with violating.  I asked her this question:

You are claiming civil disobedience now? okay what unjust law did you refuse to obey? are anti-graffiti laws unjust? @monaeltahawy
- Aaron Worthing (@AaronWorthing) September 27, 2012

Oddly she has chosen not to answer me.
Why Aircraft Carriers Still Matter
Every few years some analyst declares them obsolete yet they keep on sailing because they're so versatile and effective:
Moreover, governments find a way to use aircraft carriers that doesn't involve high intensity combat against peer opponents. However expensive they may be, U.S. carriers have proven infinitely more fungible than the array of missile boats, short range submarines, and advanced missiles that the PLA has deployed to counter them.  A U.S. carrier can show the flag outside the Strait of Hormuz, support relief operations in Haiti, or kinetic military operations in Libya, while an armada of DF-21D ASBMs can do little but sit and wait.

This is why states continue to build (and buy) aircraft carriers even at great trouble and expense. A carrier may never run the risk of an anti-ship missile during its long lifespan, but it will likely contribute to the national interest in some fashion.
Nothing quite focuses a person's attention like a hostile air base parked just off-shore.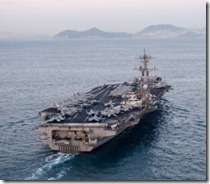 More human than human: AI Game Bots Pass Turing Test
You may have been pwned by an AI:
For five years, the annual BotPrize competition has been using a variant of the Turing Test known as a "Computer game bot Turing Test" to challenge programmers, researchers and hobbyists to create a bot for Unreal Tournament 2004 (UT2004) that is indistinguishable from a human player. Fittingly, in the centenary year of Turing's birth, not one but two teams have finally claimed the prize by achieving "humanness ratings" of over 50 percent. In comparison, human players received an average humanness rating of just over 40 percent.
Well us biologicals do have creative and repetitive cursing on our side...for now.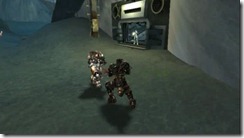 Well this sure seems like one. On the left is a picture from Mars and on the right is a stream bed from Earth.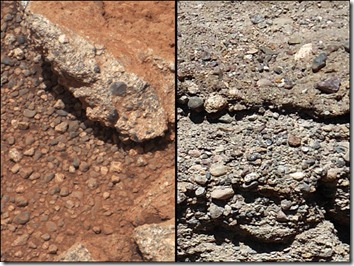 The 1982 Victoria's Secret Catalog
Clearly lingerie technology had progressed since the dark days of 1979.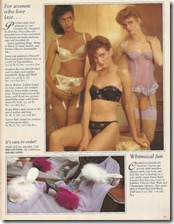 Yahoo group. That is all.
And my Twitter spew.
Tonight's post brought to you by the B'nai B'rith Robot Zombie Anti-Discrimination League: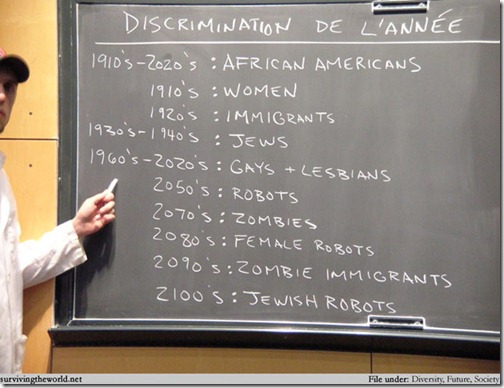 Notice: Posted by permission of AceCorp LLC. Please e-mail overnight open thread tips to maetenloch at gmail. Otherwise send tips to Ace.

posted by Maetenloch at
10:12 PM
|
Access Comments