« Ahmadinejad's Spokesmen Gets Spat On, Harassed, Kicked in the Ass By Iranian Refugees In NYC
|
Main
|
Top Headline Comments 9-27-12 »
September 26, 2012
Overnight Open Thread (9-26-2012)
Well certainly not everywhere - Florida and Vegas still have a long ways to go - but this chart does suggest that home prices are finally getting back to where you'd expect them to be based on long-term averages.
Basically we're back to 1998 levels. So it's as if the entire real estate bubble in the 2000s never happened. Well except that it did - leaving some people winners and many losers.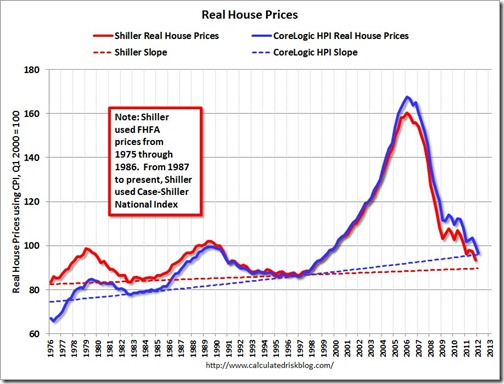 Obama: If You Slander Islam's Prophet, You Forfeit Your Ownership of the Future
Geraghty tries to apply some logic to Obama's speech and finds all kinds of disturbing and unanswered questions:
First, notice the trademark Obama passive voice. What does it mean, "the future must not belong to" a particular group?

Does it mean these people won't be around in the future?

That in the future, their viewpoint will be marginalized? Out of style? Unpopular? Suppressed? That sometime between now and "the future," they will have changed their mind? That at some point in the future, no one will feel like slandering the prophet of Islam? Is the First Amendment still in effect in this envisioned future, or has it been rewritten or modified on this topic?

...Another helpful hint: in a Hollywood movie, if you see a character who emphasizes that he and his kind are the future, and those who are different no longer matter, that character is probably the villain.
So, remember the old Milton Friedman/Ronald Reagan joke about how if the Soviet Union took over Saudi Arabia after a few years there'd be a shortage of sand?  Well guess what?  Venezuela, which has one of the largest proven oil reserves in the world, is having to import oil and petroleum products because their socialized oil industry is so corrupt and inept.  Couldn't happen to a more loathsome bunch of socialist twits.
Dirty Jobs' Mike Rowe Endorses Romney
...Today, we can see the consequences of this disconnect in any number of areas, but none is more obvious than the growing skills gap. Even as unemployment remains sky high, a whole category of vital occupations has fallen out of favor, and companies struggle to find workers with the necessary skills. The causes seem clear. We have embraced a ridiculously narrow view of education. Any kind of training or study that does not come with a four-year degree is now deemed "alternative." Many viable careers once aspired to are now seen as "vocational consolation prizes," and many of the jobs this current administration has tried to "create" over the last four years are the same jobs that parents and teachers actively discourage kids from pursuing. (I always thought there something ill-fated about the promise of three million "shovel ready jobs" made to a society that no longer encourages people to pick up a shovel.)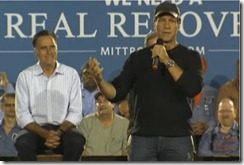 Well he'd probably be an entertaining one - if you don't mind the occasional unintentional insult and screwed up orders.
Got your friends here, party of six. Lady in the hat. Great to see you. My name is Joe Biden and I'll be your server tonight. Lemme tell you a story. (He pulls up a chair and sits.)

...I get . . . I get emotional talking about José. This is a guy who-José gets here at ten in the morning. Every morning, rain or shine. Takes the bus here. Has to transfer twice. Literally gets off one bus and onto another. Twice. Never complains. Rain, snow, it's hailin' out there. . . . The guy literally does not complain. Never. Never heard it. José walks in, hangs his coat on a hook, big smile on his face, says hello to everybody-Sal the dishwasher, Angie the sous-chef, Frank, Donna, Pat. . . . And then do you know what he does? Do you know what José does? I'll tell you what he does, and folks, folks, this is the point I want to make. With his own hands, he sprinkles fresh house-grown rosemary on those potatoes (raises voice to a thundering crescendo), and they are golden brown on the outside and soft on the inside and they are delicious! They are delicious! They are delicious!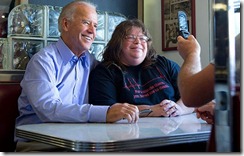 Chuck Woolery - The Early Days
This was his first appearance on TV.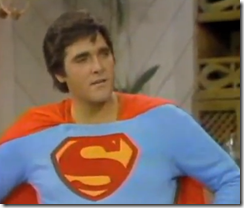 And here's what he's up to these days:
Plus why game shows hosts vote Republican.
So good  it actually seems fake.
Meet the Human Humpbot - thanks to Russ.
Teh Tweet!
Yahoo group. That is all.
Tonight's post brought to you by awkward sex scenes: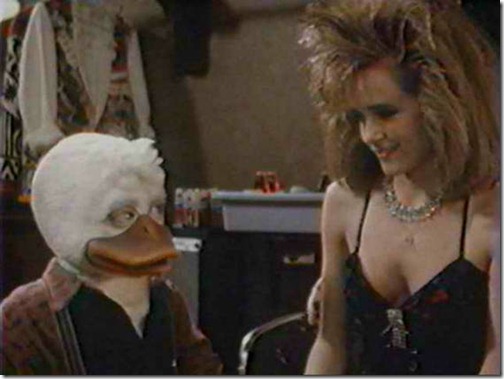 Notice: Posted by permission of AceCorp LLC. Please e-mail overnight open thread tips to maetenloch at gmail. Otherwise send tips to Ace.

posted by Maetenloch at
10:20 PM
|
Access Comments