« Report: State Dept. Was Warned of Benghazi Attack 48 Hours In Advance And Did Nothing: Sensitive Documents Noting Libyan Agents Stolen From Safe House
|
Main
|
Top Headline Comments 9-14-12 »
September 13, 2012
Overnight Open Thread (9-13-2012)
The National Political Conventions by Words
This word map pretty much tells you where the two parties are coming from. On the right you have mostly virtues and ideals and on the left you essentially have a menu of services.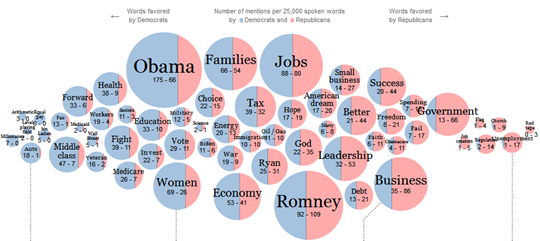 Well there's getting getting every single detail wrong and then there's beclowning yourself while giving an editorial BJ to your president-boyfriend like Andrew Sullivan back in 2007:
Consider this hypothetical. It's November 2008. A young Pakistani Muslim is watching television and sees that this man-Barack Hussein Obama-is the new face of America. In one simple image, America's soft power has been ratcheted up not a notch, but a logarithm. A brown-skinned man whose father was an African, who grew up in Indonesia and Hawaii, who attended a majority-Muslim school as a boy, is now the alleged enemy. If you wanted the crudest but most effective weapon against the demonization of America that fuels Islamist ideology, Obama's face gets close. It proves them wrong about what America is in ways no words can.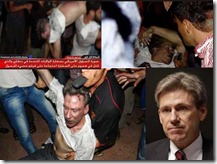 Romney Being Left Out in the Cold?
So Romney has been the GOP nominee for three weeks but he has yet to receive a single intelligence briefing that's offered to each party's nominee.
Given the gravity of issues facing a prospective commander-in-chief, it has become customary for each party's nominee to receive regular intelligence updates during the run-up to the fall election. In 2008, then-Senator Barack Obama received his first briefing just five days after accepting the Democratic nomination.

So why hasn't Mitt Romney received the same courtesy? According to a spokesman for the Director of National Intelligence, it's a matter of "logistics."
Well 'logistics' and a lack of willingness on the Obama administration's side.
Today, for example, Governor Romney is campaigning in Fairfax, Virginia, barely 16 miles from ODNI headquarters in nearby McLean. Yeah, traffic on the Beltway or I-66 can be a bear, but it wouldn't be that difficult to dispatch a briefer to Mr. Romney's hotel and allow him to review a hard-copy or computer version of the daily summary.

...Truth be told, the "logistics" of getting intel information to Governor Romney are pretty simple. It's really a matter of professional courtesy, one that was readily extended to candidate Obama in 2008, but one that has been denied to Mr. Romney this time around. It's a subject you'd think the mainstream media might be interested in, but they're too busy trying to stretch the Libya coverage theme into multiple news cycles.
Why So Many Green on Blue Attacks in Afghanistan?
Short answer: the Afghanis are a twitchy, murderous lot. Plus you have the Taliban causing trouble.
While the shooting of NATO troops makes the headlines, what is largely ignored is that even more Afghan police and soldiers are killed the same way. Afghanistan is a violent place, always has been, and it's difficult to eliminate the tendency towards trigger-happy temper tantrums with only a few months training. So far this year, 13 percent of NATO combat deaths have been because of these attacks. That's twice the rate last year. The Afghan government blames foreign spies but admits that a lot of the bribing and recruiting of Afghan soldiers and police for this is done by Afghan Taliban.

The U.S. believes that only a quarter of the deaths are orchestrated by the Taliban, the rest are the result of anger management, cultural differences, and mental health issues among Afghan personnel working with NATO forces. American commanders also note that more of these attacks are directed at fellow Afghans in uniform. Fewer of these are instigated by the Taliban. Instead, the Taliban likes to concentrate on intimidating and assassinating military and police commanders. This is an ancient Afghan custom and the reason why Afghan leaders take it for granted that they always need lots of bodyguards, usually men from their own extended family. Bribing bodyguards is another old Afghan custom.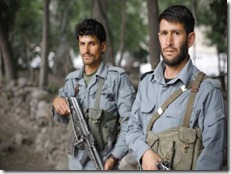 From Thrash Metal to Watchmaking
Dan Spitz was the lead guitarist for the heavy metal band Anthrax for over 12 years. And then he quit to do what he was really interested in...making watches.
John Reardon: You suddenly lost interest in playing guitar in 1995, ripped the stereo equipment from your cars and house, and gave all your guitars to Hard Rock Café. Why the sudden lost of interest in music and how sudden was your awakening to the call of watchmaking?

Dan Spitz: It was kind of a long process. I had been living on a tour bus since I was 14 years old and played in bands with others of equal skill set, but they were much older than I was as a young musician. I excelled at what I was doing. and Anthrax soon hit and was playing sold out coliseums for years. By the time '95 rolled around, I was the first one in the band to have children and I missed then while I was on the road. We would do an album and tour for years at a time, and then start the cycle over again - time at home was not there. ...At the end of the day, I just needed a break. I have extreme OCD, I do things either full-on or full-off, and I like to do things that others have not done before. I need that drive and that ambition. That's why I decided to commit to learning the higher levels of watchmaking beyond what I did as a kid.
And apparently he's not the only rocker with a passion for watches:
Have you come across other artists in the music world with a comparable passion for mechanical timepieces?

There are collectors, but I am the only one who has gone fully overboard. There's Eric Singer, the drummer from Kiss, a very old friend of mine with an insane collection. He's one of the craziest watch collectors in music.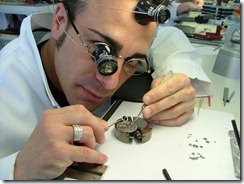 This satire board game, Public Assistance, is from 1980 but sadly these days it's more like the board game version of the popular live show.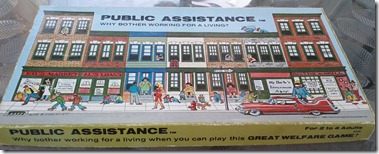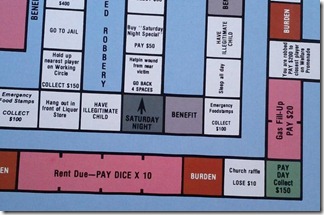 THE GUN IS GOOD!
THE PENIS IS EVIL!
Okay I've seen the movie but after watching the trailer for it I'm wondering if I missed a middle hour or something.
Yahoo group. That is all.
And my Twitter spew.
Tonight's post brought to you by Pawn Stars in a nutshell:

Notice: Posted by permission of AceCorp LLC. Please e-mail overnight open thread tips to maetenloch at gmail. Otherwise send tips to Ace.

posted by Maetenloch at
10:11 PM
|
Access Comments