« Sunday Morning Open Thread
|
Main
|
NFL Thread »
September 09, 2012
Sunday Morning Book Thread 09-09-2012: When We Were Very Young [OregonMuse]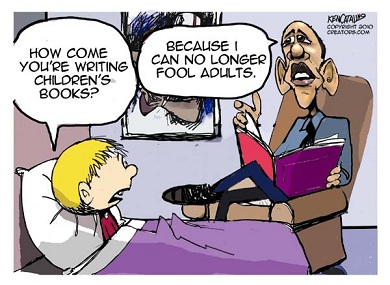 Good morning morons and moronettes and welcome to the auspicious yet insignificant Sunday Morning book thread.
Books For Kids
When Mrs. Muse and I started our family, we decided that we would homeschool our children. One of the reasons for this was because we wanted to protect their innocence for as long as we possibly could. Back then (approx. 25 years ago) was when I first started to notice that much of our culture was unhealthy and unwholesome and hostile to the values we were trying to teach. We didn't want to be overprotective of our children, but on the other hand, maybe a little bit of overprotection isn't a bad thing.
The main thing we did was keep them away from TV. We found that children' programming, even back then, to be mostly a waste of time, if not offensive. Anything we let them watch, we pre-screened.
So we concentrated on books and reading. But here, too, we had to be careful. We wanted to have books that were wholesome and uplifting and fun. We wanted to avoid books like this, and this, and for God's sake, certainly this.
We did not want to destroy our children's innocence, as some of the books seemed to be purposely written to do. The loss of innnocence would come soon enough, all too soon, we knew, but we didn't want to help it along.
So here are some of the G-rated books we found to read to them. Not only are they good for kids, they're fun reads for adults as well. So if any of you morons have small children, or know anyone that does, these were worth checking out:
George and Martha. George and Martha are hippos who sometimes fight, but truly love each other as friends. Very funny, and also very sweet. Somebody gave this a one-star review at Amazon because it showed George smoking a cigar. The reviewer said it "sickened" him and asked his 7-year-old son to stop reading it.
Frog and Toad Are Friends. Frog and Toad have wonderful adventures together. This is another book about friendship, very sweet and very endearing and very wholesome.
Commander Toad in Space. Commander Toad and his crew explore the galaxy in their ship Star Warts. There's all kinds of indirect takes on Star Trek and Star Wars characters and themes.
These books are actually the first ones in each of their own series. And, as I've already mentioned, they're fun to read as adults as well as children.
Meanwhile, here are some children's books that probably aren't good for them to read: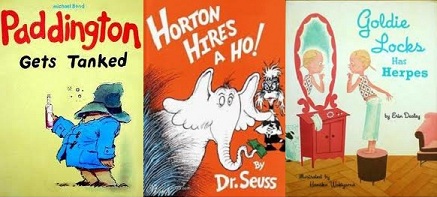 From the E-mail Bag
Moron Darin recommends this book about Marine Corps boot camp. What the heck, I'll just cut and paste his entire email:
Welcome to Hell: Three and a Half Months of Marine Corps Boot Camp was written by my friend Patrick Turley, but I'd recommend this book even if I didn't know him. It just came out a few days ago to rave reviews just about everywhere. A great read, one that I couldn't put down.
Book synopsis: "Welcome to Hell," the drill instructor announced to the small crowd of young men staring at him apprehensively, his words charging the atmosphere with a foreboding intensity. Three and one half months of hellish and seemingly outrageous demands would be made of those who would endure the journey through the fires of boot camp. These young men would find a pride in themselves that would last forever. Those survivors of boot camp training often look back, with a smile and even a laugh, at what they endured from the DI. Patrick Turley, driven to enlist by the events of 9/11, captures these anxious times perfectly in vivid detail establishing an emotional bond with the reader throughout his journey from man to Marine, and John Patrick Shanley said it only as a former Marine and Pulitzer Prize winner could: "It's great to have gone to Marine Corps boot camp. It's terrible to be in Marine Corps boot camp. It's fun to read about Marine Corps boot camp."
------
Bleg: would the moron who sent me the e-mail about book podcasts a few weeks ago pleasd send it to me again? I can't find it in the Inbox which means that I probably accidentally deleted it. Sorry for the mistake.
------

As always, book thread tips may be sent to aoshqbookthread@gmail.com
So what have you all been reading this week?

posted by Open Blogger at
10:43 AM
|
Access Comments