« Thread 5: Reactions, MSNBC Hitting the Minibar, Etc.
|
Main
|
Top Headline Comments 8-31-12 »
August 30, 2012
Overnight Open Thread (8-30-2012)
The 2012 Election in a Nutshell
As explained by Paul Ryan:
"So here's the question: Without a change in leadership, why would the next four years be any different from the last four years?"
The GOP: Forever Lurching Right?
At least according to the NYT which declares the 2012 Republican platform to be the most extreme ever especially compared to the 1980 platform. But of course if you actually read them, there's almost no difference on the issues.
While the 1980 platform may have been different from the 2012 platform in tone and detail, that may have had more to do with the format of platforms at the time, which has evolved since. Over the years, the GOP platform has been quite consistent on the issues, particularly abortion. Obviously there will be minor differences from year to year, but there's little evidence for the notion that the Republican platform has lurched far to the right over the last 32 years. The only way to argue otherwise is to cherry-pick quotes and ignore context, as the Times did in its article.
Prepare to Enjoy Your 2025 Chevy Hybrid Biodiesel Volt
Because with CAFE standards rising beyond 54 MPG it's hard to see how gasoline-only cars will survive.
The Obama administration announced strict new vehicle fuel-efficiency standards Tuesday, requiring that the U.S. auto fleet average 54.5 miles per gallon by 2025, an uncontroversial move that, unlike other administration energy policies, was endorsed by industry and environmentalists alike.

The new rules, announced by Transportation Secretary Ray LaHood and Environmental Protection Agency administrator Lisa P. Jackson, expand on existing standards requiring American-made cars and light trucks to average 34.5 mpg by 2016. They will significantly cut U.S. oil consumption and greenhouse gas emissions by the time they are fully implemented, according to the EPA.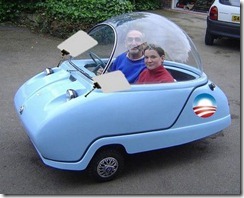 Labor Day: How to Drink Like a Communist
Apparently the creation of Marxism involved a whole lot of drinking:
On precisely this date in 1844, the authors of The Communist Manifesto went on a bender in France. It was epic, and it was epochal, and it is hard to think of a drinking session more significant to the formation of the modern world.

Both Karl Marx and Friedrich Engels were in their 20s at the time, and neither was a drinking novice. ..Engels, meanwhile, had been educating his palate, preparing to become first great champagne socialist. One month-long vacation in the French countryside found young Engels "more or less squiffy all the time,"

...Late that summer, Engels passed through Paris and arranged a get together with Marx, who had recently hostaed his theory of alienated labor-of the worker as the "plaything of alien forces." On Aug.28, 1844, they got faded at Café de la Régence and kept going for "10 beer-soaked days," as one historian puts it-two dudes joined in a buzzing discussion where they broke it all down, as dudes will. This was bitching about work on the highest level, Marx and Engels in Paris and going gorillas.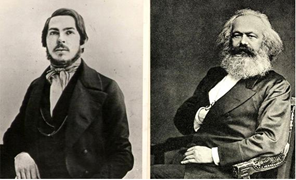 On Prince Harry and his Dog Nature
Well fame, money, looks and too much free time are the devil's premier R&D laboratory.
Frankly, this is how I think of Prince Harry:  He's an Australian sheep dog, and perhaps with the same level of narrow intelligence:

Australian sheep dogs are wonderful animals, provided that you keep them busy doing the task for which they are born.  If you do not keep an Australian sheep dog busy, it becomes destructive, both to itself and to its environment.  It will chew up a house, break its teeth on the cages meant to control it, worry its skin to death (truly), etc.  Give the dog a job, though, and it just chugs along cheerily.

Prince Harry is exactly the same.  He loves the military and, from everything I've heard, when he's on duty, he's good at his job.  Keep him busy, and he's happy and productive.  Once the down time starts, though, Katy bar the door.  That's a boy who's going to get himself in trouble - especially because trouble, in the form of wine, women, and song, finds him so easily.
If Your Boyfriend Loves You, He'll Mail Himself to You
And if your boyfriend is smart, he will punch some air holes in the box. Note that not all boyfriends are smart.
Chinese dude and definite Stevie Wonder fan Hu Seng wanted to show his girlfriend how much he loved her, so he mailed himself to her. The only problem? Hu Seng's "package" got lost by the courier service he hired to deliver him, and he ended up spending way too long in his self-addressed cardboard box. When his girlfriend finally received the package, Hu Seng had passed out from lack of oxygen.

Seng spent three hours in the box. "I didn't realize it would take so long," he told the local news. "I tried to make a hole in the cardboard but it was too thick and I didn't want to spoil the surprise by shouting." Now that's boyfriendly dedication.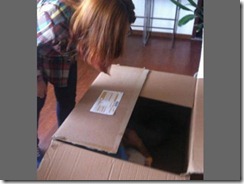 Yahoo group. That is all.
And my Twitter spew.
Tonight's post brought to you by the Republican National Convention, 1968: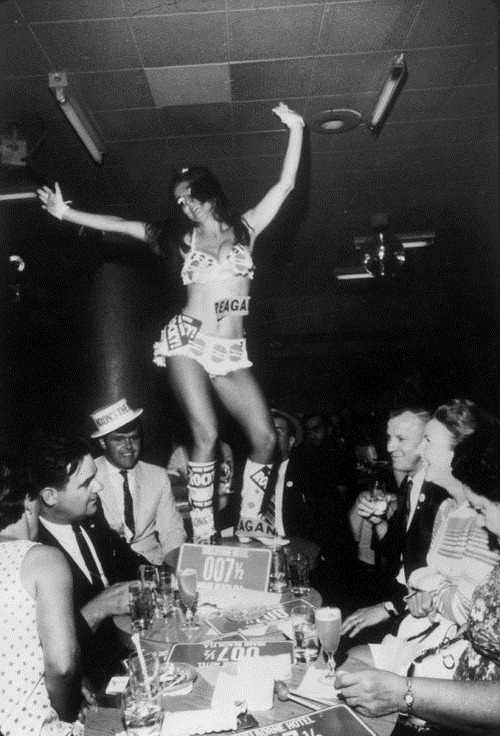 Notice: Posted by permission of AceCorp LLC. Please e-mail overnight open thread tips to maetenloch at gmail. Otherwise send tips to Ace.

posted by Maetenloch at
11:59 PM
|
Access Comments