« RACISM!!!
|
Main
|
Clint F'n' Eastwood Headed To Tampa??! »
August 29, 2012
Me And Mitt (And about 7,500 Legionnaires)
Just got back from Mitt Romney's speech to the American Legion.
As you'd expect the speech was heavy on veterans issues (especially health care and the VA) as well as national security.
I'm going by memory at this point so these aren't exact quotes.
First Romney began by noting some might not have expected him to be here since he was in Tampa yesterday and will be heading back for a little speech tomorrow.
I'll be heading back to Florida later today. And you may be wondering why I'm not down there right now, practicing and polishing the final draft of my speech. My answer is this: When our nation called, you served. And I consider any opportunity to address our nation's veterans a privilege not to be missed.
This was a not so subtle jab at Obama who sent a video message yesterday. You see he was too busy overseeing hurricane relief planning campaigning at a college campus yesterday to show up.
Romney then when into his fairly standard stump speech about Obama abdicating leadership abroad but then tied it together with the impending sequestration debate (see my earlier post on that) and what it would mean for veterans...200,000 less servicemen and women (100k from planned budget cuts plus that number again under sequestration) means 200,000 new patients for an already overloaded VA system which would be facing cuts under sequestration.
We are now just months away from an arbitrary, across-the-board budget reduction that would weaken the military with a trillion dollars in cuts, severely shrink our force structure, and impair our ability to meet and deter threats. President Obama's own Secretary of Defense has warned that these reductions would be "devastating." And he is right.

The devastation will be felt here at home, where up to 1.5 million jobs could be lost. GDP growth could fall significantly. These cuts will place further stress on an already stretched VA system, and impair our solemn commitment that every veteran receives care second to none.

A year ago, President Obama told your national convention that, "We cannot, we must not, we will not, balance the budget on the backs of our veterans." I thought I finally agreed with him on something – but now, he is on the verge of breaking that promise.

The Obama administration is set to cut defense spending by nearly a trillion dollars. My administration will not. Working together with my running mate, Paul Ryan, I will make reductions in other areas and install pro-growth policies to make sure that our country remains safe and secure. There are plenty of places to cut in a federal budget that now totals well over $3 trillion a year, but defense is not one of them.
You can see why sequestration is such a mess. It has so many known and unknown second order effects that run counter to saving money.
Romney then hit on something that draw applause and unexpected excitement from the crowd (based on the noises from people sitting around me). If a vet has to wait a certain period of time to get care they will be able to go to a Tri-Care provider and the VA will have to pay for it.
Another popular line was Romney opposing Obama's hikes in Tri-Care fees and funding ObamaCare on the backs of vets.
The Obama administration has also requested $12 billion in TRICARE fee increases. I will not ask our wartime military to shoulder more sacrifices while the rest of government grows. I will not ask our service members – active or retired – to pay more for their health care to free up room for Obamacare.
Paul Ryan got 2 or 3 shoutouts and was warmly received by an audience who in the main are at or near Medicare eligibility. Take that anecdote for what it's worth.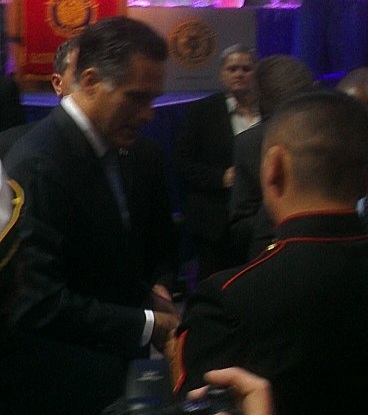 Mitt Romney chatting with a Marine on the rope-line

In short, it was solid speech that was well received. In fairness this was an easier speech in some senses to give because it was a politician promising to spend more and make government services more generous. Of course when it comes to conservatives, we are generally on board with defense and veterans spending so there's not much to complain about.
The Romney campaign is clearly going to make Obama's refusal to deal with sequestration (something he fought for originally) an issue of leadership and governing priorities.
As with many issues this election, the choices between the two visions is rather stark.
(Full disclosure: The American Legion invited me out to the convention and covered my travel and lodging expenses. No one from the Legion has seen or asked to see this post and they have no input whatsoever on its content.)
I'll link to the text of the speech and clean up/add quotes as soon as possible.
Added: I've added in quotes from the text of the speech as it was prepared for delivery. Sorry, no link, it was sent via email.

posted by DrewM. at
03:59 PM
|
Access Comments