« More Guesses At Mystery Speaker: Nancy Reagan, Colin Powell, Joe Manchin, Clint Eastwood, and... Tim Tebow
|
Main
|
Your Dumb Media: "Underground Sex Club Discovered Under Whiskey Row" »
August 28, 2012
Your Midday Open Thread
Isaac is officially a hurricane, so there's that.
Beyond that, I got nothing.
I will have something later though. This morning I was in the audience at the American Legion convention for one of the most amazing speeches I've ever heard. Quick tease: Lt. Gen. John Kelly (USMC) had me alternatively ready to run through a wall for him and on the verge of tears as he talked about the young men and woman fighting and dying for our country.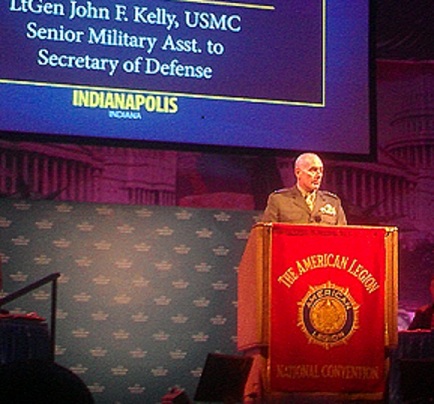 Lt. Gen John Kelly (USMC)
The General covered a wide range of topics including the War on Terror ("I don't know why they hate us and I don't care") to the dark side of fixating on diversity but most movingly on how the majority of war related sacrifices have fallen on a very small percentage of the population.


posted by DrewM. at
03:43 PM
|
Access Comments