« Obama Tells Another Whopper
|
Main
|
Riot Plans For RNC »
August 25, 2012
BREAKING: Neil Armstrong Passes Away At Age 82
Godspeed, sir.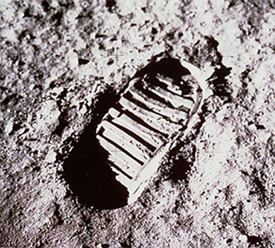 Armstrong's family released a statement which concludes...
"For those who may ask what they can do to honor Neil, we have a simple request. Honor his example of service, accomplishment and modesty, and the next time you walk outside on a clear night and see the moon smiling down at you, think of Neil Armstrong and give him a wink."
People are calling for a state funeral. I agree with a sentiment but Armstrong was such a private and modest man, I'm not sure how that would fit with his wishes.
Below, what are probably the most famous images and words in human history.
A couple of other thoughts from my Twitter rant about the great Neil Armstrong:
There were a number of reasons Neil Armstrong was selected to be the first man on the Moon. Not least among them is he was a hell of a stick
The Gemini 8 mission was built to test whether we could dock space ships in orbit. If you can't do that, you can't go to the Moon....
Armstrong was commander of Gemini 8 and may have saved the Apollo program (or at least years of work).
The spin rate (you can see a bit of it at end of this vid)
was insane.
In short Neil Armstrong was the perfect package...a civilian (he was a Navy combat pilot in Korea but had left the service and the powers that be wanted a civilian to be the first on the moon), brilliant engineer, great pilot and a man who carried his fame with humility.
Oh one last bit on Armstrong's genius...Apollo 11 almost ran out of fuel. He put the Eagle down on fumes. Yeah.
So they go 200K plus miles, get to the Moon and find out the target landing spot is unsuitable. Armstrong finds an alternate and nails it. Yeah.
No one, least of Armstrong, would say the Apollo program was a one man show. But at several key moments, its success or failure was on him
At each of those moments he delivered. He then spent 40+ years not tarnishing that legacy. What a loss but we were blessed to have had him


posted by DrewM. at
03:52 PM
|
Access Comments