« You Won't Have Joe Biden To Kick Around Anymore &c.: Biden Delaying Trip To Tampa, Deciding The City Can Only Handle One Catastrophe At A Time
|
Main
|
Saturday Morning Open Thread »
August 24, 2012
Overnight Open Thread
So morons, Are You A Hero Or A Bystander? I'm sure we all would like to think that we'll jump right in to any situation and try to save the day but you never know how you'll really react until the s@*t hits the fan. Some people that you think would be naturals to act sometimes freeze and lock up and vice versa. You never know until you face the test.

Certain traits make it more likely that a person will make a split-second decision to take a heroic risk. People who like to take charge of situations, who respond sympathetically to others, and who have a strong sense of moral and social responsibility are more likely to intervene than people who lack those traits, research shows. Heroes tend by nature to be hopeful, believing events will turn out well. They consciously try to keep fear from hampering their pursuit of goals, and they tend to block out the possibility of injury or material loss.
I do believe that how you react also relies on what training, experience and what tools are available to you in the situation. I also believe it changes how you act if you are there alone vice there with family. You priorities will be different. I'd like to think I'd act and get involved (and I have in the past) but you never know with each new situation.
Kryptos
Surprised that the answer hasn't leaked out yet. Cryptic Puzzle Kryptos Continues To Test Code Breakers. If only the White House knew the answer, then we'd all be able to figure out the last message.
Booze Products
So, are you ready for Powdered Beer? No bubbles included.
I can already see a future news story on this one when a kid gets busted for drinking at school because he grabbed this for his lunchbox instead of his Capri Sun. Ready To Drink Frozen Smirnoff And Parrot Bay Pouches.
Jack Daniels Salute To The Troops
A-10 Lovin'
The Face Of Salvation When You Are Outgunned And In The Army. Or when you just want to really tear something up and enjoy the show.
People Are So Gullible
Alright chemjeff, you should try this next time you are in a big city as I think you could score real easy. Student Hires Own Bodyguards, Paparazzi And Entourage And Pranked New York Into Believing He Was A World-Famous Celebrity. No wonder New York's mayor is a nanny.
Doggeh Video
Tonight's ONT brought to you by Ladies With Guns: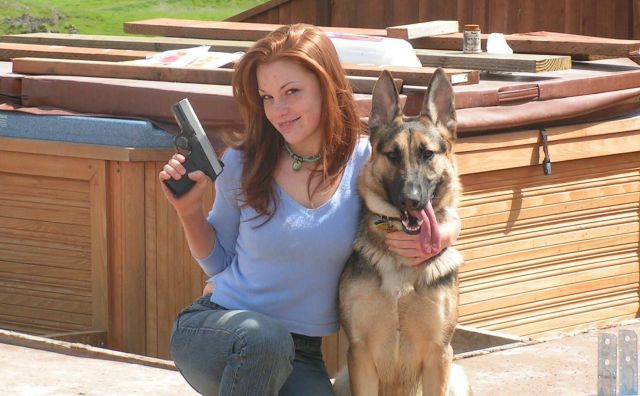 Notice: Posted by permission of AceCorp LLC. Please e-mail overnight open thread tips to maet or CDR M. Otherwise send tips to Ace.
PUT TEXT YOU WISH TO USE AS VISIBLE LINKING-LANGUAGE HERE
&topic=world_news">

posted by CDR M at
10:30 PM
|
Access Comments