« Video: Obama Reads Book Written By Bill Ayers In Which He Describes Eating Dogs
|
Main
|
Democrats to Debate Monitors: We Demand You Avoid Any Questions About Bowles-Simpson or Deficit Reduction »
August 14, 2012
Two Polls Show Obama's Lead Narrowing In NH
First, I'll cite the one I don't believe, because it's PPP, and they loves them some Democratic oversampling. Nevertheless, the oversample Democrats all the time, so while you can't put much stock in their numbers, you can read something into the direction of the trend: and that trend is from 12 point Obama lead to a 6 point one.
So: A six point swing from Obama to Romney.
But then there's this one by WMUR, where Obama's former 9 point lead is now down to... three.
Three is nothing. Three is, in fact, a statistical tie. MoE.
Also a six point swing in Romney's favor, right?
First, Obama's favorability ratings have plunged in the state over the past six months. In February, his positive-negative favorability rating stood at 53-40. That's now down to an even 47-47, a 13-point swing in six months. What helps him keep his lead is a 41-49 favorable-to-unfavorable rating for Romney.
And in related news, Paul Ryan actually has the best fav/unfav numbers of any of the four men on the major party tickets, at 50/38.
Oh: I ignored this because Gallup has been frozen at around a 46-46 tie for a while. Sometimes one candidate goes ahead by 1, 2, or 3; then it comes back to a tie.
Romney just took the lead, 47-45, for the first time in a while -- since June 18.
But... this is such a small move, similar to all the other small moves that meant nothing, I'd ignore it until it becomes a trend.
Obama's also slowly dropping on Intrade.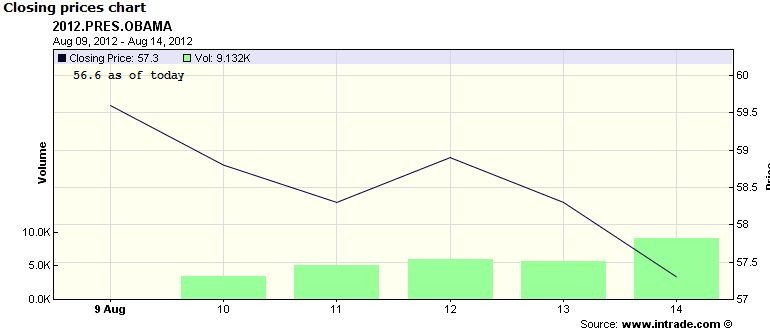 Thanks to @comradearthur for the last one.

posted by Ace at
04:13 PM
|
Access Comments