« Sunday Morning Open Thread
|
Main
|
Sunday Morning Non-Book Open Thread [OregonMuse] »
August 12, 2012
Sunday Morning Book Thread 08-12-2012: Old School Sci-Fi Edition [OregonMuse]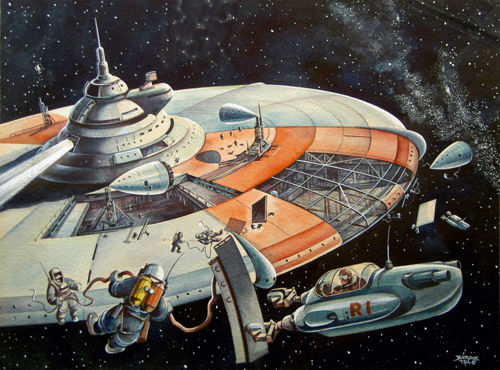 "Dang. I have to go to the bathroom again."
Good morning morons and moronettes and welcome to the wonderfully witty and urbane Sunday Morning book thread.
Back when I was a yoot, the wife of the high school math teacher ran a little bookstore in the small town where I lived. I used to go in regularly after school and see what was there, and occasionally buy a book or two. Some of the books I still have. Like this one. Packed full of old school science fiction stories that are absolute classics. It is amazing how many of these stories I can't forget to this day, and how many are still around in one form or another:
I am still haunted by Twilight by John W. Campbell as he travels to the far future and the decline of the human race. Arena by Fredric Brown was, of course, made into a Star Trek:TOS episode and featured one of the the cheesiest monsters ever, including that cheesy "mugatu" creature from another TOS episode that made the old Dr. Who effects look sophisticated and well-made. I believe C. M. Kornbluth's The Little Black Bag was a Night Gallery episode. It's a Good Life by Jerome Bixby is a very famous Twilight Zone episode with pre-Lost In Space Billy Mumy as the scary little kid. And don't forget Flowers for Algernon, which the movie they made of it back in the day (Charly) didn't quite do justice to. And this despite Cliff Robertson doing a pretty good job as the main character.
All of the stories in this volume are good, but I think my favorite is The Cold Equations, which still brings tears to my eyes every time I read it. I have a vague memory it was filmed as part some 'Outer Limits' type sci-fi anthology series back in the 80s, but I don't know which one, and I'm too lazy to look it up.
Also, this book was where I got my first taste of Roger Zelazny (A Rose for Ecclesiastes).
They did a sequel a couple of years later which had the precursors of Avatar (Call Me Joe), The Thing (Who Goes There?), and Idiocracy (The Marching Morons)
And the story Vintage Season is dream-like and spooky and definitely not to be missed.
My favorite stories from the third volume in the series are The Machine Stops by E.M. Forster, another creepy story of man's decline, In Hiding by Wilmar Shiras and The Moon Moth by Jack Vance, an ingenious portrayal of an alien culture.
I've read these books so ofter that the covers are falling off, so I really need to buy some replacement volumes at some point.
So if you want to read some good, honest science fiction written before 'Star Wars' screwed it all up, I heartily recommend these books.
That's about it for this week. I found another old school sci-fi image that I thought was absolutely gorgeous, but it's too big for the main page, so I stuck it below the fold: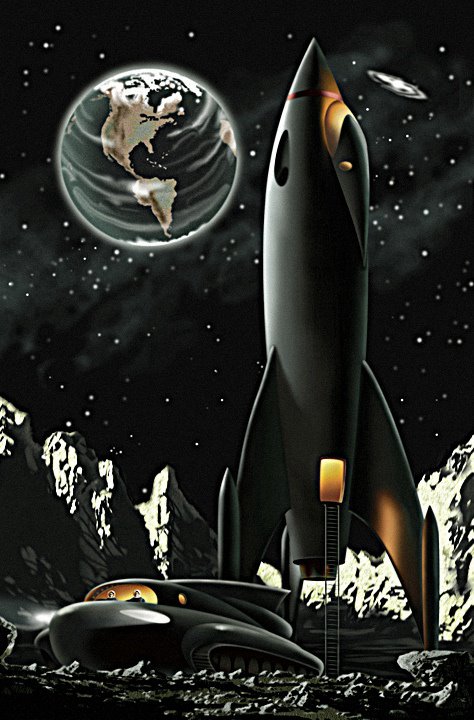 Hugo Gernsback just e-mailed me and said he likes this painting, too.
Vintage sci-fi images stolen from here.
As always, book thread tips may be sent to aoshqbookthread@gmail.com
Hopefully, you all have been reading some good stuff this week. Let's hear about it!

posted by Open Blogger at
10:30 AM
|
Access Comments