« Sources: Huntsman To Speak at Democratic National Convention
Update: Not True?
|
Main
|
Is It Ryan? National Review Writers Think They've Got Some Pretty Big Clues »
August 10, 2012
Padres Organization Rejects Applicant From Job, But Offers Applicant a Slot At a Job Fair If She Pays $495; Applicant Writes Back, "I Would Like To Counter-Offer That You S*** My D***"
And it's a woman, so she doesn't even have one, but that, she says, makes her counter-offer as logical as her paying four-hundred ninety-five dollars to submit a resume.
So, here's what they wrote to her. You sort of have to read this part. Just to understand that rather than paying her money, they're trying to get paid by her. Not just a form-letter rejection, but a form-letter rejection plus a form-letter pitch to pay $495 Subscribe To Our Job Hunters Network.
Hi Taylor,

I wanted to reach out to you as you had previously applied for a position here with the Padres to join our Inside Sales Program. While it may not have been a fit at the time, we appreciate your interest in the position and encourage you to pursue your dream of working in professional sports.

With that being said, I wanted to make sure you are aware of an opportunity to get your start and to pursue a career in sports. Dr. Bill Sutton, author of Sports Marketing, has asked our organization to host the Sports Sales Combine here at Petco Park on September 14-15. It will be the first ever West Coast Combine! As a Combine attendee you would have the opportunity to spend quality time with the hiring managers for multiple teams from different leagues across the country.

Job seekers like you have found this to be the most authentic training and networking experience available. The sales managers who join us claim the Combine is the best recruiting tool for them. Having been to multiple combines myself, and hired numerous people from the events, I could think of NO better way to get a start in the sport industry. This event could change your whole career. I know it changed the lives of some of my staff.


...

Taylor, as we look for the best young talent from across the country we wanted to make sure you were aware of the opportunity. You can find the combine application at Teamwork Online through the link below. I've also included a link to the Sports Sales Combine website.

...

Please do not hesitate to reach out to me should you have any questions about this special event.

All the Best,
[Redacted]
And here's her response:
Hi [Redacted],

I wanted to thank you for reaching out to me when thinking of ways to meet your quota for the Sports Sales Combine.

After careful review I must decline. I realize I may be burning a bridge here, but in the spirit of reciprocity, I would like to extend you a counter-offer to suck my dick. Clearly, I don't have one of these, so my offer makes about as much sense as yours. But for the price you're charging to attend the event, I'm sure I would have no problem borrowing one.

Managers like you have found this to be the most authentic training available. Real, hands-on experience getting you on your way to perfecting the techniques you will need to climb the corporate ladder. In these tough economic times, it's always good to widen your skill set.

...

I chose to apply with the Padres, at least 30 times since moving to San Diego. Persevering through countless anonymous email rejections, I continued to submit my resume despite never even being granted the courtesy of a face-to-face interview. All for the joy of making $30K a year. Maybe you're right. Maybe I'm not the best fit for your company. But here's a nice fit, my foot in your ass.

All the best,

Taylor
Although some people have sniped that this is precisely how not to network yourself, others aren't so sure:
Our top guy has been talking for 5 minutes straight how he wants to hire her," joked one person with an AFL team. "I am going to shoot her an email. I love when people shake shit up."

Consider this a Modified Strong-Form Costanza Gambit for finding employment at a sporting organization.
Exit question:
Second look at the Costanza Gambit?
via @tmi3rd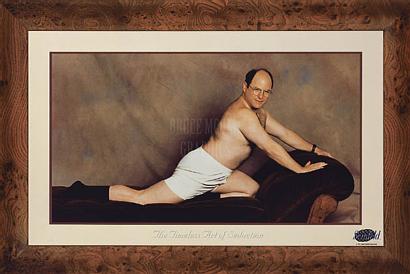 Our Leader and Our Light, George L. Costanza
Before he showed us The Way,
our mindthoughts were disorganized
and our soulpatterns were twisted.
Then came a man. A bald man, a fat man.
An angry man. A stupid man.
And that man gave us the Gift of Truth.
And also, of Lying. Because it's not a Lie
if you believe it's true.
-- Dedication to Spiritual Leader of the World,
ca. AD 2324.

posted by Ace at
07:10 PM
|
Access Comments