« WTF
|
Main
|
Top Headline Comments 8-7-12 »
August 06, 2012
Overnight Open Thread (8-6-2012)
RIP Sir John Keegan, and Gore Vidal Not So Much
Both were writers - John Keegan was the preeminent military historian of the last few decades and Gore Vidal was a well known historical novelist/commentator but probably best known these days for Bill Buckley's threat to sock him at the 1968 Democratic convention.
Victor Davis Hanson actually knew both and confirms what you'd expect - Sir Keegan was a great man and Vidal was a nasty jerk.
The night before the lecture (in an unusual fashion for this lecture) we had driven with Vidal three miles into Selma to my aunt's house (she taught English at Reedley College) for dinner. After the desert, he "shocked" us by declaring that masturbation was the sex act of choice, and then referred nonchalantly to his male friends. I noted one other thing about the evening. Vidal kept trying to namedrop literary tidbits; but my aunt, the JC English teacher, was of the old school (English literature BA, MA Stanford, where she had mastered the canon of Anglo-American classics) and had memorized verbatim many of Shakespeare's plays and much of Chaucer and could quote by memory  pages of Milton.

Each time Vidal would say something like "I think it was so-and-so who once said of so-and-so," my aunt would smile and say something polite like "yes, it was" or "perhaps it was not." By the end of dinner, he grew more and more sullen with us rubes who were not playing our unenlightened parts.
And on how Keegan single-handedly changed the path of Hanson's life:
In 1983 a small Italian academic press published my doctoral thesis Warfare and Agriculture in Classical Greece (in elegant but cumbersome folios with the pages uncut) - to zero readership. By that time I had finished graduate school and abandoned a stillborn academic career. I liked farming full-time and had no plans to reenter academia or write again. But when the publisher wrote from Pisa and said I could send 10 free copies to journals, I instead sort of randomly picked the names of ten well-known military historians.

None ever wrote back - except one John Keegan, at the pinnacle of his post-Face of Battle success. A postcard in elegant ink arrived to the farm, with something like "Dear Dr. Hanson. Accept my gratitude for the publisher's copy of your engaging thesis. Are there plans for more of the same?"

In those dark days (raisins had just crashed from $1400 to $400 a ton, and we were trying to figure out how to repay a $150,000 crop loan shortfall accruing at 15% interest), that brief note seemed to make all the difference in the world. At night after tractor driving, I suddenly started to write what would become The Western Way of War, coming in about 6 p.m.  from hours on the tractor and littering the floor with Greek texts. In my newfound confidence (remember, authors, what a single act of kindness can do for others), I began applying for jobs at local JCs and California State University, Fresno.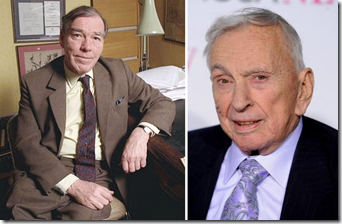 Moar Olympics Stuff:
How To Appeal at the Olympic Games
Okay this looks bad but apparently you have pay a filing fee of $500 in cash on the spot. This is supposed to cut down on the number of frivolous appeals.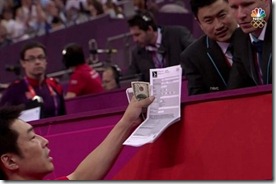 4 Times Olympians Refused Their Medals
Including the 1972 US men's basketball team who refused their silver medal over judge chicanery during their game against the Soviet team.
After their protest was dismissed, the Americans decided to boycott the awards ceremony and refuse their silver medals. The 12 members of the U.S. team have received numerous invitations to accept their medals since then, but they have always declined, and the awards remain in a vault in Lausanne, Switzerland. U.S. team captain Kenny Davis and teammate Tom Henderson have provisions in their wills that none of their descendants ever accept a silver medal from the 1972 Games. 
5 Olympians Who Sold Their Gold Medals
One did it because he needed the money for medical treatments and the rest were for charity.
How It Looks When You Throw a Badminton Match
Because it's now round robin instead of single elimination both teams were trying to throw the match to get more favorable match-ups. Who knew you'd get to see such excellence in bad-badminton in the Olympics.
Zombie Goes Exploring Deepest, Darkest Berkeley
The 'Metal Shop' theater story is a kinda sad but probably not confined to Bezerkey.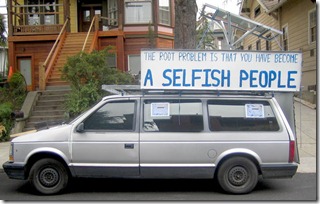 C'est Chick or how Matt Labash loves him some hatechicken
Last week, at the beach with my family, I deliberately ignored all newspapers. Not for the reason most people do-because print is dead. But because whenever I'm surrounded by salt -water, steamed crabs, and even mediocre fishing, I tend to hold that true happiness is having no idea what chronically bothered people are talking about.

It never lasts. Civil war has a way of puncturing happiness bubbles. No, not the atrocities in Syria. I'm talking much hairier than your run-of-the-mill massacre: I'm talking about the Chick-fil-Gay wars.
For three decades now, Chick-fil-A has been my only appointment fast-food stop. I go there when hungry, and even when not. Always cleaner than the inside of a Clorox bottle, the restaurants are run with warmth and efficiency, and are ruthlessly dedicated to customer satisfaction-the best quick-service franchise in America. (Faltering Mayor Gray might want to spend less time denouncing Chick-fil-A, more time taking managerial notes.) At most chains, you're just happy if they keep the rodent parts out of the condiments. But Chick-fil-A has gone so far as to use chipper seniors as greeters. Sunny septuagenarians now inquire if you need a free refill, or offer to retrieve napkins. They're so helpful that I've kidnapped a few, taking them home to do yard work and light grandparenting.
5 Things You Need To Know About Bobak Ferdowsi, AKA NASA's "Mohawk Guy"
He's the Flight Director on the Mars Science Laboratory Curiosity mission and just like Gene Kranz used to wear a new vest every mission, he sports a new hair style.
1. He cuts his hair differently for every mission. Apparently the mohawk with colorful stars was designed specifically for the Curiosity, and chosen by a Mission Control vote due to the fact that it was both cosmic and patriotic.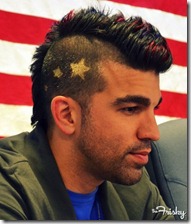 Taylor Swift Is Dating a Kennedy-What Could Go Wrong?
Gather all of your things and RUN AWAY - get the Hell out of the Kennedy's reach. Do it before they embrace you and subject you to the soul-crushing experience dozens of women before you have endured.
Yep - the best case scenario is that her life is just ruined for a few years.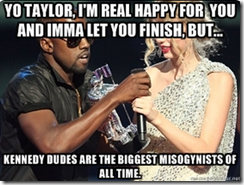 Levi Johnston Wants Full Custody of Tripp Palin
Because he thinks she's an unfit mother based on her reality TV show:
Now, Levi's had enough -- telling TMZ, he's been watching the show and is "disgusted" by his son's language and behavior. Levi says his son is on a "downward spiral" and getting "no real parenting."

Levi tells us, Tripp "deserves a better family" than what Bristol and the rest of the Palins are providing -- adding, "I love my son more than anything ... and I will do whatever it takes to make sure he is raised the right way."
Meanwhile Levi is broke and knocked up another woman. Hunting accident with life insurance faster please.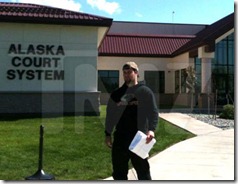 Well if you've got enough for an Olympic appeal, you can afford the Octomom experience.
After stripping and fundraising didn't help, Nadya Suleman has done the only thing she could think of when it came to saving her house: she's selling herself for money.

Octomom has placed a dating profile on the website WhatsYourPrice.com, a website where people will go out with you, if you have the right amount of money.

She states the obvious: that she has 14 kids, loves to laugh and works out often. And says that if you have $500, you can get to know her personally.
I think she'd get more takers if for an additional $100, she would agree to not talk at all. Her voice is an instant antidote to Viagra.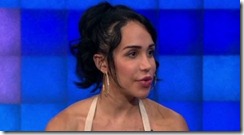 The Yahoo AoSHQ group. Bla bla bla.
And don't forget about the Job Bank.
And my twitter thang.
Tonight's post brought to you by "them":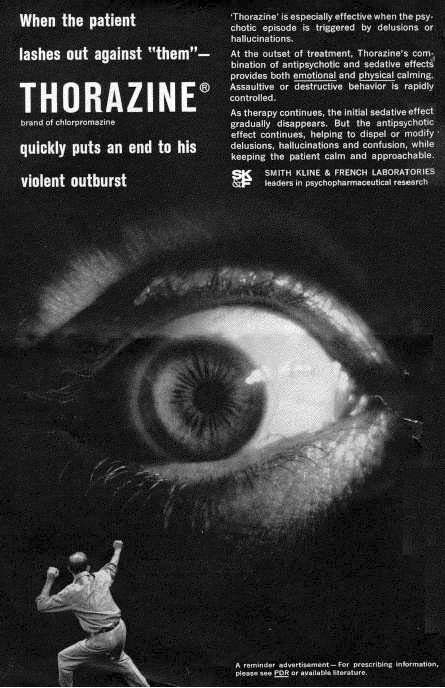 Notice: Posted by permission of AceCorp LLC. Please e-mail overnight open thread tips to maetenloch at gmail. Otherwise send tips to Ace.

posted by Maetenloch at
10:19 PM
|
Access Comments