« What About Your Gaffes?
|
Main
|
Mars Science Laboratory Curiosity Rover Lands Tonight
UPDATED: Live 'Google Hangout' With Astronomers
UPDATE: SUCCESS! »
August 05, 2012
Overnight Open Thread (8-5-2012)
Last call for the weekend.
Over the weekend Adam Smith issued an apology video. Which would be a good start except he broke Tuco's rule of apologies: If you're going to apologize, apologize - don't keep talking trying to explain.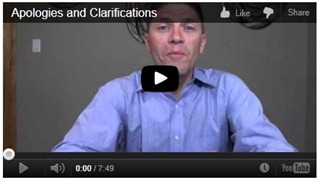 And Andy pointed out yesterday that Smith was likely motivated by a video by Jackson Pearce that he linked to in his YouTube channel and the idea of using a kind of biblical jujitsu on Chick-fil-A:
There's this Bible passage, Proverbs 25:21: "If your enemy is hungry, give him food to eat; if he is thirsty, give him water to drink." So if you are not a fan of Chick-fil-A's stance on hate, on August 1st I suggest you go there and ask for a large water. If they say that you need to order something, cite Proverbs 25:21. I mean, technically, if they're operating on "Biblical principles," they should give you an entire combo meal if your stomach growls, but let's keep it simple.
Meanwhile someone claiming to know Adam personally posted this on the Tucson craigslist. There's absolutely no verification of what they say but to me it has the ring of truth:
I know Adam Smith.. (t-town)
Date: 2012-08-03, 2:12PM MST
And I know him rather well. Although I was shocked to see him do something this stupid, I wasnt THAT shocked. He's always been a little on the insane side.
If you care to know, and I guess you do if you are reading this, here's a little insight on his psychological profile:
Dude is super smart, believe it or not. He is also very obsessive, and if he gets an idea planted in his head, nothing can stop him from executing that idea.
This guy should be on a ton of medication, but I suspect he is currently off his meds...
He is extreme in everything he does.
He was 'super christian' up until about 2 years ago, when he suddenly became 'super atheist' and started lashing out publicly at christians. Dont know why, but he hates hates hates christians. He is obsessed with it.
He recently started alienating himself from his former peers
He is an extremely emotional and passionate person.
He is very paranoid.

As for the poster who said there should be a guard at his work, I disagree. Yea, hes nuts, and getting nuttier by the day, but in the years Ive known him, I have never seen him become violent or even lose his temper.
He isnt going to go on some killing rampage, but I do think there's a pretty darn good chance he will try and kill himself though. I hope his family is keeping a very close eye on him. He is a very determined guy.
This doesn't excuse what he did but it does add some context to his behavior and makes me feel even sorrier for his wife and family. And even a bit for Adam himself since he seems prone to self-destructive behavior.
Olympic Roundup:
The 1972 Munich Massacre and the Continuing Shame of the Olympics
According to Ankie Spitzer, the widow of Israeli fencing coach Andre Spitzer, who was murdered by the Palestinian Black September group in 1972, IOC president Jacques Rogge capitulated to the 46-member bloc of Arab and Muslim countries because of the threat of Arab countries to boycott participation in the Games.

Spitzer, who jumpstarted an international campaign to garner a minute of silence at the London games, reported that Rogge told her that "his hands were tied" by the influence of the 46-member group.

Her rejoinder to Rogge: "No, my husband's hands were tied, not yours."
Furthermore the massacre proved that terrorism actually works:
...Munich was one of the most successful attacks in terrorist history. As Bruce Hoffman, a leading authority on terrorism points out, "The premier example of terrorism's power to rocket a cause from obscurity to renown.was without doubt the murder of eleven Israeli athletes seized by Palestinian terrorists at the 1972 Munich Olympic Games.

Most of the world had forgotten the Palestinians existed before the attack at Munich. Within two years of the massacre.Yassar Arafat was being feted by world leaders and invited to address the General Assembly of the United Nations.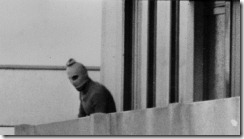 But I came across this clip of Nadia Comaneci, the star of the 1976 Olympics. She's 50 now, which stunned me, although it shouldn't have-surely I know that the fierce little girl who wowed the crowd back then would now be all grown up and then some.

...Nadia grew up to defect and then to marry fellow-gymnast Bart Conner, and to have a baby at the age of 44. Here's a photo that's a portent of things to come. It was taken in 1976, when she was a soon-to-be-famous 14-year old and he a well-known 18-year-old.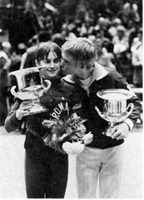 The 7 Easiest Olympic Events to Win a Medal In
The Events That Got Dropped from the Olympics
Tug-of-War made the games between 1900 and 1920. Here is a photo of the British team victorious at the 1908 London Olympics.
Motor-Boating was an official sport in 1908, but only two countries-the United Kingdom and France-competed.
Croquet also only made it to the Olympics once, in 1900. France swept the competition, but only one spectator was in attendance to see the never-repeated Olympic croquet feat.
Underwater swimming was not the most convenient of spectator sports. Frenchman Charles de Vandeville took the gold with a nearly 200 foot underwater swim.
5 Things They Don't Want You to Know About the Olympics
There Is No Sovereign Debt Crisis
So declares Matthew Yglesias since as long as people keep buying our debt there's must be no crisis:
What sovereign debt crisis?

There certainly isn't one in the United States, where for weeks the inflation-adjusted yield on 20-year bonds has been negative. Investors, in other words, are so pessimistic about growth prospects and so frightened of losing their principal that they're willing to pay the American government a small fee for the privilege of safeguarding their money.
His advice: borrow like crazy and spend this 'free money' on public works:
America is a high-unemployment, low-tax country, so our best policy is not to cut taxes but to borrow money to finance infrastructure investment.

Unfortunately, our polarized political system makes it very unlikely that Congress would agree to do that. But there is another way. The federal government could borrow money and then cut large, unrestricted checks to state governments. More conservative states would probably use the money to cut taxes, while states like California and Maryland could use the money to preserve public services or upgrade infrastructure. Fiscal free lunches don't come around very often, but there is one today. It's time to stop obsessing over a handful of troubled Mediterranean countries and start spending our free money.
So I guess there won't be a reckoning after all. Alrighty then.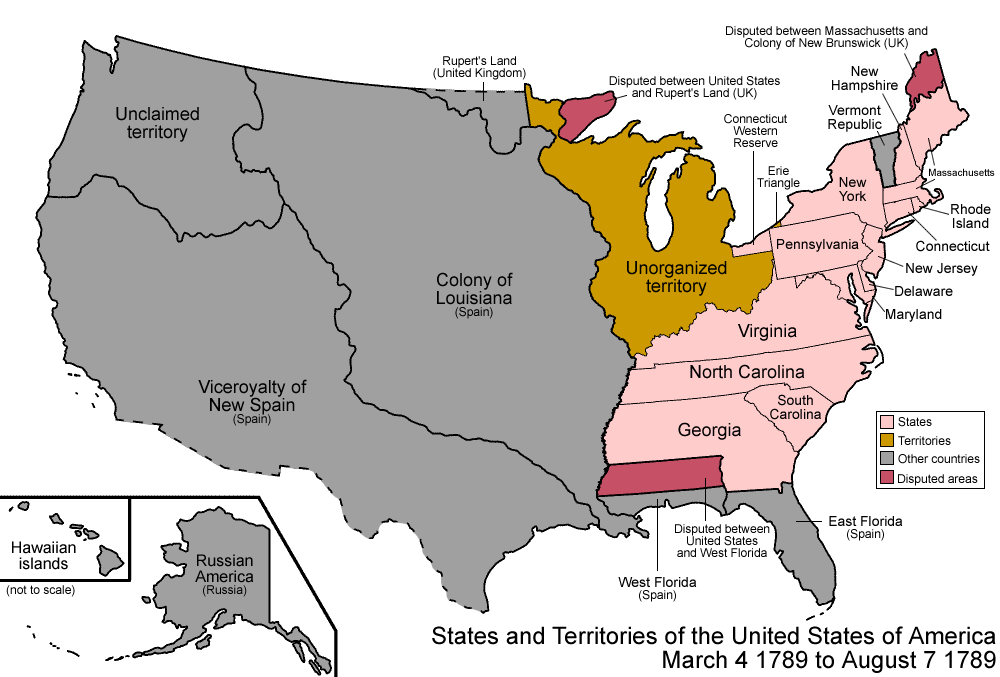 Could a Flashlight Save Your Life?
Brandon Webb, a former Navy Seal, gives some advice on surviving a Aurora-type shooting event and suggests carrying a hi-power flashlight if you can't carry a gun.
In Aurora, the shooter was severely weighted down with armor and his helmet would have also limited his vision. You can use all this to your advantage.

Flashlight anyone? I have one for daily carry and take it everywhere with me.  It's become another extension of me and has diffused at least two potentially violent confrontations in a non-lethal way. I recommend the Surefire P2X Fury Dual Output LED.

How to use it in this situation?

I would have pulled my high lumens pocket flashlight and blinded this guy. The high powered beam would have taken away his vision for 3-4 seconds, which is an eternity and enough time to flight or fight. There's also no shame in surviving and getting you and your loved ones out of harm - especially little ones. Be a Hero to your kids and family for surviving, nobody can expect more of you than that. Like we say in Survival Escape Evasion Resistance (SERE) school, "Survive with Honor."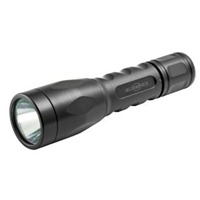 He's doing alright.
Weekly AoSHQ Commenter Standings
Top 10 commenters:
1 [408 comments] 'Merovign, Dark Lord of the Sith' [57.25 posts/day]
2 [358 comments] '@PurpAv'
3 [354 comments] 'Oldsailor's poet '
4 [330 comments] 'Vic'
5 [328 comments] 'Jane D'oh'
6 [318 comments] 'Billy Bob, pseudo-intellectual'
7 [316 comments] 'eman  '
8 [299 comments] 'steevy'
9 [276 comments] 'garrett'
10 [274 comments] 'tasker'

Top 10 sockpuppeteers:
1 [103 names] 'adjunct topics' [14.45 unique names/day]
2 [56 names] 'Cicero'
3 [54 names] 'Billy Bob, pseudo-intellectual'
4 [47 names] 'Doctor Fish'
5 [42 names] 'Scobface'
6 [42 names] 'andycanuck'
7 [35 names] 'nickless'
8 [31 names] 'Truck Monkey'
9 [30 names] 'kbdabear'
10 [30 names] 'Mallamutt, RINO President for Life'

The group. Yeah.
Where it's at - the Twitter
Tonight's post brought to you by the Eagles are so hated they appear twice on the list: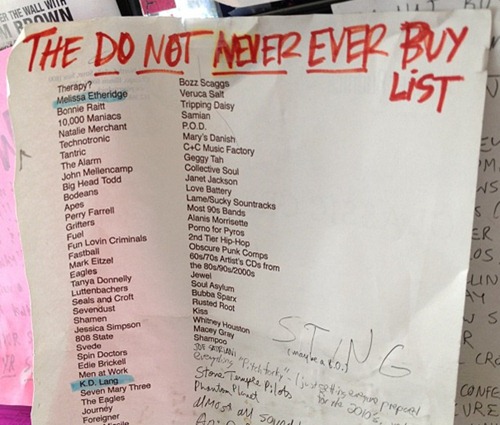 Notice: Posted by permission of AceCorp LLC. Please e-mail overnight open thread tips to maetenloch at gmail. Otherwise send tips to Ace.

posted by Maetenloch at
10:10 PM
|
Access Comments