« NBC: The Dumbest Unluckiest Network Ever
|
Main
|
David Plouffe: Democrats Have the Momentum »
August 04, 2012
August 4, 1950: The Battle of Pusan, Korea
140,000 troops, backed into a corner of the Korean Peninsula, made their final heroic stand against the invading North Korean Army, and held the line. Pusan was a 140 mile defensive line surrounding southeastern Korea, including the port of Pusan. For the next 45 days, UN forces withstood multiple attacks from ten divisions of North Korean troops equipped with artillery and hundreds of Soviet T-34 tanks. Their stand bought precious time, for the Army to regroup, refit and launch a crippling counterattack at Inchon.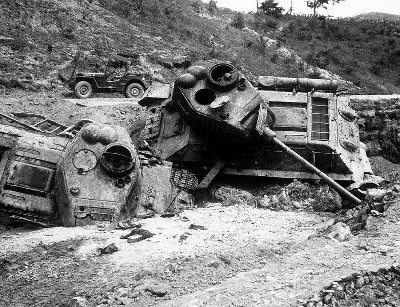 MacArthur's 8th Army Commander, Lt. Gen. Walton Walker (posthumously awarded his 4th star after his death in a jeep accident in December of 1950) rallied his forces to hold after crushing defeats in Osan and Taejon which virtually wiped out the 24th Infantry Division.
On July 29, a few days prior to the Pusan stand, Walker issued his famous "Stand or Die" order:
We are fighting a battle against time. There will be no more retreating, withdrawal or readjustment of the lines or any other term you choose. There is no line behind us to which we can retreat.…There will be no Dunkirk, there will be no Bataan. A retreat to Pusan would be one of the greatest butcheries in history. We must fight until the end.…We will fight as a team. If some of us must die, we will die fighting together.…I want everybody to understand we are going to hold this line. We are going to win.
Walker constantly observed the conditions on the ground around the perimeter, using L-19 light aircraft to fly over the trouble spots, and move his forces into position and blunt enemy assaults. USAF air supremacy allowed him to retask his troops as needed during daylight hours.
Their sacrifice bought the precious time needed to counterattack, and drive the North Koreans back. The failure of the North Korean Army to drive the UN forces into the sea brought Communist Chinese Forces into the fight, and another 2 and a half years of bloody struggle.

posted by Dave In Texas at
03:31 PM
|
Access Comments