« Star Trek Stars Narrate NASA's Mars Science Laboratory Grand Entrance Video
|
Main
|
The New Dance Smash, Presstitutes ("What About Your Gaffes?")
Uh-Oh: Competition From "Show Some Respect" »
July 31, 2012
DNC Counterprograms Itself: Bill Clinton Will Give Keynote Speech Explaining What He Did In the 90s To Make The Economy Cook, And Then Elizabeth Warren Will Explain Why We Need To Do The Exact Opposite
Before you jump on me: I don't really think Bill Clinton was a free-market reformer. I just said that effect. Certainly he was less left-wing that Obama or Warren, which should make an interesting evening, and produce the same kind of "Huh?" reaction my headline suggests.
So, first of all, Bill Clinton will have the opening slot, and if we know anything about Bill Clinton, it's that the man enjoys an opening slot.
Hey, Mitt Romney, you're dating that woman in Tennessee now. Did you like that joke?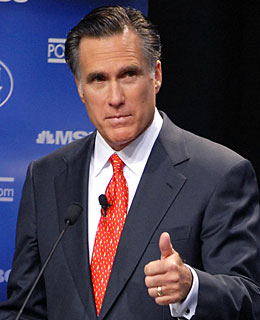 Mitt Romney enjoyed that joke.
Brit Hume calls this a "distress call" from Obama. Vid at the link, here's some text:
The convention role being given Bill Clinton is proof that President Obama is in deep trouble and he and his political handlers know it.

Polls continue to show the race tied or Mr. Obama slightly ahead. But other surveys point distinctly in another direction. One out today from the Hill newspaper gives Mitt Romney an edge with voters on three key qualities: sharing their values, being a stronger leader and being more honest and trustworthy....

Add to that the Rasmussen survey in which voters by 62 percent to 30 said economic growth was more important to them than economic fairness....

Gallup reports that the number of Democrats who say they are more enthusiastic about voting this year is at 39 percent, down from 61 percent four years ago. 51 percent of Republicans, meanwhile, said they are more enthusiastic this year, that is up from 35 per cent in 2008.When you put all this together with the continuing bad news on the economy, you know why Mr. Obama is suddenly reaching out to Bill Clinton.

This is a distress call.
Even though Barack Obama says "You didn't build that," you know he's so egotistical that he credits himself 100% for his own (until now) success. As he said to his aides (from memory): You know, I could do your jobs better than you can.
But, if Obama wins, it will be due to Bill Clinton's intervention; and thus, whatever might be said of a second term, Obama didn't build that.
Once Clinton is done explaining how he pushed radicals and Marxists aside to say the era of Big Government is over, Elizabeth Warren will explain that rumors of the death of the era of Big Government have been vastly exaggerated, and in fact the era of Big Government is Bigger Than Ever.
Will she double-down on the "You didn't build that" rhetoric? Well, on one hand, she'll be speaking to a general audience which for some reason views the seventy year Soviet experiment with some degree of nonkulturny skepticism; but on the other hand, base turnout is the game these guys are playing (because "appealing to the country as a whole" went out the window sometime around the summer of 2009).
Below, a great video, totally stolen, so click on one of those links as a payment.

posted by Ace at
04:08 PM
|
Access Comments