« Insanely Hot Chick Isn't At Olympics
|
Main
|
The Wimp Factor: Crybaby Obama Asks His Mommy to Check Her Numbers and Make Sure There Aren't Some Super Secret Mystery Jobs She Forgot To Count, Boo Hoo Hoo »
July 30, 2012
Hey, Let's Call Romney Dumb. Wait, That Won't Fly; Everyone Knows It's Not True. How About Evil? Good, Let's Go With Heartless Vampire. Shit! That's Not Working. I Know, "Out of Touch" Has Worked Before. But Damnit, It's Not Working Now.

So, what else we got?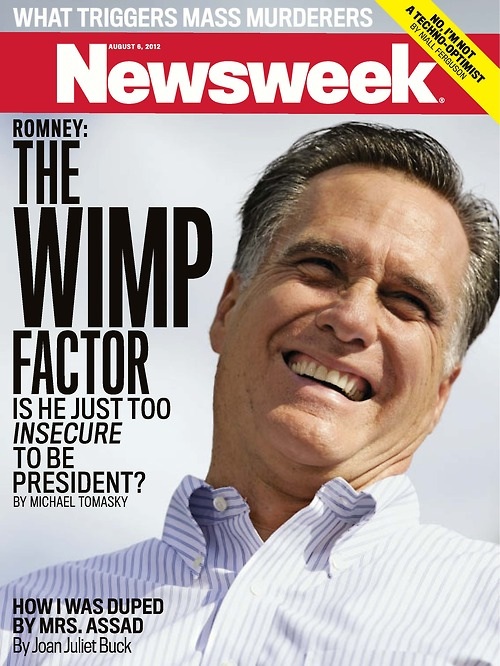 Check out the Washington Post on Newsweek's "wimp" gambit.
Newsweek seems to define Romney's alleged "wimpiness" as a sort of wide-ranging insecurity that forces the Republican presidential candidate into a series of gaffes like the ones he committed in London late last week.

Writes Newsweek's Michael Tomasky:

"He's kind of lame, and he's really ... annoying. He keeps saying these ... things, these incredibly off-key things. Then he apologizes immediately—with all the sincerity of a hostage. Or maybe he doesn't: sometimes he whines about the subsequent attacks on him. But the one thing he never does? Man up, double down, take his lumps."
First up: Gotta love the smashing prose of Michael Tomasky. "He's kind of lame, and he's really... annoying." Ernest Hemmingway just emailed me to say "Keep an eye on this one."
Okay, back to the Washington Post. I do have a point here.
That seems overly harsh, but you get the idea. Americans want strong leaders telling them hard truths, Tomasky argues, and Romney isn't it.

There is some polling evidence that suggests that Romney has not yet passed the commander-in-chief test, which, of course, isn't a test at all, but rather a sort of perception hurdle about whether the former Massachusetts governor looks like he is up to the task of representing America on the world stage.

In an NBC-Wall Street Journal poll released last week, 45 percent of respondents said President Obama would make the better commander in chief, while 35 percent said Romney would. Forty-eight percent said Obama was "knowledgeable and experienced enough to handle the presidency," while 32 percent said that phrase better described Romney.
It is now 42 months into Obama's presidency, and only 48% of the public think he's "knowledgeable and experienced enough to handle the presidency"? Only 48% think he's knowledgeable enough and experienced enough to handle the job he's currently performing?
Doesn't that mean a majority of 52% either doesn't believe or doesn't know he has such knowledge and experience? Even after four years?
Chris Cilizza doesn't even pause to consider this. He just chalks it up as a big fat win.