« Saturday Morning Open Thread
|
Main
|
Saturday Afternoon Open Thread »
July 28, 2012
July 30, 1945: The USS Indianapolis CA-35
A Portland-class cruiser, engaged in one of the most secret and important actions in WWII. Her mission in that fateful month was to carry critical parts and the enriched uranium for the first atomic bomb Little Boy unleashed upon Japan. She completed that mission on July 26, and after delivering her critical supplies was sent to Guam, where several crewmen were relieved and replaced, and then directed to Leyte.
On July 30, a few minutes after midnight, she was struck by two torpedoes from the Japanese submarine I-58, and within 15 minutes foundered and sank. 300 of her 1,196 crewmen died in the sinking. But the worst was yet.
880 survivors of the attack waited days for rescue, while the Navy, unaware of the nature of her secret mission, did not initiate search and rescue operations for days.
In those few days the 880 survivors of the attack suffered dehydration, exposure, salt poisoning and shark attacks.
There were only 317 survivors.
The Indianapolis was the last major USN fighting vessel to be sunk during WWII.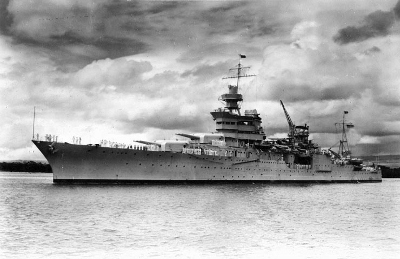 The commanding officer, Captain Charles B. McVay III survived the sinking, and was court-martialed and convicted of "hazarding his ship by failing to zigzag" even though his orders permitted him to choose to do so. The Japanese commander of the I-58 testified at his trial that zigzagging would have made no difference. Fleet Admiral Chester Nimitz remitted McVay's sentence and restored him to active duty. In 1968, McVay took his life with his Navy issued sidearm.

posted by Dave In Texas at
10:15 AM
|
Access Comments