« Michael Eric Dyson brings the stupid . . . --Guest Blogger
|
Main
|
Top Headline Comments 7-25-12 »
July 24, 2012
Overnight Open Thread (7-24-2012) - Tactical Tuesday Edition
Since you've all been jonesing for a gun thread - well here ya go. Oh and FYI I'll be off traveling  tomorrow and Thursday so be nice to the subs.
I had heard the name but didn't realize how unique the Five-seveN is until I read Bob Owen's post on why it was George Zimmerman's choice when faced with a potential lynch mob:
After the New Black Panther Party put a price on George Zimmerman's head, he decided that he wasn't going to take any assassination attempts lying down.

Having not been accused of any politically-motivated crimes at the time and still in possession of a valid Florida CCH permit, Zimmerman equipped himself with a FN Five-seveN, a decent choice of weapon for some that faced the possibility of a lynching if caught by the racist mob.
What's special about it? Well it's semi-automatic, only weighs 1.39lbs, and can hold 20 rounds of the unique FN 5.7x28mm cartridge. I was skeptical but the more I've read about it, the more intrigued I am.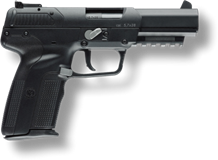 And another interesting gun that I wasn't aware of until recently is the Revolver Rhino.
It comes in typical revolver calibers but what makes it different is that fact that it has a flat cylinder and the barrel is aligned with the lowest chamber. This combination gives you a very low profile concealed carry gun with much reduced recoil.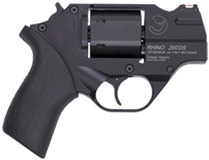 Meanwhile the US military for the first time in 67 years is once again ordering 1911 pistols - this time for the Marines.
Colt Defense LLC said Friday it has been awarded a $22.5 million, five-year contract to provide theU.S. Marine Corps with the latest .45 caliber pistols that were originally provided to the military in 1911.

...The contract is to provide as many as 12,000 tan-colored, M45 Close Quarter Battle Pistols (CQBP), plus spare parts and logistical support for the pistols. The new version of the semi-automatic .45-caliber pistol, CQBP, is a descendant of the Colt M1911 first used by the military in 1911.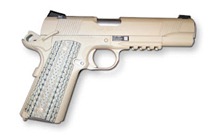 And if you're looking for some ammo, check out Palmetto State Armory. They have pretty good prices and are offering free shipping all summer. I just replenished using them and am now at 96% zombie readiness levels.

Pat Sajak on Obama's You-Didn't-Build-It defining moment:
It's as if President Obama climbed into a tank, put on his helmet, talked about how his foray into Cambodia was seared in his memory, looked at his watch, misspelled "potato" and pardoned Richard Nixon all in the same day.
James Cameron channeled his inner historian, Oliver Stone.
It isn't that Cameron didn't get a lot of the basic history right as a skeleton. And the identity of many passengers, the clothing they wore and so on were historically dead on (as usual in modern cinema). He did have some errors, such as paintings by Picasso and Monet that were not on the ship, but for the most part the decor and so on was dead on. But there were a host of errors, deliberate falsehoods, and even cruelly insulting injustices in not just Cameron's movie but previous efforts.
5 Things Modern Kids Don't Understand About Being a 'Nerd'
Sure Hollywood caters to the nerd demo now but just a decade or two ago they were a stigmatized underclass who were regularly beaten like the gheys and considered even uncooler:
And if you cared too much about it, like if you owned your own Starfleet uniform, you hid that shit like a fetish. You were flat out persecuted for your taste in entertainment, and I don't mean that you were just made fun of. You got bullied, beaten up, or just trolled out of existence. Not in Internet chat rooms like today, where your real identity is hidden under a ridiculous handle like "b0n3r_whip69xxx." But right out in the real-life public where everyone you know could see your humiliation. There was no logout option when you found yourself dangling from a stop sign by your underwear, your Captain Kirk outfit in shreds at your feet and your asshole throbbing from the cotton burn.
But at least the Trekkies were still  higher on the nerd food chain than fantasy geeks and furries.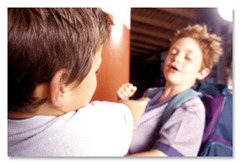 New Egyptian TV Station Run By Women
And no this isn't a parody.
Wearing veils and dressed in black from head to toe, these women are symbols of Egypt's cultural revolution following the Arab Spring.

They are employees of Maria TV, a new satellite news channel that features only women wearing full Islamic attire.

Men are banned from the show, even on phone-ins, and all staff, including those behind the camera, also wear veils.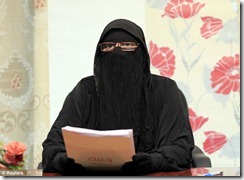 Also Candid Camera Does Not Translate into Egyptian
Here Egyptian celebrities are being interviewed for a TV show and as part of a gag the producer lets 'slip' that they're Israelis. Watch them become violent and nearly shooty.
Sure one of the celebrities slaps around the female interviewer (then later tries to pick her up) but to be fair that was only because he thought she might be a Joo. Thoughts on what this means for Egypt here.
Archaeologists have unearthed several 600-year-old bras that experts say could rewrite fashion history. While they'll hardly send pulses racing by today's standards, the lace-and-linen underpinnings predate the invention of the modern brassiere by hundreds of years. Found hidden under the floorboards of Lengberg Castle in Austria's East Tyrol, along with some 2,700 textile remains and one completely preserved pair of (presumably male) linen underpants, the four intact and two fragmented specimens are believed to date to the 15th century, a hypothesis scientists later confirmed through carbon-dating.

...While medieval-written sources sometimes mentioned "bags of the breasts," "shirts with bags," or "breast bands," history has shown little indication that bras with clearly visible cups existed before the 19th century, according to Beatrix Nutz, an archaeologist with the University of Innsbruck who made the find. "My first thought was what probably anybody would have thought, 'That´s impossible, there aren´t such things as bras in the 15th century,'" Nutz tells Ecouterre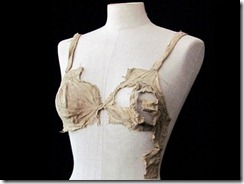 PSA For Men: Never Let Your Wife Move in a Lady Friend
Because if you're not sleeping with them, you are being replaced. I've seen this happen in real life to a minister and his family so it does happen.
As Kirstie Maguire and Aimee Watson coo over baby clothes they look like any other friends.

But the two women are actually a couple expecting their first child together after Kirstie left her husband, Dave, to be with Aimee.

In a further twist, Aimee was living with Kirstie and husband Dave as a 'friend' while the two women carried on their secret affair for three months behind his back.

Kirstie, who has three kids with Dave, says: 'Nobody is more surprised than us at the way things turned out. I was a married woman and never planned to have an affair, least of all with another woman.

'But we're both so happy and can't wait for our son to be born.'
You know who's not so happy? Dave and the three kids.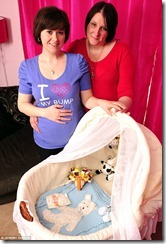 Teh Tweet!
Tonight's post brought to you by Grace: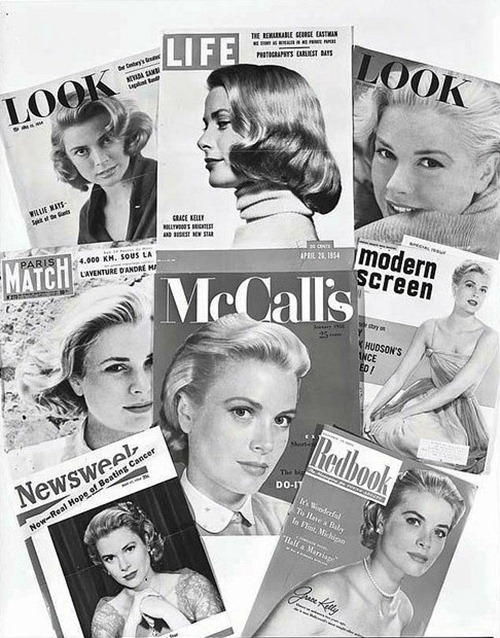 Notice: Posted by permission of AceCorp LLC. Please e-mail overnight open thread tips to maetenloch at gmail. Otherwise send tips to Ace.

posted by Maetenloch at
10:22 PM
|
Access Comments