« Adam Carolla: Obama Is "Anti-American"
|
Main
|
Israel Blames Iran For Terrorist Attack in Sofia, Bulgaria »
July 18, 2012
Well, This Is Dumb, But We're Talking About Not Just Bain but Bane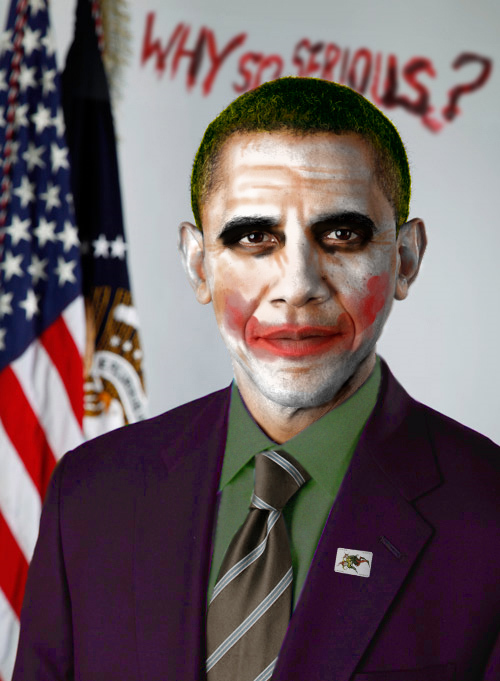 Remember when comparing a presidential candidate
to a Batman villain was irredeemably racist?
Rush is catching some heat because he doesn't know his Batman Comics history.
Never get into an argument with Geeks about Geek Stuff. That's the lesson.
Anyway, yesterday, he questioned whether naming the villain "Bane" was "purposeful" and whether it would "influence people." However, he laughed at this theory as he was explaining it. He always asserted it was only "brain dead" people who could conceivably be influenced by the homphonic name of a Batman villain.
Apart from just mentioning the "question" of whether or not this was planned (and "purposeful," given the film has always had a 2012 release date), he really didn't endorse this theory.
Personally, I think it's a silly theory to begin with, but then, he's got three hours to fill, and I guess he brought it up for the same reason I am now bringing it up -- sometimes you have to Fill the Hours with Dumb.
It's conversation fodder. It's distraction. Whatever. Sometimes people want to talk about Batman.
Now Limbaugh is being attacked for having endorsed a conspiracy theory, which he actually didn't (though he did float the idea as a question).
Now, what Limbaugh is definitely right about is that Democrats seek to make this ludicrous connection. I already mentioned Chris Lehane all girlishly giddy at the homophonic connection between Bain and Bane.
"it has been observed that movies can reflect the national mood. Whether it is spelled Bain and being put out by the Obama campaign or Bane and being out by Hollywood, the narratives are similar: a highly intelligent villain with offshore interests and a past both are seeking to cover up who had a powerful father and is set on pillaging society."
Where Limbaugh went wrong was in suggesting -- even as an open question -- that this might have been "purposeful" on the filmmaker's part.
First of all, the Bane character is big in Batman mythology, because he famously broke Bruce Wayne's back, rendering him permanently paralyzed and confined to a wheelchair, and sent him into retirement for a year or so. (As they say on TVTropes: He got better.) The character was created in 1993, and always shows up in these movie series at some point. (He even showed up in the ludicrous Batman & Robin, which, Bane-like, destroyed the franchise and sent it into permanent retirement. But, as TVTropes says: It got better.)
Second of all, I can't prove this, but I think Christopher Nolan is at least semi-conservative, based upon the liberal-unfriendly messaging in The Dark Knight. Nolan did not expressly endorse an All Necessary Measures response to terrorism, but neither did he repudiate it, which is a big no-no for liberals, who claim to be interested in culture just for the art itself but who not-so-secretly insist that every dollop of culture created relentlessly reinforce their simple-minded political dogmas.
By writing The Dark Knight as a series of questions to be explored, rather than Known Truths to be reiterated, he sort of (to me) indicated he was conservative.
In addition, his psychographics indicate a conservative mindset. If we can take, say, Tim Burton, as a director you'd suspect, based on psychographic reasons, of being liberal -- his plots make no sense and he doesn't care; he cares about Scenes, not Cohesive Wholes; he cares not at all about logic; he's obsessed with design and visuals; all of his movies have a campy, distancing irony to them -- Nolan is pretty much the exact opposite. Nolan's cares about logic to a fault (watch Inception again-- instead of handwaving questions away, he tries to give us (themselves nonsensical) "logical" answers to plot questions), has not the faintest dollop of campiness but in fact skew a little too puritanically dour to me, etc.
Burton's movies are dreamed; Nolan's are engineered. Burton's French at heart, Nolan's a German.
By the way, ergie: You're the idiot, because I actually didn't like this movie much, even though, politically, it was unobjectionable to a conservative. You're the simpleton who seeks nothing but an endless series of TV Commercial Jingles for progressivism in the "art" you prefer.
Third, it now turns out that Bane's creator isn't a liberal, and I believe him, because he doesn't just say "I'm not a liberal," which is what 90% of liberals claim when you call them a liberal, but rather "I'm a staunch conservative," which is one thing they definitely don't do.
In an exlusive interview he pointed out that he and collaborator Graham Nolan created the "Bane" character in 1992, Dixon told Schnitt, "Graham and I are both staunch conservatives, so from our angle, there's no liberal agenda. I'm a life-long right-wing extremist."
He elaborated further, to make my fourth point: If I understand the plot of this movie... "Occupy Wall Street" revolutionaries are the bad guys.
As for the mainstream media's attempt to usurp the character, Dixon said, "It's ridiculous. Obviously Bane was not created as an attack on Mitt Romney. We never heard of Romney twenty years ago." Also, within the context of the movie, Dixon said the comparison between Bane and Romney does not make sense. "My understanding is that Bane is more of an Occupy Wall Street type. Romney is more like Bruce Wayne."
Oh, Nolan is a nuanced film-maker, and he's not making political tracts here, so you can bet your life savings he's got some kind of "balancing" stuff in there, like Bruce Wayne realizing the plight of the Gotham's poorest really is dire, and beating the shit out of criminals is maybe a feel-good cop-out that doesn't address the real source of criminality, and so on. Like The Joker, Bane will be given some good dialogue where he justifies his worldview. Ra's al-Ghul similarly had some decent justifications.
Still, at the end of the day: The billionaire vigilante law-enforcer is the good guy, and the revolutionary rabble are allied with the lunatics and Bane. It's hard to use dialogue to push the message far off that central plotline.
Anyway, I hereby exonerate Rush 90% of the hate directed at him today of Not Being A Big Batman Comic Book Reader. He did "raise a question," which was kind of dumb, but then, 90% of made-up chatter (slow news days are full of it) is just that kind of out-of-your-ass question-raising.
Two clips below, first, raising the question, then, following the push-back from Chuck Dixon, walking away from it, and noting he'd never endorsed a conspiracy theory (which he didn't).
So, here's the big dumb post on Batman and Rush.
It's dumb, but as I say: Slow news day.

posted by Ace at
03:56 PM
|
Access Comments