« Jesse Jackson Jr. Enters Rehab for Alcoholism, Public Relations for Ethics Investigation
|
Main
|
Top Headline Comments 7-12-2012 »
July 11, 2012
Overnight Open Thread (7-11-2012)
WTF Is The Deal With People Who are Contrary Conversationalists?
We've all dealt with people like this where every conversation is a variant of this one:
Them: "It's a nice day outside."
You: "Yes, it is."
Them: "Not really. It's kind of crappy outside."
Well Gretchen Rubin, author of The Happiness Project, has coined a term to describe this behavior:
Here's a new phenomenon I've tentatively identified: oppositional conversational style.

A person with oppositional conversational style is a person who, in conversation, disagrees with and corrects whatever you say. He or she may do this in a friendly way, or a belligerent way, but this person frames remarks in opposition to whatever you venture.
I've always referred to them as quibblers - people who simply will never accept any statement from you - no matter how trivial or obviously correct it is - as true on its face. They must always quibble, argue, or simply contradict what you said.
Needless to say people like this are extremely annoying and by breaking the unspoken 'yes and...' rules of conversation they basically make every interaction with them a chore.
For a long time I assumed they were just being asshole-ish and trying to establish some kind of dominance - and for some that is the case. But later I realized that for many of them it was unintentional behavior and they were clueless and genuinely mystified as to why they always seemed to rub people the wrong way and why casual chats often ended with people storming off.
You tend to see this much more among engineering and technical people where it comes out as compulsive hyper-correction and quibbling - so much so that I'm now convinced that it's actually a very mild form of Asperger's.
In fact I've run into some engineers who were such extreme contrary conversationalists that they would go into what I call 'hostile witness' mode over the simplest questions. Here's an example ripped from the pages of my life:
Me: Hey I think the problems at customer X may be due to flaky hardware so I'd like to automatically run tests on any idle nodes. Do you still have that automated test code you wrote for customer Y?
Co-worker: No. I don't have any automated test code.
Me: Wait - but didn't you write the programs used during their verification tests last year?
Him: Yes.
Me: Well couldn't that work?
Him: No. That was for automatically profiling the performance.
Me: Okay...but wouldn't it also detect if a node wasn't responding or producing errors in its results? That's all I'm looking for.
Him: [long pause] Yes. But it's NOT a test program - it's just for profiling performance.
[a few wasted minutes where we go round and round over whether profiling is a subset of testing or not]
Me: Uh okay anyway...just send me what you have and I'll see if I can use it as a basic test as well.
Him: Why? I told you it's not a test program - it's a profiler.
[At this point in my mind I'm thinking 'Dude we work for the same fucking company - help me to help us!' as well as pondering over how just a short century ago it was perfectly acceptable to beat such people senseless]
It's more than just a delicious food - it's also what helped build the United States of America.
From the 1901 issue  of The American Kitchen Magazine:
IMPORTANCE OF BACON

"I Have a profound respect for bacon," remarked a thoughtful citizen at a local hotel cafe, spearing one of the savory brown slices that garnished his breakfast eggs. "As a patriotic American, it commands my unbounded esteem and gratitude. Did it ever occur to you that we are indebted primarily to bacon for the opening up and development and civilization of more than one-half of this grand and glorious Republic? That, without bacon, the great West, with its thriving cities, its countless industries, its fertile farms, its magnificent mines, its gigantic web of railroad and telegraph and telephone lines, and all its other wonderful evidences of progress and prosperity - that, without bacon, this superbly flourishing domain would in all probability be a howling wilderness at the present moment?" The thoughtful citizen paused for breath.

"You astonish me," said his friend across the table.

"That is because you have never given the subject any attention," he replied. "Bacon has been the chief agency in the development of our country, for the simple reason that it has been the chief food of the pioneer. It was the only kind of meat that was easily portable and would keep for an indefinite period. Fremont's pathfinders carried it, so did the gold hunters of '49, and so did all that tremendous army of emigrants and frontiersmen who gradually opened up the unknown region between the Mississippi River and the Pacific coast. The prospectors who toiled up and down the continental divide and located the great mineral resources of the country lived principally upon bacon, and to this day it is the main item in the 'grub stake' of every adventurer who goes into the mountains to seek for ore. To sum the matter up, the advance guard of civilization has moved steadily westward, eating bacon and conquering savage nature, and without that humble article of diet the red man and the buffalo would still be prowling over regions where pink teas flourish and culture rules the roost. You must bear in mind, too, that the bacon upon which all these gigantic achievements are based is not the high-priced, delicately flavored breakfast bacon of a first-class cafe. It is sterner stuff. It is the strong, dark, greasy bacon of ordinary commerce, that comes in great, rough slabs and smells like scorched shoe leather. At first sight you would turn away from it in disgust, but as a ration to work on and fight on it has no equal in the world. I grant you that the fancy condensed foods they are putting up for the armies nowadays are vastly prettier to look at, and the chemists say they contain ten times the nutriment to the square inch, but let a company of tired, hungry soldiers go into camp after a forced march or a fierce battle, and I will wager horses to horsehair that they throw away all their tinned gimcracks for one rasher of good old-fashioned bacon, hot from the skillet. I am not especially fond of bacon myself," added the thoughtful citizen, "but I revere it for the illustrious part it plays in history. If I had my own way about it, I would remove the torch from the upraised hand of Bartholdi's magnificent statue of liberty enlightening the world and substitute a colossal rasher of bacon. Then it would be truly symbolic of American progress."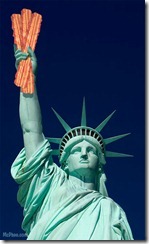 The Time Andy Kaufman Wrestled a Bunch of Women
I vaguely remembered his wrestling a woman on SNL but had no idea that he'd been doing it across the country for several years.
His friend and co-conspirator Bob Zmuda, dressed as a referee, would set up the challenge. Any woman that could pin Andy Kaufman walked away with the cash. Fifteen or twenty ladies would volunteer. Then, to prove that they weren't using a shill, Kaufman would let the audience vote for the best candidate.

"I wanted to recapture the old days of the carnivals," Kaufman said. "Wrestlers used to go from town to town with carnivals, and offer $500 to any man who could last in the ring with them for three minutes. So I figured if I could offer a prize and make it like a contest, it could be very exciting"
Dressed in full-length white thermal underwear, baggy black swim trunks, black socks and black shoes, Kaufman strutted around, claiming he was the World Inter-Gender Wrestling Champion. He goaded the females in the audience, poking fun at women's lib, and saying that women were "meant to be in the kitchen" while "washing the potatoes, scrubbing the carrots, raising the babies."
And woman wrestling was bery bery good to Andy too:
For Kaufman, there was a fringe benefit to the wrestling charade. He was painfully shy, and always had trouble meeting women. But rolling around on a mat for a few minutes with the opposite sex proved to be a very effective way to get dates. According to Bob Zmuda, Kaufman ended up sleeping with some of his wrestling opponents.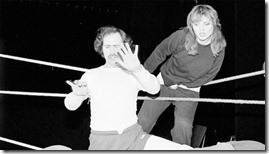 Are You Too Old for the Olympics?
Probably unless you're competing in archery, shooting, or sailing.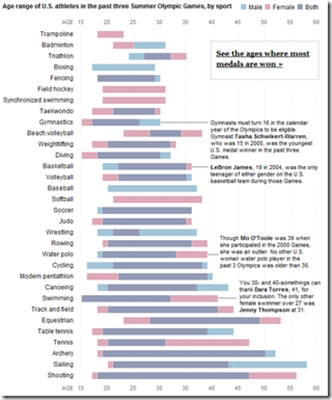 How an Unemployed Programmer Kept Sneaking Into Apple to Finish the Job
I've heard various versions of this story over the years but this is one of the more complete ones. If you've ever used the graphing calculator that was shipped with Apple computers, you've enjoyed the fruits of Avitzur's 'illegal' work.
Ron Avitzur knew his project was doomed. By the time his bosses cut the cord in August 1993, his team was actually relieved. The graphing calculator program they'd been working on for new mobile devices had finally been shelved, and they could all move on.

Most of his fellow programmers were reassigned to other projects within Apple. The company offered Avitzur a job, too, but it didn't interest him. Avitzur, then 27, had been freelancing at tech companies since he was a student at Stanford-to him, the work wasn't worth it if it wasn't interesting. And what interested him was finishing the graphing calculator program that had just been canceled. But his ambitions were greater than that-Avitzur wanted to make the graphing calculator work on the new PowerPC computer that Apple planned to ship in early 1994.
Read about how he used tricks, guile, a conspiracy of support from other Apple programmers, and months of volunteer work to make his program a standard part of MacOS.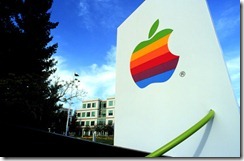 The 50 Greatest American Weirdos, Part 2
Well Hedy Lamarr doesn't really belong on this list but Crispin Glover most definitely does oh yes. If you doubt, check out his version of "These Boots Were Made For Walking". I thought he did an incredible job of acting in River's Edge but later I realized that a lot of it was just channeling his inner weirdo.
It is their...destiny.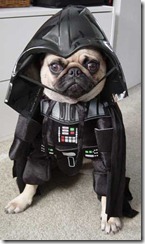 Teh Tweet!
Tonight's post brought to you by conundrums: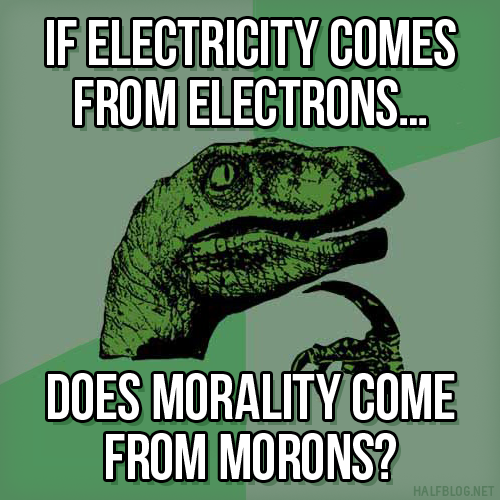 Notice: Posted by permission of AceCorp LLC. Please e-mail overnight open thread tips to maetenloch at gmail. Otherwise send tips to Ace.

posted by Maetenloch at
10:22 PM
|
Access Comments