« Sat. Nite Chess Thread 06-23-2012 [OregonMuse]
|
Main
|
Sunday Morning Open Thread »
June 23, 2012
Overnight Open Thread
It is pretty pathetic CNN how you continue to carry water for Democrats. I seem to recall during the Valerie Plame investigation you guys were like rabid dogs covering every angle and how any leak was just horrible and unacceptable. Now you peddle this? Obama Leak 'Scandal' Is Wildly Overblown. Peter Bergen's main point is that the rest of the world pretty much knew this stuff already. Maybe so, but Mr. Bergen should know that even if something that is classified is published in the open, one NEVER confirms that the info is correct. You don't hand out intel freebies. Ever.
As for his other points, you don't need leaks of classified information to have discussions about the pros and cons of cyberwarfare or UAV use. Those were happening before the leaks. And yes, these leaks have harmed national security. If they hadn't, you wouldn't have Democrats talking about it.
Another Domino Falls
By November, the killing of Bin Laden really will be the only success story of the current administration. The Dodd-Frank Downgrade: Wasn't Reform Supposed To Make The Financial System Stronger?
Two years ago President Obama and Congressional Democrats told Americans they had strengthened the banking system and revoked too-big-to-fail privileges from the financial giants. Now Moody's can help Americans understand that the 2010 Dodd-Frank law has fulfilled neither promise. The law's signature achievements are higher costs, reduced opportunities and weaker banks
This is pretty damn obvious. No, We're Not Better Than We Were Four Years Ago.

Now, of course, Obama likes to blame President Bush for these lousy results. But the truth is that the recession ended five short months after Obama was sworn in — and long before most of his "stimulus" had been spent.

Plus, if history is any guide, the deep 2007-09 recession should have been followed by an even more powerful recovery. Had Obama's recovery been merely average, there would be millions more with jobs today.

Drone Dogfights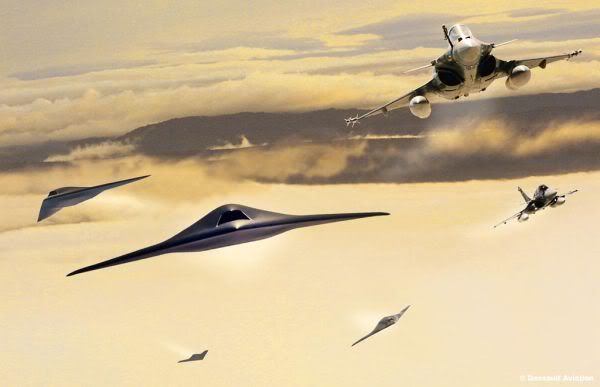 Faster please. Drone Dogfights By 2015? U.S. Navy Preps For Futuristic Combat. This will be an area that we will want to dominate as it seems the rest of the world is also catching on to the UAV fevah.
Hot Wheels
You know, I just might have to tune in to the X-Games for this. Giant Hot Wheels Track With Double Vertical Loop And Real Race Cars? Check.
Home Theater
Wow. This is a hard core Trekkie. Star Trek Home Theater. Even comes with motorized, sliding doors.
Kitteh Video
Submitted by Genghis. Commeh Kitteh vs Commeh Bunneh.

Junk Science
Yeah. Global warming, climate change, whatever they're calling it today. That junk science. Climate Models Fail Reality Test.

The climate models, by contrast, got scores ranging from 2.4 to 3.7, indicating a total failure to provide valid forecast information at the regional level, even on long time scales. The authors commented: "This implies that the current [climate] models are ill-suited to localized decadal predictions, even though they are used as inputs for policymaking."

Tonight's ONT brought to you by:
Notice: Posted by permission of AceCorp LLC. Please e-mail overnight open thread tips to maet or CDR M. Otherwise send tips to Ace.
PUT TEXT YOU WISH TO USE AS VISIBLE LINKING-LANGUAGE HERE
&topic=world_news">

posted by CDR M at
09:38 PM
|
Access Comments