« Panic at the White House; & Obama Misses the Nice, Civilized Punching-Bag McCain Campaign
|
Main
|
Awesomely Stupid: MSNBC Finds The Sliver Lining In Double-Dip Recession: At Least Gas Prices Won't Be Going Up, Since No One Has Any Money For Summer Trips »
June 02, 2012
President Obama - CyberWarrior! [ArthurK]
There's a fascinating article in the NYT Friday about the cyberattacks on Iranian nuclear facilities. It's really good and you should Read The Whole Thing... but not right now.
Short version, the STUXNET worm (and maybe the newer FLAME) are weapons in a joint US/Israeli cyberwar against Iran. Wow, what a scoop!
This account of the American and Israeli effort to undermine the Iranian nuclear program is based on interviews over the past 18 months with current and former American, European and Israeli officials involved in the program, as well as a range of outside experts. None would allow their names to be used because the effort remains highly classified, and parts of it continue to this day.
Not a scoop. Not investigative journalism. You might get 1 or 2 insiders to breach security and tell stories. But this was Full Cooperation. NYT didn't have to find these people - these people must have been told to tell NYT everything they needed for the story.
So, unusually, I'm not blaming NYT for breaking US security. This had to come from the White House. President Obama.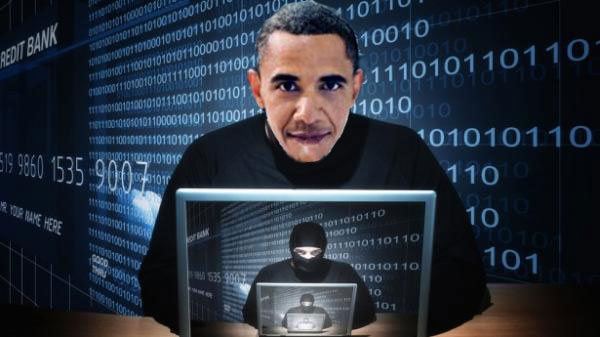 ('shop by Slublog)
The story is a campaign ad. And it reveals a bunch of Top Secret stuff. National Security info.
You think, "Well Iran must know we did this." No they didn't. I've been following Stuxnet since the story broke - there've been rumors about the Chinese and even antagonistic internal Iranian elements.
You think, "Iran knows how many centrifuges went down." Yeah, and now they know that we know. They know if our damage assessment is working. In a war, it's not enough to bomb a target - you have to know if the bomb HIT the target. The enemy delights in erecting fake targets and fake bomb damage. They want to know if their spoofs are successful. This article tells Iran what we think we accomplished. If they were spoofing, they'd know if it worked.There's other info you don't want to give away in the article but I don't need to list
all
of them.You don't give this information away! And President Obama did.Why?Look at some quotes from NYT.
From his first months in office, President Obama secretly ordered increasingly sophisticated attacksMr. Obama decided that the cyberattacks should proceed.Mr. Obama concluded that when it came to stopping Iran, the United States had no other choice.Mr. Obama authorized the attacks to continue, and every few weeks - certainly after a major attack - he would get updates and authorize the next step. Sometimes it was a strike riskier and bolder than what had been tried previously."From his first days in office, he was deep into every step in slowing the Iranian program - the diplomacy, the sanctions, every major decision,"Mr. Obama, according to officials in the room, asked a series of questions, fearful that the code could do damage outside the plant.Mr. Obama came to office with an interest in cyberissues, ... What he did not say then was that he was also learning the arts of cyberwar.
Learning the arts of cyberwar? What A Bad Ass! President Patton lives in the White House!
You might say, "Oh, you're just some winger. Hating on everything the President does." Well, sure.But what about Glenn Greenwald?Greenwald gets quoted favorably in the Ace of Spades Blog. We are truly in the End of Days.Glenn has a
good article
in Salon,
Yes, Salon!
, looking at this business, and he's not happy about it.
(article's sub-headline) A White House obsessed with secrecy and punishing whistleblowers loves classifed disclosures that glorify ObamaThis morning's story by Sanger is but the latest in a long line of leaks about classified programs that have two attributes in common: (1) they come from senior Obama administration officials; and (2) they are designed to depict President Obama, in an Election Year, as a super-tough, hands-on, no-nonsense Warrior.we have the spectacle of Obama's "senior administration officials" boasting to Sanger about the details of this highly classified program and Obama's heroic seizing of the mantle ("From his first days in office, he was deep into every step in slowing the Iranian program - the diplomacy, the sanctions, every major decision," a senior administration official said. "And it's safe to say that whatever other activity might have been under way was no exception to that rule"). In other words: Dear Vital Jewish Voters in Crucial Swing States: behold what this great leader did in secret to pummel Iran.So exposing classified national security information is an act of criminal evil when done by a whistleblower to expose high-level error or abuse, or to a court trying to assess the legality of the President's actions. But it is an act of great nobility when done to venerate the President as a strong and tough warrior.
(examples of punished whistle-blowers skipped)
There's one last point meriting consideration. Note how eager Obama officials are to use leaks to tout his militaristic aggression. He ended bin Laden and Awlaki's lives.
Why is Obama eager to get lefties (like Greenwald) to condemn him for this stuff?
It's because, aside from the tried-and-true strategy of Democratic politicians benefiting politically from provoking criticism from the "Left," Obama officials are eager to depict him as a violence-wielding aggressor.That's because huge numbers of America's independents, "moderates" and Good Progressives are extremely aroused by these sort of displays of manly presidential "toughness": witness the stiffened spines and puffed-out chests as they hail their leader for dumping bin Laden's bullet-riddled body into the ocean or creating piles of other corpses throughout the Muslim world. The more objections from liberals and others, the better.That's all repellent enough. But that they use national security leaks to accomplish these political goals - at the very same time they exploit secrecy claims to persecute whistleblowers and shield themselves from judicial review - makes it just grotesque.
Ok, so President Obama is a jerk. But hey, that's the way politics are done. Actually, when it comes to National Security, it's not. Forget that this cyberwar was a Bush43 program that Obama inherited... Let's go back a little further.
Cold War. Nixon vs. JFK.
Very Close Race
. JFK is hammering Nixon (and Eisenhower) on National Defense over the
Missile Gap
.In the 1950s there was a dispute in the intelligence community over how many ICBMs the Soviets had pointed at us. Estimates ranged from a dozen to almost a thousand. After Sputnik (Oct. 1957) a near panic set in among the public. JFK received leaked estimates on the higher ranges and used those in his campaign against Nixon. Said Nixon and Eisenhower were
weak on defense
!But Eisenhower, with the benefit of recent U-2 photos, knew the low estimates were correct. Not willing to tell the Soviets how well the U-2 performed... He Kept His Mouth Shut. And JFK* won a very close election.
*JFK got a classified briefing in July 1960 that told him the missile gap didn't exist. Don't know if he kept campaigning on it afterwards.
One more example.
Breaking the German Enigma machine cipher was a pretty big deal during WW2. It was a well kept secret until the mid-1970s. What's the point? We were happy to help many 3rd world countries obtain mint-condition Enigma machines for their cryptographic needs. That was probably pretty useful.
So even if the Iranians know every single detail of the cyberwar we're waging... not every other possible future target does! At least, they didn't until Obama got in a difficult election campaign... (and it's only June!)
And It Gets Worse.
(NYT again)
(Obama) repeatedly expressed concerns that any American acknowledgment that it was using cyberweapons ... could enable other countries, terrorists or hackers to justify their own attacks.
The NYT article counts as an American acknowledgment. In Obama's opinion, that makes us fair game. Good luck in your (hypothetical) 2nd term.
(if you had been following my twitter-feed at @ComradeArthur you'd have known this stuff hours and hours ago...)

posted by Open Blogger at
07:17 PM
|
Access Comments