« Obama Unveils Secret New Plan to Turn The Country's Fortunes Around
|
Main
|
Democratic Stenographer And Washington Post Blogger Greg Sargent Gets Pissy Over Jobs Post
Plus: New Romney Ad »
June 01, 2012
Putting my marker down: Romney wins big [Fritzworth]
Not 1984 big, but so decisively as to preempt any Dem claims of voter irregularities and to forestall any Dem voter irregularities themselves. ("If it's not close, they can't cheat." -- Hugh Hewett)
And when analysts look back at the 'turning point' of the 2012 election, they'll point to this week as the inflection point of the campaign, and in particular to three key points:
1) It's now apparent that the Emperor's campaign has no clothes. In spite of the best "wind beneath his wings" efforts of the mainstream media (haircuts? dressage?), every Obama campaign attack on Romney so far has blown up in their faces, either undercut by other Dems (gotta love Bill's statements last night -- remember, revenge is a dish best served cold and with plausible deniability) -- or by bringing to light background information about Obama that the MSM has carefully overlooked for six years.
2) Romney and his campaign staff are clearly moving themselves "inside the loop" in their campaign against Obama. They're raising more money, they're responding to the news cycle better, and they're aggressive about getting in his face. As others have noted, Obama has never faced a tough campaign before and for the first time he has a highly public, highly visible record to defend. I've been waiting 30 years for a bare-knuckled Republican Presidential candidate; who would have thought it would be Mitt Romney? Not me, but I couldn't be happier.
3) It really is hard to overstate just how bad the economic news today was for Obama. It's not just the slight tick upward in the artificially low unemployment rate; it's not just the horrendous May jobs numbers (69,000 actual vs. 150,000+ expected). It's the April jobs numbers being revised down from 114,000 to 77,000, with a chance that the May jobs numbers will be revised downward a month from now. Basically, the 'soft recovery' is sliding down a steep slope, and I'll give even odds that we see at least one month this year with negative job growth.
Even the Puffington Host can't hide how bad it is, though of course their answer is "more stimulus!":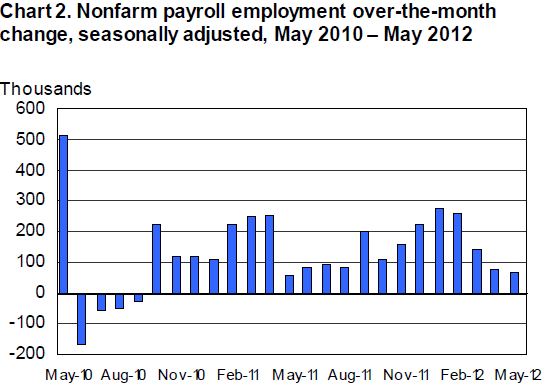 The timing of these bad numbers is atrocious for Obama. They come close enough to the election ("Five more months!" -- Romney protestors to David Axelrod) to really matter, but not so close as to be swamped by other campaign hoopla or to be set aside by saying "We'll get to that just as soon as this election is over." Obama and the Senate Dems will be on the spot to do something, but frankly there's not much they can do that (a) would have an impact between now and November, (b) wouldn't alienate the Leftist base that Obama is trying so hard to energize, and (c) would actually pass Congress. They're screwed, pure and simple.
Here's what makes it even worse for the Obama campaign. A lot of businesses have held off hiring due to uncertainty about quite a few factors: Obamacare, the Bush tax cuts expiring, high energy prices, increased environmental regulations, and so on. But as of a few months ago, most were probably anticipating Obama being re-elected and were simply adjusting their long-term plans accordingly. But suddenly Romney is looking not just more electable but like the stronger candidate . Most corporations and businesses would much rather wait for a Romney administration, a Republican DOJ, a Republican EPA, and a Republican Congress, but they can't be absolutely certain it's going to happen -- so a lot of them are going to continue to sit on their hands until after November, which will only stall the economy more.
Hey, I could be wrong about all this, but as Billy Joel once sang, "I've been a fool for lesser things." Or to quote a more literary source that just came to mind:


Ghân-buri-Ghân and touched the earth with his horny brow in farewell. Then he got up as to depart. But suddenly he stood looking up like some startled woodland animal snuffling a strange air. A light came in his eyes.

"Wind is changing!" he cried, and with that, in a twinkling as it seemed, he and his fellows had vanished into the glooms...."

-- "The Riding of the Rohirrim", The War of the Ring, vol. 6 of The Lord of the Rings, J.R.R. Tolkien

I think the winds have changed indeed. It's about damn time. ..fritz..

posted by Open Blogger at
12:25 PM
|
Access Comments