« Eurovision: Humperdinck Wuz Robbed
|
Main
|
Pat Condell: Can I Say This? »
May 27, 2012
The Sentinel
Changing of the guard ceremony at Arlington National Cemetery, below the fold. At around 2:36 you will hear rifle fire in the distance, and you'll know what that meant.
The soldiers of the 3rd Infantry Regiment based at Ft. Myer perform this honor day and night, 24x7, 365 days a year. I've seen it many times, it is somber, but uplifting.
From wiki:
The soldier "walking the mat" does not wear rank insignia on his or her uniform so that they do not outrank the Unknowns, whatever their rank may have been. Non-commissioned officers (usually the Relief Commander and Assistant Relief Commanders), do wear insignia of their rank when changing the guard only. They have a separate uniform (without rank) that is worn when they actually guard the Unknowns or are "Posted".
It doesn't matter what the weather is doing. They perform this honor in rain, snow.. hell they've stood this watch in a hurricane.
21 steps. 21 seconds.
Arlington is a beautiful, but sober place. I hope you have the opportunity to see it one day. You will not regret it.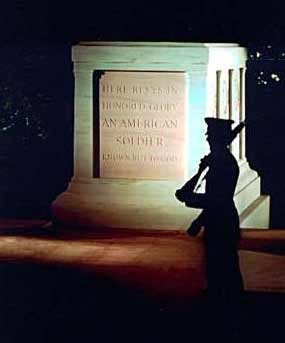 HERE RESTS IN HONORED GLORY AN AMERICAN SOLDIER KNOWN BUT TO GOD

posted by Dave In Texas at
02:47 PM
|
Access Comments