« It Looks Like Fauxcahontas Plagiarized Her 'Pow Wow Chow' Recipes
|
Main
|
Joe Biden: I Totally Understand Why An Out-of-State Felon Almost Beat Obama In The West Virginia Primary.
It's Because of Bush. »
May 18, 2012
ABC News: Cops, Witnesses Back Up George Zimmerman's Version of Events
How on earth can the prosecutor maintain a murder 2 charge in the face of obvious reasonable doubt?
And it's at least reasonable doubt. It could be clear and convincing evidence that he's telling the truth.
Two police reports written the night that George Zimmerman shot Trayvon Martin said that Zimmerman had a bloody face and nose, according to police reports made public today.

The reports also note that two witness accounts appear to back up Zimmerman's version of what happened when they describe a man on his back with another person wearing a hoodie straddling him and throwing punches.

In addition, Trayvon Martin's father told an investigator after listening to 911 tapes that captured a man's voice frantically callling for help that it was not his son calling for help.

The new information is part of a trove of documents released by the Florida State Attorney today in the case against Zimmerman, who is charged with second degree murder for the Feb. 26 killing of Martin, an unarmed 17-year-old African American male.
Hey, remember ABC's earlier scoop that Zimmerman had no visible injuries?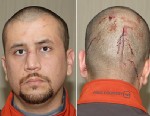 What no visible injuries look like

posted by Ace at
02:26 PM
|
Access Comments