« FISHER WINS--CAC's Half-Assed Primary Night Coverage of Nebraska
|
Main
|
Top Headline Comments 5-16-2012 »
May 15, 2012
Overnight Open Thread (5-15-2012)
Remember the UCB farm taken over by hippies and the local Khmer Berkeley?
Well the university gave them an ultimatum to leave but they absolutely refused to cave in to the Man's demands. Oh wait...
May 9:

Mobilize tonight, May 9th-10th, for an entire night of farming .

A bulldozer loomed on the edge of the farm for the majority of the morning.

We continue to recieve overwhelming support from residents and community members. Gourmet pizzas, ice cream, wild mushroom quesadillas, and of course hundreds of gallons of donated water for our crops - we couldn't do this without you. We're resting up for a full day's work, and hope to see all of you again tomorrow.

Our farm is here to stay!

Occupy the Farm protesters agreed Saturday to end their three-week encampment...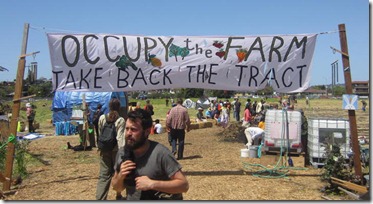 Meanwhile here are your current Palin clan updates:
Bristol Palin sells Arizona home and heads back to Alaska for 'trial marriage' with boyfriend filmed for reality TV'
Reports in the National Enquirer last month allege that she will be moving headed into a 'trial marriage' with her current boyfriend Gino Paoletti, 21.

Reality television cameras would be following the threesome, as Bristol has a contract with Lifetime to film a series. The show, titled Bristol Palin: Life's A Tripp, is expected to follow the young mother as she raises her son, and continues her work as both a teenage pregnancy prevention spokeswoman and receptionist at an Anchorage dermatologist's office.
Baby doll - reality TV is not a career especially for a single mom with no apparent job skills.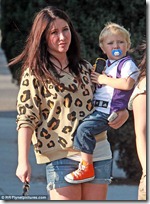 Levi Johnson plans to name his newborn daughter 'Berretta'
Levi Johnson, the father of Sarah Palin's grandson, plans to name his new daughter after a gun. Jonson, 21, will call his second child Breeze Beretta Johnson. Her middle name is inspired by the Italian firearms manufacturer Beretta.

He and his new girlfriend, Sunny Oglesby, are expecting after Sunny forgot to bring her birth control during a weekend escape to a hunting cabin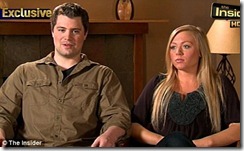 I'm guessing we'll know that Sarah is serious about running for office when Bristol leaves on a year-long tour of Outer Mongolia and Levi Johnson goes missing.
Navy Wants Ultraviolet Cloaking Device for Jet Fighters
Well the sun is a huge UV source and if you're obscuring a plane's signature, you have to deal with that part of the spectrum too:
Now the Pentagon wants the defense industry to come up with a system that can cloak fighters from another telltale type of radiation: ultraviolet energy from the sun.

The Navy's latest solicitation to research proposals asks for a "UV obscurant device" that can be "dispersed from an aircraft." The system should be compatible with the Navy's existing counter-measures dispensers, which are currently tailored for releasing infrared flares and radar-foiling chaff to help warplanes dodge enemy missiles.

But the F-35's design apparently does not protect against ultraviolet sensors - that we know of. The Navy's older Hornet fighters are probably equally vulnerable. The UV cloak seems to be a response to a particular type of "dual-band" missile seeker that zeroes in on infrared radiation at first, then switches to a UV sensor in the final moments before striking the target. The UV sensor works by looking for non-reflective shadows against the bright UV glare of the sky - like silhouettes against a lightboard.

An obscurant could blot out a plane's UV silhouette in a shapelesss mass of ultraviolet shadow. "One concept might include a device that very rapidly generates an extended, dense cloud of material that absorbs in the UV region," the Navy solicitation reads.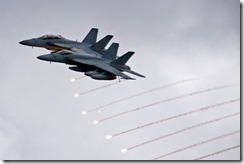 And aren't averse to a little risk - after all what are the odds of second cowardly Italian captain running the ship into rocks while wooing an Eastern European babe?
Yes, Costa Cruises is back and bigger than ever! Once priced at $2,130, the "Sunshine Cities" western Mediterranean route (which passes the western coast of Italy) is now $449 (although I bet at this base price you're staying in a windowless cabin). Apparently Costa's gamble is paying off. According to Reuters, "Italian cruise operator Costa Crociere, controlled by U.S. group Carnival, cut prices and saw a 25 percent annual rise in bookings in April, recovering from the slump in sales triggered by the deadly Concordia disaster earlier this year."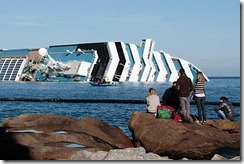 The Floppy Disk and 14 other old people Icons that don't make sense anymore
The Floppy Disk Icon means "save" for a whole generation of people who have never seen one.
- Scott Hanselman (@shanselman) May 9, 2012

What happens when all the things we based our icons on don't exist anymore? Do they just become, ahem, iconic glyphs whose origins are shrouded in mystery?
Okay he may have a point with the floppy disk icon (technically a diskette), but most of the other icons have hardly become archaic except perhaps among young techno-hipsters.
I promise you that if you go to a modern office, you'll still see manila folders, phone handsets, calendars, and envelopes. Plus icons are meant to be well...iconic - so they can be arbitrary as long as they're recognizable.

So over a year after the Japanese tsunami a Harley Davidson motorcycle was found washed up on shore in British Columbia inside a moving van that floated across the Pacific. Using its license plate and a little detective work the original owner in Miyagi, Japan was tracked down.
It's pretty crudded up but Harley Davidson has announced that they will restore the bike to its original condition before sending it back to its owner in Japan.
Man beats smuggling rap because he 'drinks a lot'
Well this was in Sweden.
The 23-year-old man was stopped in October 2011 after entering the town of Helsingborg on Sweden's west coast.

...Customs officers duly discovered what they considered to be an extraordinary stash of alcoholic beverages, despite the man's claims that the booze was meant purely for personal consumption.

A more thorough probe revealed that altogether, the man was transporting 2,357 litres of beer, 158 litres of pre-mixed drinks, 12 litres of wine, and 15 litres of spirits.

The man was subsequently charged and put on trial on suspicions of illegal alcohol smuggling.

However, the Helsingborg District Court ruled that it wasn't inconceivable that the man's entire cargo of booze and beer was meant for personal consumption, rather than for sale on the black market.

In detailed calculations, the court reasoned that the man, his father, and other relatives could plausibly consume all the beer within a year if they drank 1.3 litres every weekday.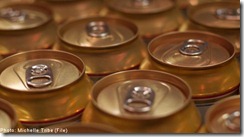 But before you start macking on her you might want to keep in mind who her daddy is.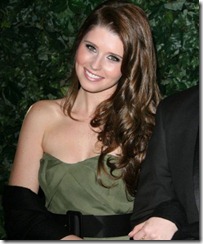 Also: reconciliation at last - now they can finally get back to killing central american leftists.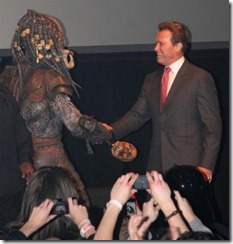 The Yahoo AoSHQ group. You know the way.
Braaak.
Tonight's post brought to you by a map of the bed: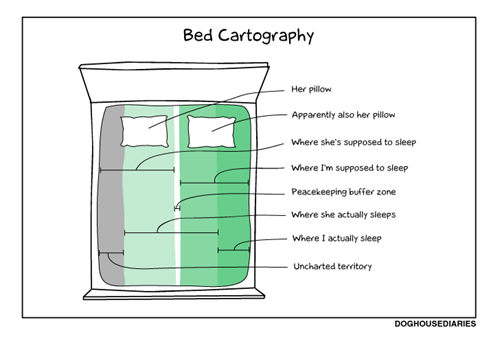 Notice: Posted by permission of AceCorp LLC. Please e-mail overnight open thread tips to maetenloch at gmail. Otherwise send tips to Ace.

posted by Maetenloch at
09:49 PM
|
Access Comments