« Police State Drones Over US Skies
|
Main
|
Top Headline Comments 5-15-2012 »
May 14, 2012
Overnight Open Thread (5-14-2012)
Agreement Groups in the US Senate
So here's a interesting visualization of voting groups in the Senate over the last 15 years. Red is Republicans, blue is Democrats.
Note that in the 110th Congress (2007-2009) there were 10 Republican senators who were actually classified as Democrats in this chart based on their votes - along with a much smaller group of GOP-voting Democratic Senators.
Most of whom are either moderates or closer to the Democrats than to their own party. Charles Hagel was critic of the Bush Administration which he described as "the lowest in capacity, in capability, in policy, in consensus - almost every area" of any presidency in the last forty years. George Voinovich has been known to oppose lowering taxes and frequently joined the Democrats on tax issues. John Warner is a moderate Republican and has centrist stances on many issues, to the point that he once faced opposition of other members of his own party when he decided to run for re-election.
Plus you had the Maine sisters and John McCain.
But of course it's the Republicans who are extremists that never cross the aisle to work with the opposition. </sarc>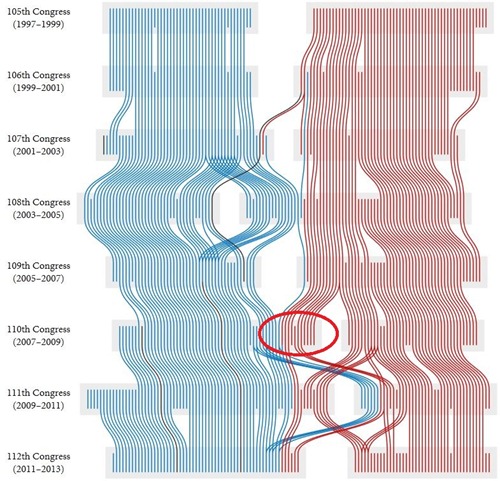 Tip for WaPo: Look Into Young Joe Biden
While the media is focusing on Romney's pranks in high school, it turns out that Sheriff Joe himself was a rather prankish brawling young buffoon:
the Washington Post might want to devote some investigative resources toward the background of Vice President Joseph Biden. That's right, "Sheriff Joe" was reportedly involved in a spate of anti-social activities as a child and adolescent, including but not limited to elaborate neighborhood pranks, street brawls, and even an assault on a lowly dorm employee in college.

...And before that, University of Delaware, where he only screwed around, trying to be Joe College-got probation for dousing the dorm director with a fire extinguisher. . Then there were hijinks from high school, streaking the parking lot. . They were getting back to childhood sins, stuff where the priest says, "Two Hail Marys" . but Joe was still talking.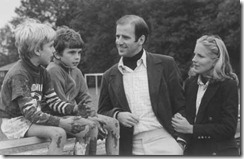 But what about a reverse-commencement, where young folks tell their elders what they should know? What should be in that speech? [2/2]

- Ezra Klein (@ezraklein) May 8, 2012
An then you have this matching juicebox tweet:
Do we think presidential assassinations would be a common occurrence if there were no Secret Service?

- Matt Yglesias (@mattyglesias) May 11, 2012
Just remember that both of these juiceboxers are professional journalists who somehow enjoy (undue) respect and probably make more than you.
The Crashed P-40 Found in the Sahara
This has probably already been covered here several times but just in case...
Recently a P-40 was found in the Egyptian desert in remarkably preserved condition:
The chance find was made by an oil worker exploring a remote region of the Western Desert in Egypt. It is more than 200 miles from the nearest town in a vast expanse of largely featureless terrain.

Flight Sergeant Copping, part of a fighter unit based in Egypt during the North Africa campaign against Rommel, is believed to have lost his bearings while flying the damaged Kittyhawk to another airbase for repair. All that is known is that he went off course and was never seen again.

Remarkably, the plane remained almost untouched for the next seven decades - right down to the guns and ammunition found with it. Most of the cockpit instruments are intact, and the twisted propeller lies a few feet from the fuselage.

Crucially, the P-40's identification plates are untouched - allowing researchers to track its provenance and service history. There is flak damage in the fuselage, which is consistent with documents on the aircraft. Historian Andy Saunders said: 'It is a quite incredible time capsule. It's the aviation equivalent of Tutankhamun's tomb.

'This plane has been lying in the same spot where it crashed 70 years ago.
'It hasn't been hidden in the sand, it has just sat there.
'He must have survived the crash because one photo shows a parachute around the frame of the plane and my guess is the poor bloke used it to shelter from the sun. The radio and batteries were out of the plane and it looks like he tried to get it working.

'If he died at the side of the plane his remains would have been found. Once he had crashed there, nobody was going to come and get him. It is more likely he tried to walk out of the desert but ended up walking to his death. It is too hideous to contemplate.'
And here are more details on the pilot, Flight Sergeant Denis Copping, who went missing in June 1942.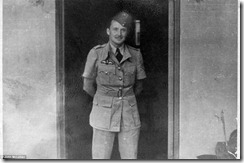 How to Open a Door Chain Lock or Bar Latch from the Outside
As always use your moron powers for good.
All you need is some kind of string (dental floss, yarn, ribbon, etc.) or a sturdy rubber band (the thicker the better, so it won't snap under pressure). Both methods require manipulating the material so that the chain end is pulled towards the wider slot that will make the chain fall out, hence unlocking the door.
So How Long Did Cave-babies Breast Feed?
Short answer: Probably for two to four years:
The fossil record provides little indication of weaning times, so the best evidence we have comes from our closest living relatives in the animal kingdom. Chimpanzees and bonobos wean their young at the age of 4 or 5, while gorillas do so about a year earlier. It's tricky to translate those ages into human years, though.

...Anthropologists have studied the weaning customs of hunter gatherer societies, and found significant variation. The !Kung San of the Kalahari desert stop breast-feeding at around 4 or 5 years of age. The Hadza of Tanzania wean about six months earlier than the !Kung. The Acha people of Paraguay wean earlier still, at around 3 years of age.
And Bookworm points out that if you were put off by Time's recent cover, it doesn't mean that you're against breast-feeding or mother-babyson bonding:
That woman on the cover isn't bonding, she's advocating. She's so "in your face" she practically leaps off the cover, clawing at your eyeballs. This picture can best be analogized to a porn picture. In those, the woman, rather than gazing lovingly at her partner, turns her seductive gaze to the camera - and to the viewer beyond. Just as porn isn't about love, this photo isn't about bonding with a baby. This is one Mom's statement about the "evils" of American culture, nicely captured on the front page of a magazine owned and distributed by vast corporate interests.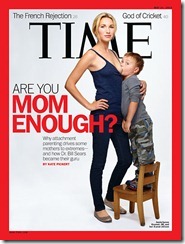 4 Artists Who Should Probably Just Take a Break for a While
Case in point - the Johnny Depp-Tim Burton collaboration:
In the last 10 years, Johnny Depp has collaborated with Tim Burton on five films. He wore pale makeup and crazy hair in four of those five (the fifth was Corpse Bride, where Depp's character, while made of clay, still had a pale face and weird hair), and while he was always enjoyable to watch, no character really stands out as particularly iconic; they're all mostly just eccentric, and they sound funny.

...I haven't found a single critic who thinks either Burton or Depp have made their best work together in the last 10 years. I'd go as far as to say that Burton's last great movie was Big Fish, which is suspiciously the only move he made in the last 10 years that didn't feature Depp.

The Yahoo AoSHQ group. Bla bla bla.
And don't forget about the Job Bank.
And my twitter thang.
Tonight's post brought to you by pistols: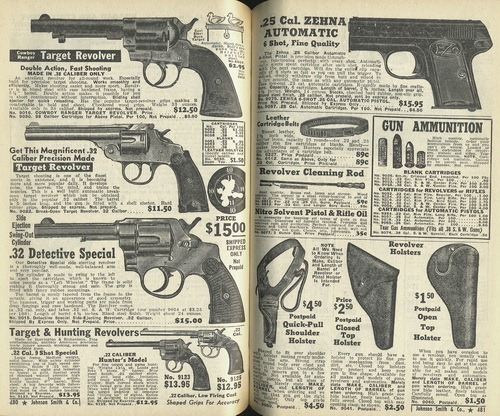 Notice: Posted by permission of AceCorp LLC. Please e-mail overnight open thread tips to maetenloch at gmail. Otherwise send tips to Ace.

posted by Maetenloch at
09:45 PM
|
Access Comments