« Obama Speaking Live From Afghanistan
|
Main
|
Top Headline Comments 5-2-12 »
May 01, 2012
Overnight Open Thread (5-1-2012) - May Day Edition
A Life in Full: Benzion Netanyahu Dies at Age 102
He was the father of current Israeli Prime Minister Benjamin Netanyahu. I had never heard of him before but his obituary is a fascinating read:
Born Benzion Mileikowsky in Warsaw, Poland, in 1910 and moving to Mandatory Palestine in 1920, Netanyahu was a devout follower of revisionist Zionist leader Zeev Jabotinsky, who advocated Jewish military strength and the establishment of a Jewish state on both sides of the Jordan River. Netanyahu served as his personal aide until Jabotinsky's death in 1940.

He then edited right-wing Jewish publications and earned a Ph.D in history from Dropsie College in Philadelphia. Later, he was a professor of Jewish history and Hebrew literature at the University of Denver and Cornell University, where he served as chairman of the department of Semitic languages and literature.

He and his wife Tzila had three sons, Benjamin, Yoni, who was killed in an operation to free Israeli hostages from an Entebbe, Uganda airport in 1976, and Iddo, a doctor and playwright.
When you've seen your life's dream come to fruition and the least well-known of your children is merely a doctor and an acclaimed playwright, you've done quite well in life.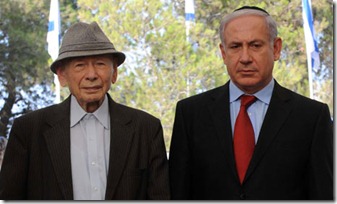 And at the other end of the human spectrum...
Do These Guys Seem Like The Type To Blow Up a Bridge?
Well yeah if you're willing to give partial credit for trying and failing. I for one am glad to see that the #Occupiers are willing to hire the mentally challenged.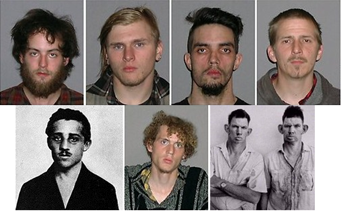 May Day - Live from Seattle
genghis has been sending updates all day of what the Seattle anarchists are up to including links if you want to follow it live:
Ahh, spring, when a young man's fancy turns to smashing windows and the heady smell of tear gas is in the air.

Listen along while the police scanner narrates:

http://www.komonews.com/news/content/scanner

And helicopters capture the pastoral scenes from above:

http://www.king5.com/live-stream/pop-up-ads/Watch-live-now-116248999.html

There's a bit of a lull in the action now. The anarchists did a hit n' run and are apparently regrouping around the Old Spaghetti House. Two other large groups of protesters are still on the march where they'll join up at Westlake, so I think the Black Bloc is waiting for the crowd to swell so they can use them for cover. Also they're waiting 'till the sun goes down.
Hey don't blame me - that's what the other former US Presidents and their staff think of him:
WASHINGTON - Former presidents Bill Clinton and George H.W. Bush have united - in their hatred of Jimmy Carter.

The former commanders-in-chief share a disdain for their fellow ex-president because he conducted foreign policy after leaving office without any authority from the White House, according to a new book.

In "The Presidents Club: Inside the World's Most Exclusive Fraternity," former staffers even use the word "treason" to describe Carter's actions.

"Carter gives the club a great gift, something for all the others to complain about," the book by Time magazine's Nancy Gibbs and Michael Duffy says.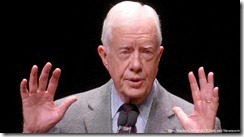 So Who's Your Favorite Under-Rated Blogger?
As I scour the internet, looking for links to keep you entertained, I'm kinda surprised how difficult it is to find decent text-based right-wing blog humor. It's all reposts of YouTube videos now.

Even Scrappleface, whose coined the term "Axis of Weasels" back in his writing days, has climbed aboard the video train.

Surely there are still writers out there who seek to amuse, aren't there?

My question is, who do YOU read when you want to be entertained? Not the gigantor mega-bloggers that everyone's heard of. I mean talented, low-traffic sites still struggling for attention.

Who's your favorite under-rated blogger?
If you've been holding out on us, well now's the time to spill your faves.
How The Dalai Lama Became Instantly Uncool
Can You Learn the Identity of a Car Owner with Their License Plate Number and Google?
Well kind of but it takes some extra work:
You would be surprised that even license plate information can be found online. An old trick I use to use back in the day was searching Government Smog check sites for the plate. Not only would they say if the car passed or not, often the website would list the smog shop that serviced the car or VIN # of the car. Then I would search on the VIN # for more details and/or ask the smog shop for the vehicle owner's information.
If that doesn't work, Brandon also notes that there are a few other options available to you. While it's unlikely you'll be able to get the information covertly, you can use a Request for Record Information (INF 70) form to identify a car owner. Additionally, some states (like my home state of Minnesota allow you to go to a simple database site and pay a small fee.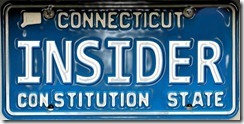 Tales of Good Fortune With Horribly Cruel Plot Twists
Could be worse I guess.
In 2011, 22,000 applicants from around the world were informed that their names were drawn and they won the most Power of all Ball lotteries. They were coming to America! Break out the wine! Buy some tiny Old Glories! U-S-A!

Once again, the cold reality of "computer glitch" broke the hearts of thousands. Only this time it wasn't hopeful kids wanting a higher education or lecherous gamblers, but earnest, hard-working people who wanted nothing more than to come to America and to get the hell out of the country they were currently in.

...The State Department was forced to make an apology after the system malfunctioned. But by that time, it was too late. Twenty-two thousand people were already told they were eligible for the visa. That's when the State Department was forced to hold another drawing where it took data correctly. No one was disciplined for the mistake, and the ones who lost out had to hope that somehow they would actually win the next time around. The odds of winning are only about, oh, 1 in 250.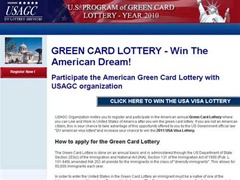 Single, Like Travel, And Looking For a Generous Older Gentleman?
A new website, MissTravel.com, is offering beautiful, broke ladies access to "wealthy" dudes who are willing to pay for travel to exciting destinations. Upon signing up for the site, "beautiful" members (users decided between a "generous" or "beautiful" membership type) must provide photos for approval, which ultimately decide whether the ladies can or cannot have a profile. With an approved membership, women have access to thousands of eligible bankers, athletes, lawyers, executives and other uncategorized rich dudes who are willing to fork over travel cash in exchange for a wonderful and of course, most importantly, attractive female travel companion.
Well I'm pretty sure that traveling Secret Service agents would enjoy some American company since foreign nationals are now off-limits.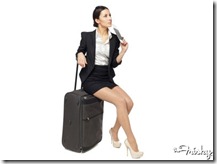 The Yahoo AoSHQ group. You know the way.
Braaak
.
Tonight's post brought to you by May: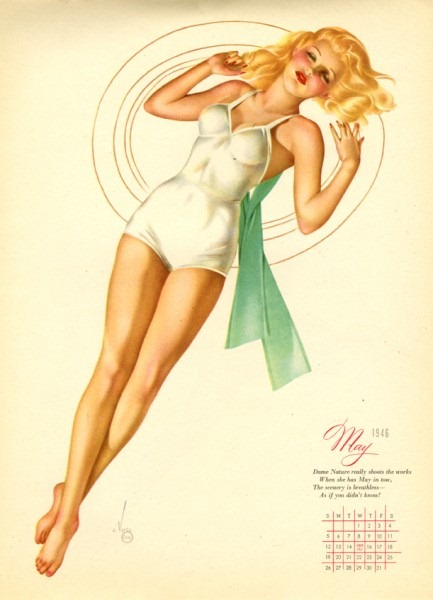 Notice: Posted by permission of AceCorp LLC. Please e-mail overnight open thread tips to maetenloch at gmail. Otherwise send tips to Ace.

posted by Maetenloch at
10:04 PM
|
Access Comments