« Elizabeth Warren's Tribe: It's Sexist To Attack a Woman Over Whether She Is, Or Most Likely Isn't, a Cherokee
|
Main
|
Top Headline Comments 5-1-12 »
April 30, 2012
Overnight Open Thread (4-30-2012)
Finding Your Indian Name
Well since Elizabeth Warren gets to be a self-declared Native American and it's now racist/sexist to question her status I figure we all can be too. So the first task for the Moron Nation is to come up with a more fitting name rather than the one your paleface parents gave you.
Here's mine based on this all-scientific-and-stuff computer-based generator.
What is your Indian Name

Your Result: Payphone Ringing in Empty Hallway

No one seems to listen to you and you always seem to be just a few cents short when you need it most. Luck doesn't seem to be on your side but someday you'll dial a different number.

Dog with Tail Between Legs

Woman with Broken Heal

Big Crack in Sidewalk

Piece of Gum Stuck to Desk

Pain in Big Ass

Hair with no Place

Wrong Side of Bed

What is your Indian Name
Quiz Created on GoToQuiz
But if you don't like the results of that one, well I gots this one: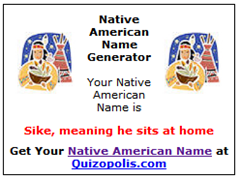 Don't like these? Well then your name must be Yanishka Machakw meaning 'one who is never satisfied and whines like a woman'.
How Biden Got the Cold War All Wrong
Well I've disliked Biden since the late 80's when he had more hair and was an asshole rather than the buffoon of today. And this article is a reminder that he comes in second to only Sen. Kerry in getting nearly every single foreign policy question of the last 40 years wrong.
What was Biden doing during the Cold War? Well, you can guess by invoking the "Biden Rule"-the man is never right about foreign policy, so it's easy to work backwards and figure out where he stood.

...Throughout his career, Mr. Biden has consistently opposed modernization of our strategic nuclear forces. He was a fierce opponent of Reagan's Strategic Defense Initiative. Mr. Biden voted against funding SDI, saying, "The president's continued adherence to [SDI] constitutes one of the most reckless and irresponsible acts in the history of modern statecraft." Mr. Biden has remained a consistent critic of missile defense and even opposed the U.S. dropping out of the Antiballistic Missile Treaty after the collapse of the Soviet Union (which was the co-signatory to the ABM Treaty) and the end of the Cold War.
And that was just during the Reagan administration. Where Biden ever got the reputation as a wise old-man of foreign policy is an eternal mystery to me.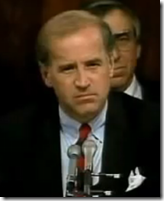 Reviews for the North Korea's Hoeryong Gulag
Well as gulags go it seems to be one of the better run ones according to reviews on Google:
albano7659: Not too much to complain about. Food is below average, but it gets the job done. The cells are simple, white walls, and a metal framed bed. Sounds worse than it actually is. Your body gets used to the metal framing after a while, and the empty white walls offer a blank canvas for your imagination to paint a picture on. Executions are conducted in a timely and organized matter.
Mike: BEST FAT CAMP! They don't feed you, make you work 12+ hour days, and the instructors are like drill sergeants yet better. I'm not supposed to say their secret to non-members BUT I can say P90X has nothing on their program. Admissions is easy: just be a foreigner (preferably American) and cross illegally from Russia. They literally, I mean literally, have your passes at the border just like cruise ship vouchers being handed out for attending a time share presentation. If you're not into quick weight loss seriously this place isn't for you and you may even consider it a crime against humanity and against every internationally adopted treaty but if you're ready for hard core this is the place!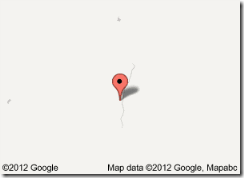 Zombie: How Occutards Took Over a Farm and Turned It Into a....Farm
Read this classic zombie report full of delicious snark on how a bunch of #Occupiers took over a research farm run by UC Berkeley and turned it into ..well a bunch of dirt with a few sad seedlings and a stunt-leek but with free group-hypnosis. But not to worry - this is just the start of their revolution. They plan to occupy the entire nation and do the same thing but on a larger scale.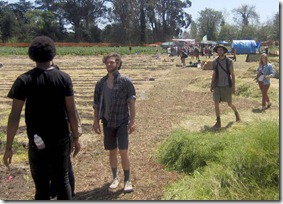 Oh and remember how the #OWS crowd occupied a house in Brooklyn that would be used to help the homeless? Well it turns out they gave it same treatment as the Berkeley farm:
Police arrested six Occupy Wall Street members squatting inside a Brooklyn home five months after the movement seized the property amid grand promises to "renovate" it and move in "a homeless family."

Instead, the group moved itself in, wrecked the place, and made a hard situation even worse for a single father who actually owned the East New York home and was trying to save it from foreclosure.
8 Incredible Things Slapped Together in a Day
Well there's the 380 mile Iowa road built in a day but the grandest, most important day achievement were the Mulberry harbors built in the days after D-Day:
Known as Mulberry Harbours (they were developed by the English, so they were allowed to misspell it), these artificial harbors were massive structures built out of concrete blocks, sunken ships and wooden roadways, all floated over in pieces, moved into position and locked down, making it by far the largest Lego project ever undertaken.

At about 1 mile long, each harbor was like a floating city, with depots, docks and roadways sturdy enough to drive tanks on.

The skeleton was mostly laid out in a day, the bridges were usable within three and the whole thing was completely assembled within a week. Over the course of 109 days, the week's worth of work allowed 2.5 million troops and 17 million tons of equipment to pour into occupied France and finish Nazi Germany for good.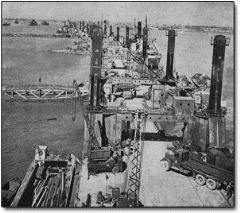 How The Death Panels Will Come
First they will decide that you're not worthy of treatment. Then they'll let nature take its course.
More than half of doctors across the UK have backed controversial measures to withhold treatment to smokers and the obese.

According to a new survey around 54 per cent of those who took part said the NHS should have the right to deny non-emergency treatments to those who fail to lose weight or kick their smoking habits.
In some parts of England smokers and the obese are already being rejected IVF treatment as well as hip and knee replacements by private clinics but patient groups have reacted angrily to calls for the NHS to follow suit, saying it denies them their basic human rights.
If you're not directly paying for it, then it's a 'gift' from the government. And gifts can be taken away.
The Yahoo AoSHQ group. Bla bla bla.
And don't forget about the Job Bank.
And my twitter thang.
Tonight's post brought to you by the illusion of choice: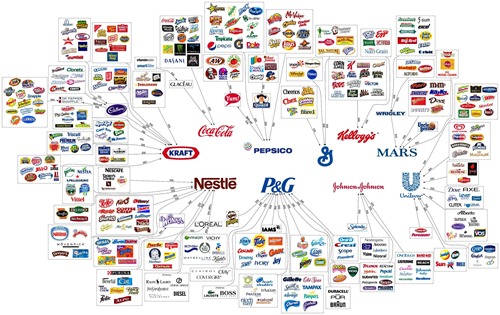 Note that this image is kinda bullshit since there are *at least* 8 or 9 competing manufacturers for any product means that there's more competition than exists in most countries in the world.
Notice: Posted by permission of AceCorp LLC. Please e-mail overnight open thread tips to maetenloch at gmail. Otherwise send tips to Ace.

posted by Maetenloch at
09:54 PM
|
Access Comments