« Dachau: April 29, 1945
|
Main
|
Top Headline Comments 4-30-12 »
April 29, 2012
Overnight Open Thread (4-29-2012)
Sunday, Sunday Sunday! 
Twenty Years Ago: The LA Riots
It was 20 years ago on April 29, 1992 that the Los Angeles riots began. At the time I was living just a few miles north of the epicenter and the riots forever colored my views on social unrest. Since then I have almost no tolerance for it and I've sworn to never be unarmed again.
Most people can still recall the beating of truck driver Reginald Denny. I remember it well plus the fact that I had passed through the same intersection just a few days before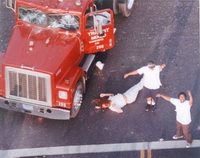 Here Neo-neocon points out that even among the violence and mayhem there were real heroes who stepped up to save Denny:
"I was just helping a person who was in need"

The quote in the title of this piece is from Bobby Green, one of four black people who were heroes in the LA riots of twenty years ago. But there's no "just" about it; the acts were rays of hope in an otherwise bleak picture.

...Murphy saw that Denny had managed to drag himself back into the cab of the truck, which was moving very slowly. Murphy ran to the passenger side and jumped on the running board; he saw a woman named Lei Yuille comforting Denny inside the cab. Just then, a hulking guy named Bobby Green leaped on the running board of the other side. The two stared at each other through the windows, each fearing the other was a rioter.

...Green jumped in and drove the massive truck a terrifying three miles to the hospital, with Murphy's girlfriend Barnett guiding the way by driving in the car in front. Murphy clung to the outside of the truck for the entire journey, feigning to be a rioter by pounding on the outside of the vehicle as if he had taken it for loot.

From his position on the running board, Murphy was also able to guide Green, who couldn't see through the truck's cracked windows. "Each one of us could not carry on the task without the other," says Murphy. "Bobby couldn't drive the truck without me on the outside. Mr. Denny was attended to from the inside [by Yuille], and we couldn't drive the truck without Terry in the front of us."

The result was a perfect collaboration. "We all came together as a team," he says. "It was like it was meant to be."
Here's a video of the Denny beating:
And here is why certain blocks were not attacked:
A Dose of Optimism: American Companies Going Strong
Critics are always predicting the collapse of the Anglo-American capitalist model but somehow it never seems to happen.
To hear the doomsayers from a few years back tell it, this competitive capitalist model was inherently unstable and prone to collapse; the recession was just the final nail in the coffin.

Four years later, these predictions are looking rather silly. A Wall Street Journal analysis of the American marketplace shows that, rather than falling apart under the weight of the recession, large firms are doing extremely well and have taken advantage of the recession to streamline their operations.
Overall, though, the Journal found that S&P 500 companies have become more efficient-and more productive. In 2007, the companies generated an average of $378,000 in revenue for every employee on their payrolls. Last year, that figure rose to $420,000.
Which means that when the world economy does start to recover, the US will be primed to take best advantage of it.
These are the first five of a series. Sadly I've only read 1.5 of these so far.
Here at EveryGuyed we've debated and discussed some books that every man should read at some point in his life; books that speak to our past, present and future selves. These are the first 5 selections in a weekly series that will total 50 books in all.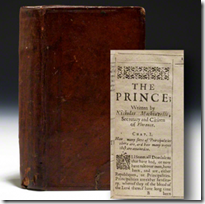 8 Old-School Diseases Making a Comeback
And note that two of these are coming back purely due to cultural/political reasons. And that syphilis was almost killed off just a decade ago:
The discovery of penicillin in 1943 as well as a greater awareness of the dangers of unprotected sex led to increasingly fewer people presenting symptoms of the disease. In 2000, public health officials announced that syphilis was almost completely eradicated in the US. But over the next decade the number of people testing positive more than doubled.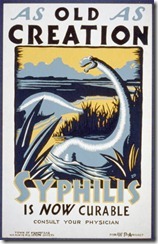 This comment appeared in the Daily Mail UK.
Time and time again, it has been shown that the school's league tables are routinely fiddled in order to benefit this or that school. At the same time, our so-called education system - ruined by lefty, progressive teaching methods - can barely teach our children to write English properly. If your a younger reader, you probably didn't even notice the two deliberate mistakes in this comment.
Can you spot the errors?
Remembering the Violent Femmes
This post reminded me that it's been eons since I last listened to the Violent Femme's debut album. So I did and guess what - it's still pretty dang awesome. Here's just a taste:
Don't hide the tiger.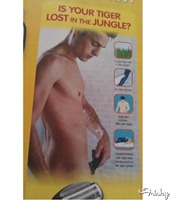 Weekly AoSHQ Commenter Standings
Top 10 commenters:
1 [480 comments] 'Niedermeyer's Dead Horse' [67.38 posts/day]
2 [445 comments] 'AllenG (Dedicated Tenther) SMOD 2012'
3 [397 comments] 'toby928?'
4 [333 comments] 'Robert'
5 [320 comments] 'wheatie'
6 [305 comments] 'Jane D'oh'
7 [301 comments] 'Vic'
8 [294 comments] 'willow'
9 [291 comments] 'MWR, Proud Tea(rrorist) Party Hobbit and ABO supporter'
10 [270 comments] 'CoolCzech'
Top 10 sockpuppeteers:
1 [94 names] 'social media by the numbers' [13.20 unique names/day]
2 [50 names] 'toby928?'
3 [45 names] 'kbdabear'
4 [43 names] 'Cicero'
5 [42 names] 'MrCaniac in the OBX'
6 [36 names] 'fluffy'
7 [35 names] 'Truck Monkey'
8 [35 names] 'Doctor Fish'
9 [33 names] 'Billy Bob, pseudo-intellectual'
10 [30 names] 'Romeo13'
The group. Yeah.
Where it's at - the Twitter
Tonight's post brought to you by counseling FAIL: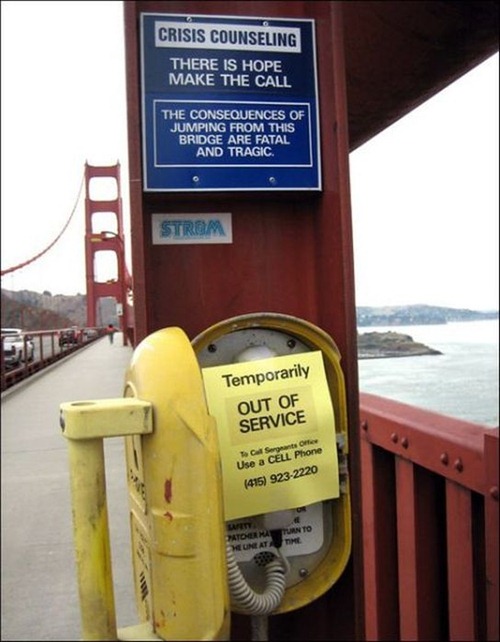 Notice: Posted by permission of AceCorp LLC. Please e-mail overnight open thread tips to maetenloch at gmail. Otherwise send tips to Ace.

posted by Maetenloch at
09:32 PM
|
Access Comments