« Peggy Noonan: Anyone Notice How Boring and Unappealing This President Is?
|
Main
|
Overnight Open Thread »
April 27, 2012
AOSHQ Wisconsin Recall Projection (4/27/12)
A nail-biter, but not as bad as Prosser Vs Klopp: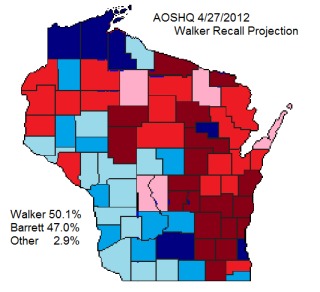 Tom Barrett will win the Democratic nomination, beating Falk in the primary two Tuesdays from now. He will enjoy a boost in support from Democrats bent on revenge, but will be facing strong Republican turnout as well. Over 2.5 million votes will be cast. Walker wins, narrowly, as Milwaukee turnout fails to reach 2010 levels (but stronger than in the 2011 supreme court race). Several counties lost by Prosser flip back, narrowly.
Republicans hold 3 state senate seats out of 4 also up for grabs. The fourth is too close to call, potentially putting the Senate in the hands of the Democrats despite Walker's survival.
Marquette University will be releasing a new poll regarding the election next Wednesday. Data gathered will effect the official forecast, which has seen a slight dip in Walker's overall share of the vote (updated daily on the sidebar). So far the only likely voter poll was commissioned by Daily Kos and found Walker with a larger win of 50-45. I do believe there will be a unification "bounce" for the Democrat post-primary but not enough (at this time) to defeat the incumbent governor.
For the latest projections and polls (including some hours before their official release), follow me on twitter.

posted by CAC at
09:42 PM
|
Access Comments