« Late afternoon/early evening open thread [OregonMuse]
|
Main
|
Top Headline Comments 4-16-12 »
April 15, 2012
Overnight Open Thread (4-15-2012)
Very, very sick at the moment. So I'd be washing your hands obsessively after reading tonight's ONT if I were you. Me - I'm gonna eat some meat and then shamble over to the ambulatory care center.
Overthinking and Your Child-Like Mind
This is a test that supposed to show how sometimes knowing too much leads to overthinking and keeps you from solving problems creatively. Now I don't really believe this to be true except for superficial levels of knowledge about something. But after two or three minutes pondering this puzzle I decided I probably was overthinking it and took a break. When I came back, I saw the answer in about 30 seconds.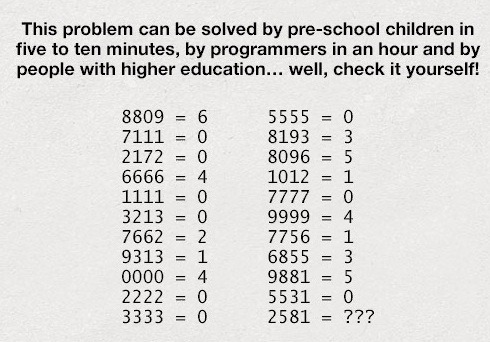 Oh and the article's anecdote about NASA being too uncreative to use pencils in space is pretty much all bullshit. The engineers at NASA weren't stupid and there were good reasons for switching over to pens instead.
If a gang of white American thugs attacked African-Americans, and defended their action on the ground that they were protesting Robert Mugabe's seizure of white-owned farms in Zimbabwe, the world would laugh at their foolishness even as it condemned their bigotry. This isn't quite how it works when goons around the world attack Jews and Jewish buildings and defend themselves by saying that they are angered by things the Israeli government has done.
Obama's 2012 Campaign Strategy In Pictures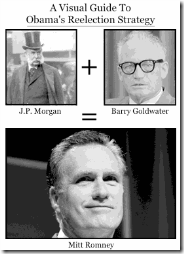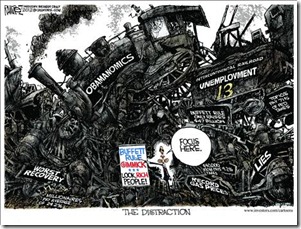 CA Assemblyman Chuck DeVore: Gone To Texas
It's bad when even the politicians start fleeing. But not surprising that conservative Republicans with actual skills would be the first ones out.
When Tennessean Davy Crockett lost his seat in Congress, he famously told the world "Y'all can go to hell. I'm going to Texas." Now California Assemblyman Chuck DeVore is following Crockett's lead.
[A]s with many in the Golden State, I have found it hard to earn enough to support my family. My old aerospace clientele has fled to greener, less-expensive pastures. Combined with the drain on our savings caused by six years of public service in the Assembly, we have come to the reluctant conclusion that it is time to move.

The good news is that there are still other places in America where the taxes are lower and the regulations less onerous than here in California, my home for most of the past 36 years.

One such place is Texas.

...Believe me, with what I know about California, having been the chief Republican on the Assembly's tax writing committee, Texas is a vastly different land in regards to public policy.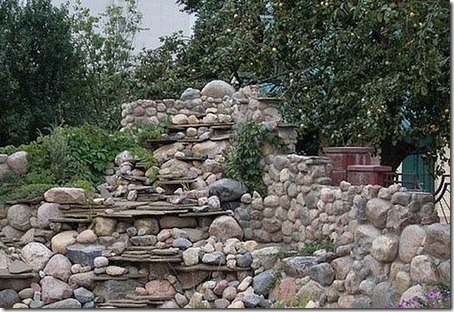 Get Your Own Ace/Ewok Action Figure
Users start by obtaining well-lit front and profile head shots of themselves against a neutral background - glasses are a no-no. They then upload those shots to Firebox's website so that a tiny model of said head can be made, using a 3D printer. The end product appears to be a little on the "low-res" side, as most 3D-printed items presently are, but it's certainly presentable.

Once the head is complete, it's sent to the buyer, along with one of five superhero dolls (sorry - action figures) of their choice. The customer then pops off the stock superhero head, and replaces it with their own. What they do with the original superhero head is entirely up to them.

Getting a Personalised Superhero Action Figure of your own will set you back £79.99 (US$127).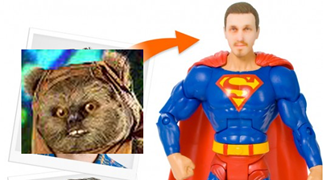 Best Obituary Ever
We should all aim to be remembered this way.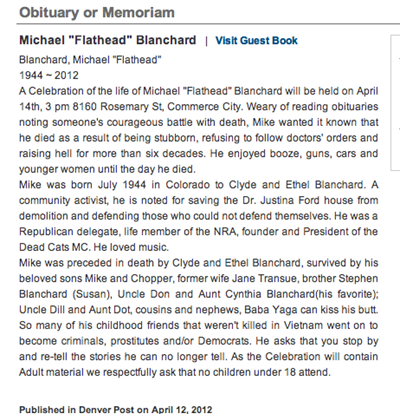 Weekly AoSHQ Commenter Standings
Top 10 commenters:
1 [583 comments] 'toby928?' [81.83 posts/day]
2 [525 comments] 'AllenG (Dedicated Tenther) SMOD 2012'
3 [440 comments] 'Vic'
4 [432 comments] 'Tammy al-Thor'
5 [389 comments] 'soothsayer'
6 [370 comments] 'Hummingbird'
7 [370 comments] 'Robert'
8 [351 comments] 'willow'
9 [321 comments] 'tasker'
10 [308 comments] 'garrett'
Top 10 sockpuppeteers:
1 [79 names] 'cherry' [11.09 unique names/day]
2 [69 names] 'toby928?'
3 [69 names] 'kbdabear'
4 [69 names] 'Cicero'
5 [38 names] 'Truck Monkey'
6 [37 names] 'soothsayer'
7 [33 names] 'Doctor Fish'
8 [32 names] 'Islamic Rage Boy'
9 [32 names] 'on the plus side of the brain'
10 [31 names] 'Billy Bob, pseudo-intellectual'
The group. Yeah.
Where it's at - the Twitter
Tonight's post brought to you by the last message from the Titanic: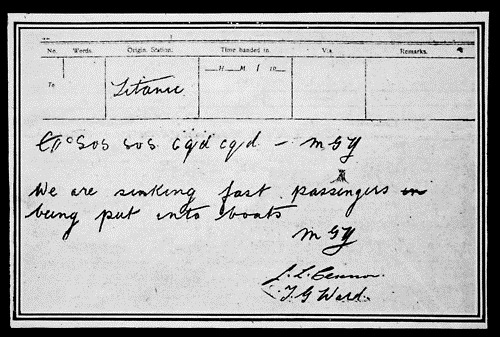 "SOS SOS CQD CQD - MSY"
"We are sinking fast - passengers being put into boats - MSY"
MSY was the Titanic's callsign and CQD was a distress call used before SOS.
Notice: Posted by permission of AceCorp LLC. Please e-mail overnight open thread tips to maetenloch at gmail. Otherwise send tips to Ace.

posted by Maetenloch at
09:21 PM
|
Access Comments