« NCAA Championship: Kansas v. Kentucky
|
Main
|
Top Headline Comments 4-3-12 »
April 02, 2012
Overnight Open Thread (4-2-2012)
Conservative Cars vs. Liberal Cars?
Well according to this survey done by Strategic Vision Democrats and Republicans have quite different tastes in cars.
Republicans really seem to like convertibles (69% preferred versus just 18% for Democrats) while Democrats love themselves some 5-door hostabacks (42% versus 24% for the GOP).
Here are the Top 5 cars by political party:
Democrats                       Republicans

1. Honda Civic Hybrid         1. Ford Mustang Convertible

2. Volvo C30                  2. Audi A8

3. Nissan Leaf                3. Mercedes GL

4. Acura TSX Wagon            4. Ford Expedition

5. Ford Fiesta Sedan          5. Ford F-150
Surprisingly the Chevy Volt doesn't appear but I guess even bien-pensant liberals have their limits.

Want To See The Presidential Candidates' Tax Returns?
Then go here and you can see what they made (and deducted) last year. 2010 was a very, very good to the Obamas: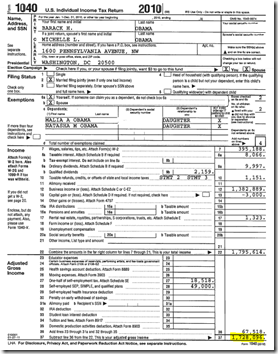 For more than a year, Sodexo has endured being targeted by the SEIU. Being on the SEIU hit list for the company's refusal to turn its workforce over to the purple behemoth, the SEIU has (allegedly) engaged in rallies, unlawful retaliation against Sodexo employees, as well as other, equally ugly, tactics such as:

- Throwing plastic roaches onto food being served by Sodexo USA at a high profile event; - Scaring hospital patients by insinuating that Sodexo USA food contained bugs, rat droppings, mold and flies; - Lying to interfere with Sodexo USA business and sneaking into elementary schools to avoid security; - Violating lobbying laws to steer business away from Sodexo USA, even at the risk of costing Sodexo USA employees their jobs; and - Harassing Sodexo USA employees by threatening to accuse them of wrongdoing

Now, Sodexo appears to have had enough.

On Thursday, Sodexo filed a civil lawsuit against the SEIU under the Racketeer Influenced and Corrupt Organizations Act (more commonly known as RICO).
Well the SEIU is like a slightly less thuggish version of the mob so I'm surprised this hasn't happened before.
Want to Really Enjoy @JoseCanseco or @KeithOlbermann?
Then follow them on Shitter:
A startup has crapped-in on the social network fad, offering toilet paper custom-printed with the Twitter feed of your choice.

Yes, the aptly named Shitter service takes a stream of Tweets from a Twitter account and reproduces them in bog roll form.

...At $35 (Β£22) for a pack of four, the rolls are on the pricey side, although every time you spend a penny, you'll be encouraged to drop a pound, so to speak.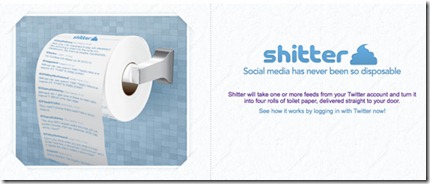 Parts of this may have appeared here before but this is the complete sequence from launch of the space shuttle to the boosters landing in the ocean. Now with sound.
How To Properly Beat Your Wife
This book says to keep your Sharia hand (and stick) strong but to temper it with love. And ear-pulling:
In the book's opening pages, it is written that "it might be necessary to restrain her with strength or even to threaten her."

Later, its author advises that "the husband should treat the wife with kindness and love, even if she tends to be stupid and slow sometimes."

Page 45 contains the rights of the husband, which include his wife's inability to leave "his house without his permission," and that his wife must "fulfil his desires" and "not allow herself to be untidy ... but should beautify herself for him ... "

In terms of physical punishment, the book advises that a husband may scold her, "beat by hand or stick," withhold money from her or "pull (her) by the ears," but should "refrain from beating her excessively."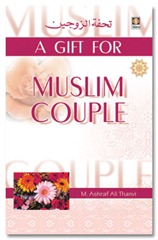 Then you can watch the ten best 5-second films.
Obligatory: Bengals' Cheerleading Captain Charged with 'Sexually Abusing' Student
The captain of the Cincinnati Ben-Gals cheerleading squad has been charged by a northern Kentucky grand jury with first-degree sexual abuse involving a student when she was a high school teacher.

The Kentucky Enquirer reports Sarah Jones, who is about 26, also was indicted on a charge of unlawful use of electronic means to induce a minor to engage in sexual or other prohibited acts.
*sniff* Why couldn't I have been sexually abused by a cheerleader in high school?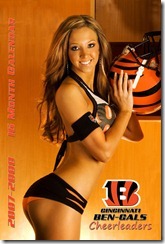 The Yahoo AoSHQ group. Bla bla bla.
And don't forget about the Job Bank.
And my twitter thang.
Tonight's post brought to you by April: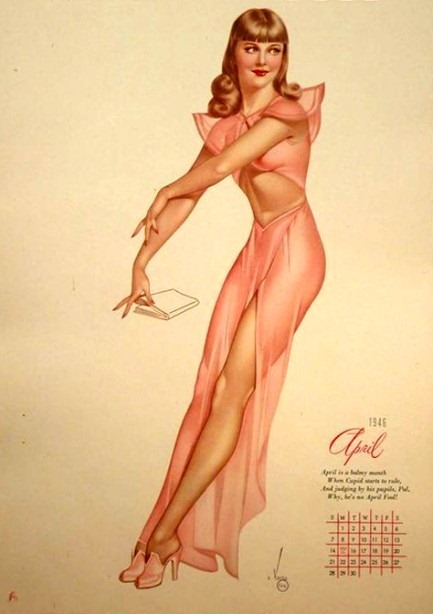 Notice: Posted by permission of AceCorp LLC. Please e-mail overnight open thread tips to maetenloch at gmail. Otherwise send tips to Ace.

posted by Maetenloch at
10:16 PM
|
Access Comments