« Confirmed: Chevy Chase Is a Self-Important Dickbag
|
Main
|
Top Headline Comments 4-2-12 »
April 01, 2012
Overnight Open Thread (4-1-2012)
No April's Fools for you! 
Obama Campaign Demands Romney's Tax Returns From the '80s
Sure the IRS can only go back a mere 7 years, but this is the Light Worker and he will audit your life.
President Obama's re-election campaign is calling on Mitt Romney to release his tax returns dating back to the 1980s, according to The Wall Street Journal.
Meanwhile Doug Ross points out that Obama has yet to release any of the following:
Tax returns from the 80's
Tax returns from the 90's
Occidental College records and transcripts
Columbia University records and transcripts
Columbia Thesis paper
Harvard University records and transcripts
Medical records
Illinois State Senate schedule
Illinois State Senate records
Law practice client list
Certified Copy of Original Birth certificate
Harvard Law Review articles published
University of Chicago scholarly articles
Record of Baptism
Of course given his job performance over the last 4 years and other revelations I think we can all pretty much fill in the blanks on these.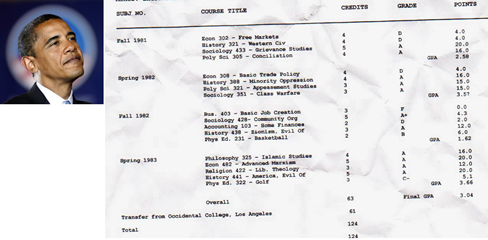 James Q. Wilson, America's preeminent social scientist, has noted that until relatively recently, "politics was about only a few things; today, it is about nearly everything." Until the 1930s, or perhaps the 1960s, there was a "legitimacy barrier" to federal government activism: When new policies were proposed, the first debate was about whether the federal government could properly act at all on the subject. Today, there is no barrier to the promiscuous multiplication of programmes, because no programme is really new. Rather, it is an extension, modification or enlargement of something government is already doing.
And then you have this:
When the desirable jobs are spending other peoples' money, reporting on spending other peoples' money and lobbying to spend other peoples' money, then you know that the society is fucked.
Progressives Unclear On How Phones Work
Pro-tip: When you prank call the Koch brothers, don't forget to hang up when your trolling is done.
Tiger 131 Is Back On The Prowl
After a two year restoration German WWII Tiger tank 131 is now operational again - making it the only working Tiger tank in the world. Superior to Allied tanks of the time 1347 Tiger tanks were produced. By comparison the US manufactured over 58,000 Sherman tanks.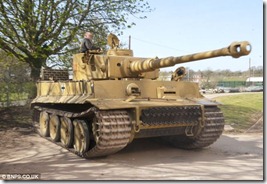 NHTSA: You're Driving All Wrong
For decades, the standard instruction was that drivers should hold the steering wheel at the 10 and 2 positions, as envisioned on a clock. This, it turns out, is no longer the case. In fact, driving that way could cost you your arms or hands in particularly gruesome ways if your airbag deploys. Instead AAA, the National Highway Traffic Safety Administration and many driving instructors now say you should grip the wheel at 9 and 3 o'clock. A few go even further, suggesting 8 and 4 to avoid the airbag mechanism as much as possible, but what formal research has been published on the varieties of hand positions suggests that this may lessen your control of the car.
Personally I've always found 9:30 and 2:30 to be more comfortable.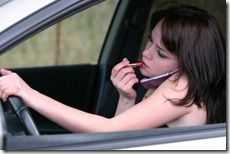 Soledad O'Brian's Ratings Crater
Now approaching video podcast ranges:
Executives at CNN must be in shock at the catastrophic implosion of their morning lineup, as Starting Point With Soledad O'Brien (7-9 a.m. weekdays) recorded the cable network's lowest ratings for that time slot in more than a decade. Fewer than 100,000 adults 25-54 tuned in to O'Brien's program on an average day, according to the latest quarterly Nielsen numbers.
Quips Jim Treacher:
Every day, @Soledad_OBrien's ratings are worse than the last. That means every time you see her, it's the worst day of her life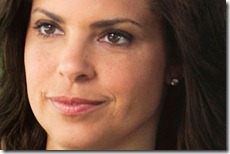 Beer Goggles: How Do They Fucking Work?
It's all about the symmetry - and drunkenness:
Scientists have long known symmetry to be tied to attraction, with a face in which one half mirrors the other seen as an unspoken sign of good genes and good health.

The men and women given the vodka and tonic found it more difficult to work out if a face was symmetrical than those on the soft drinks.

Researcher Lewis Halsey said: 'People that had drink tended to be less good a noticing if a face was asymmetrical, they often saw it as being symmetrical when it was asymmetrical.'
And the women drinkers were particularly bad at the task, the journal Addiction reports.
While others argue that it's really just a case of Beer Standards:
But other research has disputed the phenomenon, with a British concluding that men find women no prettier after drinking.

Or, as the Leicester University researchers put it: 'There was no difference - the men were just as undiscerning as ever.'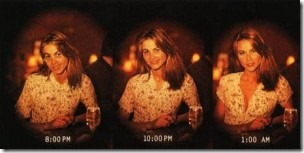 This week she takes out the gomi.
Weekly AoSHQ Commenter Standings
Top 10 commenters:
1 [549 comments] 'Ron' [77.02 posts/day]
2 [447 comments] 'willow'
3 [427 comments] 'AllenG (Dedicated Tenther) SMOD 2012'
4 [413 comments] 'yankeefifth'
5 [401 comments] 'nevergiveup'
6 [398 comments] 'StuckOnStupid'
7 [380 comments] 'Vic'
8 [376 comments] 'kbdabear'
9 [354 comments] 'Robert, ONT's Resident Hispanic White Guy'
10 [354 comments] 'toby928?'
Top 10 sockpuppeteers:
1 [83 names] 'kbdabear' [11.64 unique names/day]
2 [65 names] 'davidt'
3 [60 names] 'Cicero'
4 [57 names] 'Billy Bob, pseudo-intellectual'
5 [51 names] 'toby928?'
6 [49 names] 'Ron'
7 [44 names] 'chic'
8 [42 names] 'Islamic Rage Boy'
9 [35 names] 'Mayor Dipshit- Sanford, FL'
10 [33 names] 'Boulder Toilet Hobo'
The group. Yeah.
Where it's at - the Twitter
Tonight's post brought to you by social media: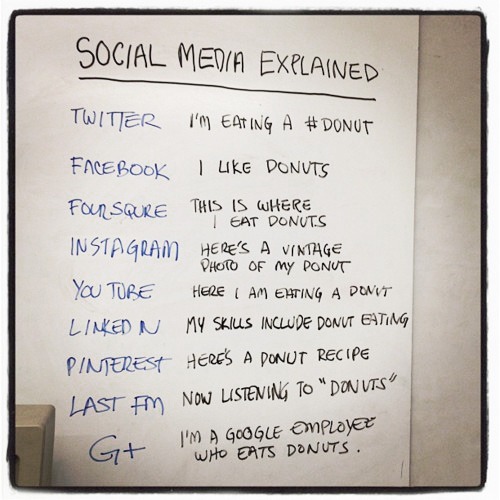 Notice: Posted by permission of AceCorp LLC. Please e-mail overnight open thread tips to maetenloch at gmail. Otherwise send tips to Ace.

posted by Maetenloch at
09:21 PM
|
Access Comments