« Saving Justice Breyer
|
Main
|
Top Headline Comments 3-29-12 »
March 28, 2012
Overnight Open Thread - TrollCon 2012 Edition
CALLING ALL TROLLS
Come to me my babies - let me quell your pain.
Tonight is your night, this love is your love. You are part of us now.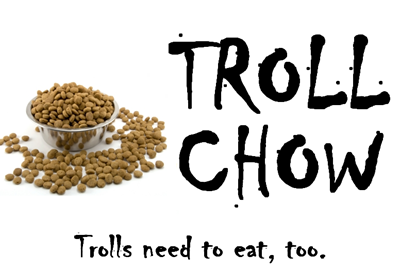 Let this troll chow and kool-aid beverage of your choice signify a new reconciliation.
Lay down that burden and forget the old ways, brothers, and all the old hatreds.
Just close your glazzies and awake to a world of no more pain.
I Demand You Pay My Student Loans
Explains Melissa Horton. Because:
1. She's a Latina
2. She grew up middle class in Ft. Worth.
3. She went to small private college in Boston.
4. She racked up >$100,000 in student loans, cosigned by parents.
5. Subsequently she got a law degree at Southern Methodist University.
Sure all of her loans were taken out by her voluntarily as an adult, but you see her debt is Not Her Fault. So it's only fair that we all cover it:
This month Rep. Hansen Clarke (D-Mich.) introduced the Student Loan Forgiveness Act of 2012. ...Clarke's bill proposes forgiving as much as $45,520 of eligible student-loan debt after new borrowers have made 120 payments - equivalent to 10 percent of their discretionary income for 10 years ...Even better, the forgiven amount will not count as income, so debtors need not fear paying higher income taxes for 2012.
Genius marketing on the part of the Marines - and Katy. Although I believe the boobehs are allowed in the USMC as long as they're properly secured.
10 Amazing Old Things That Still Work
Some things just keep working and working and working - well until they get outlawed by the government.
The world's oldest light bulb has been burning for 111 years - so little wonder it has a fan club with thousands of members and its own website. The so-called 'Centennial Light' has been on almost constantly since 1901. It holds pride of place in Fire Station 6, in Livermore, northern California.

.The bulb was designed by Adolphe Chailet, who competed with the likes of the world-famous Thomas Edison to make the best bulb.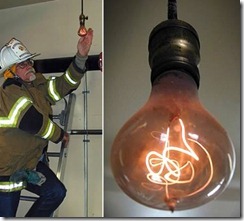 This is from Operation Buster Jangle shot Easy in 1951.
11 of the Best Customer Service Stories Ever
We always hear the horror stories but sometimes companies go above and beyond:
Lexus certainly knows how to take the sting out of that. Although previous recalls had been addressed by sending technicians to the affected customers' homes to fix the problem on the spot, when the Lexus ES 350 sedan was recalled in 2006, the company decided to ask owners to come on into the dealership. Instead of sitting in a waiting room waiting for their cars to be worked on, customers were given a brand new Lexus instead, no questions asked.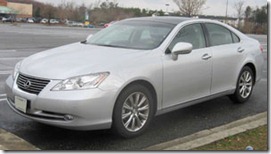 An Oral History of The Sopranos
TERENCE WINTER (writer, executive producer): One F.B.I. agent told us early on that on Monday morning they would get to the F.B.I. office and all the agents would talk about The Sopranos. Then they would listen to the wiretaps from that weekend, and it was all Mob guys talking about The Sopranos, having the same conversation about the show, but always from the flip side. We would hear back that real wiseguys used to think that we had somebody on the inside. They couldn't believe how accurate the show was.
How to Take Flawless Phone Pics of Your Naked Body
Look if you take a nude picture of yourself with a cellphone, it's guaranteed to end up on the internet eventually. So why not take the time to make your ass-shots be as good as they can be. As always lighting and perspective make a huge difference and don't forget to smile - no one likes angry junk.
No flashes. Ever. Ever. A camera flash will turn the most regal peepee or veevee into a blinding physiological hell demon, exploding forth from the screen. You should never look terrifying naked. A flash will clinch this.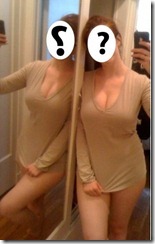 Miss Universe Canada announced yesterday that 23-year-old finalist Jenna Talackova of Vancouver was disqualified from the Donald Trump-owned beauty pageant, but didn't provide a reason.

"She did not meet the requirements to compete despite having stated otherwise on her entry form," competition officials said in a statement. Talackova, however, says she knows exactly why she was disqualified
Something about a penis I'm guessing.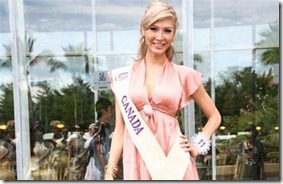 Teh Tweet!
Tonight's post brought to you by expectations: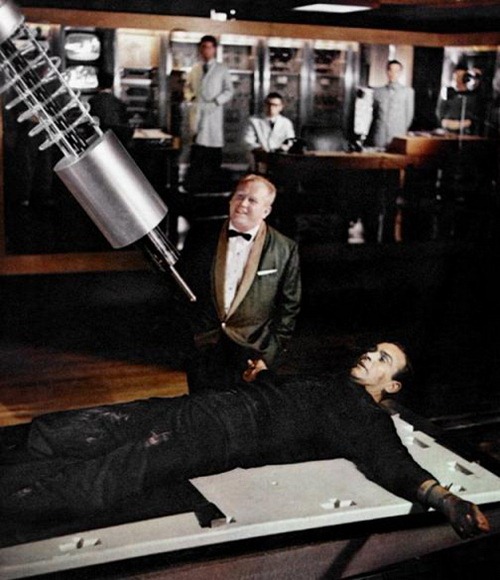 Notice: Posted by permission of AceCorp LLC. Please e-mail overnight open thread tips to maetenloch at gmail. Otherwise send tips to Ace.

posted by Maetenloch at
10:04 PM
|
Access Comments