« The Perfect Woman
|
Main
|
Top Headline Comments 3-19-12 »
March 18, 2012
Overnight Open Thread (3-18-2012)
Starting early to get the average back down...
President Obama has a bad habit of denigrating his predecessors - usually inaccurately - and last week he indulged this unpleasant trait again by dissing President Rutherford B. Hayes as a luddite:
One of my predecessors, Rutherford B. Hayes, reportedly said about the telephone, 'It's a great invention, but who would ever want to use one?' That's why he's not on Mount Rushmore because he's looking backwards. He's not looking forwards.
And as is typical he was just wrong - it turns out that Hayes was quite the early adopter of technology:
Hayes, in fact, was such a technology buff that he installed the first telephone in the White House [in 1877, just months after it was demonstrated]. A list of telephone subscribers published in the article "The Telephone Comes to Washington," by Richard T. Loomis, shows that the White House was given the number "1."
And furthermore the B in Rutherford B. Hayes stood for Badass:
When the Civil War began, Hayes left a successful political career to join the Union Army. Wounded five times, most seriously at the Battle of South Mountain, he earned a reputation for bravery in combat and was promoted to the rank of major general. After the war, he served in the U.S. Congress from 1865 to 1867 as a Republican. Hayes left Congress to run for Governor of Ohio and was elected to two consecutive terms, serving from 1867 to 1871.
...Hayes believed in meritocratic government, equal treatment without regard to race, and improvement through education. He ordered federal troops to quell the Great Railroad Strike of 1877 and ordered them out of Southern capitals as Reconstruction ended. He implemented modest civil service reforms that laid the groundwork for further reform in the 1880s and 1890s. Hayes kept his pledge not to run for re-election. He retired to his home in Ohio and became an advocate of social and educational reform
Leave it to Obama to falsely insult a better man than himself.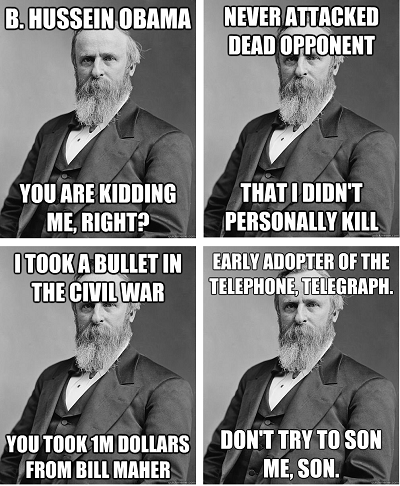 The most fundamental fact about the ideas of the political left is that they do not work. Therefore we should not be surprised to find the left concentrated in institutions where ideas do not have to work in order to survive.
Has Israel Voted to Bomb Iran?
Ben Caspit reports (Hebrew) that the cabinet now has, for the first time, a majority (eight votes for, six votes against) favoring the measure. This means that theoretically Bibi can begin an attack at any time. Of course, it could mean something different: it could mean the cabinet has approved a strike at any point in future with Bibi determining the timing. So it doesn't necessarily mean the F-16s will fly tonight or tomorrow.

...A senior official said Bibi believed it would be best not to wait for the November presidential elections because he didn't trust the president to deal with the problem after the election.
And based on these rumors oil prices have jumped to $126/barrel. So the question arises - where are the American carriers? Well two (CVN-72 and CVN-70) are already in the Gulf and the USS Enterprise (CVN-65) is on its way.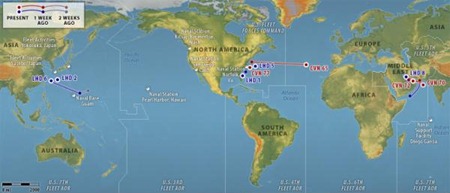 Meanwhile this is the kind of 'peace' that Israel currently enjoys. This video was shot last week in the city of Ashod while it was under attack by Palestinian rockets fired from Gaza.
You had me at taser.
Ultimate Tak Ball is an indoor sport wherein you try to deposit a large soccer ball into a goal while the other team tries to stop you with stun guns. As in, you're running along and then the defender tasers you
This is a game that requires balls of non-conductive material.
It's Tough Out There For a Math Genius
Sure he can solve the Poincaré conjecture, win the Fields Medal, and even be offered (and reject) a $1 million prize but that's not enough to make Grigori Perelman happy.
In 2006 he was unemployed and living with his mother on the outskirts of the city. It is reported that he retired from mathematics, finding it too painful and political.
When the New Yorker interviewed Perelman shortly after he declined the highest prize in mathematics, he said, while taking the journalist on a long walk through St. Petersburg, "I'm looking for some friends, and they don't have to be mathematicians."
Maybe some math groupies would help.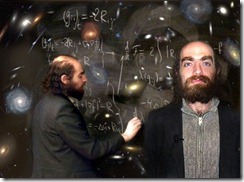 UMASS Undergraduate Engineering Class, 1959-1999
Class pictures taken over 40 years. I'd say the classes of 1959 and 1993 were the snappiest dressers.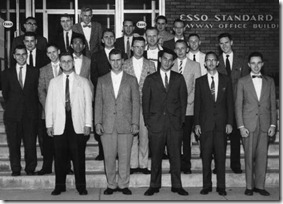 What you were and were not allowed to show on the air back in 1949. Interestingly the rules today are even stricter when it comes to drinking and smoking.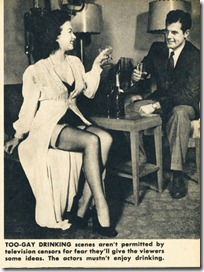 And apparently she's in a movie, "The Devil's Carnival", which leads to this week's JWOW.
Weekly AoSHQ Commenter Standings
Top 10 commenters:
1 [427 comments] 'willow' [59.94 posts/day]
2 [372 comments] 'toby928?'
3 [366 comments] 'AllenG (Dedicated Tenther) SMOD 2012'
4 [360 comments] 'Tammy al Thor'
5 [343 comments] 'Vic'
6 [320 comments] 'kbdabear'
7 [318 comments] 'sleepy'
8 [311 comments] 'yankeefifth'
9 [301 comments] 'StuckOnStupid'
10 [285 comments] 'mama winger'
Top 10 sockpuppeteers:
1 [100 names] 'kbdabear' [14.04 unique names/day]
2 [60 names] 'Russell Kirk'
3 [59 names] 'Cicero'
4 [54 names] 'toby928?'
5 [48 names] 'Attack Watch'
6 [47 names] 'fluffy'
7 [37 names] 'joncelli, heartless Con and all around unpleasant guy'
8 [31 names] 'andycanuck'
9 [31 names] 'Insomniac'
10 [28 names] 'davidt'
The group. Yeah.
Where it's at - the Twitter
Tonight's post brought to you by love stories: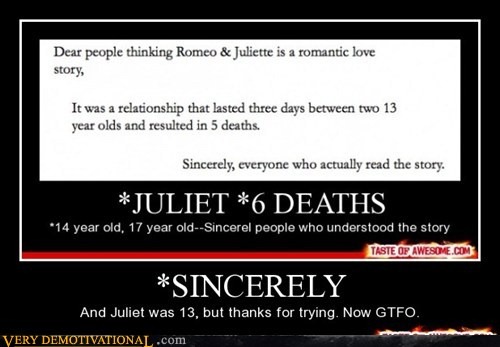 Notice: Posted by permission of AceCorp LLC. Please e-mail overnight open thread tips to maetenloch at gmail. Otherwise send tips to Ace.

posted by Maetenloch at
08:44 PM
|
Access Comments