« Stop Tweeting @Soledad_OBrien.
I mean it. #StopTweetingSoledad
|
Main
|
Top Headline Comments 3-13-12 »
March 12, 2012
Overnight Open Thread (3-12-2012)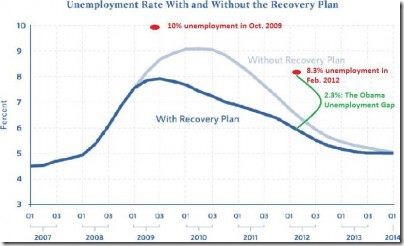 It's the chart that makes liberals cry.

They say it is unfair.

They say it proves nothing.

They say it is racist, sexist and taken out of context.

But mostly, they cry because they made the chart up and the chart is being used against them. Conservatives are making them eat the chart of "Unemployment Rate With and Without the Recovery Plan," which Barack Obama used to sell the $787 billion stimulus - the largest gamble ever made in the history of the world.

This was their chart.
Well I'm guessing a lot of people who voted for Obama now are wishing they could have foregone the entire Obama Recovery Plan - which has failed even by Obama's own standard - and just had a normal recession minus the $787 billion in new debt.
FemiNazis So Outraged at Limbaugh That They Act Like... Nazis
Jane Fonda, Gloria Steinem, and Robin Morgan want the FCC to take Rush Limbaugh off the air because they're so concerned about freedom of speech or something.
This isn't political. While we disagree with Limbaugh's politics, what's at stake is the fallout of a society tolerating toxic, hate-inciting speech. For 20 years, Limbaugh has hidden behind the First Amendment, or else claimed he's really "doing humor" or "entertainment." He is indeed constitutionally entitled to his opinions, but he is not constitutionally entitled to the people's airways.
Nope - it's a mystery why Rush would imply that they of all people might be like the Nazis. It's not like Jane's ever supported fascist national socialists before - oh wait...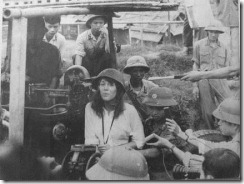 And speaking of Nazis - nothing escaped their grasp and control - even the playing of Jazz:
1 Pieces in foxtrot rhythm (so-called swing) are not to exceed 20% of the repertoires of light orchestras and dance bands;
2 in this so-called jazz type repertoire, preference is to be given to compositions in a major key and to lyrics expressing joy in life rather than Jewishly gloomy lyrics;
...
5 strictly prohibited is the use of instruments alien to the German spirit (so-called cowbells, flexatone, brushes, etc.) as well as all mutes which turn the noble sound of wind and brass instruments into a Jewish-Freemasonic yowl (so-called wa-wa, hat, etc.);
For years the standard media (and liberal BIRM) critique of Ike was that he was 'dumb' and 'lazy'. But in fact he was quite smart and handled many issues quietly and without fanfare, demonstrating that competence and lack of ego can be mistaken for being boring and stupid.
He took over a nation at war, a people fearful of atomic holocaust and poisoned milk.  He left office to a man who cried for more missiles and for shock troops to fight guerrilla wars by helicopter. . .  Eisenhower had the true professional's instinct for making things look easy.  He appeared to be performing less work than he actually did.  And he wanted it that way.  An air of ease inspires confidence.  The singer's hard work should be done at home.  On stage, the voice should soar as by natural gift.
The answer is simple: Eisenhower didn't conform to the post-Wilson, post-FDR liberal model of ideal presidents as "miracle workers," relentlessly "leading" the American people to new and distant places according to some abstract and ambitious "vision."  In style and conduct (though not so much in policy), Ike was the anti-Wilson, the anti-FDR.  Eisenhower conducted the presidency much more like a 19th century president, that is to say, more like how the Founders intended the office to be conducted.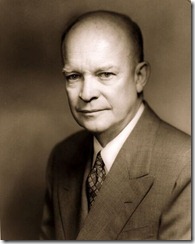 Akrasia (ancient Greek ἀκρασία, "lacking command (over oneself)" ), occasionally transliterated as acrasia, is the state of acting against one's better judgement. The adjective form is 'akratic'.
Doing something bad for you even when you know it's bad for you.
Well thanks to a 2002 California state voting rights act judges will get to decide if Compton City Councilwoman Janna Zurita is 'Latina-enough' to represent her district.
In January, a judge ruled that a trial would be necessary to figure out whether Zurita could be considered Latina and whether that means Latinos have a voice on the council. The city settled the suit late last month.

The legal gymnastics in Compton illustrate California's far-reaching law, which bars local governments from diluting the voting strength of minorities. The law has become the foundation of a burgeoning onslaught of legal threats that could upend the racial makeup of elected bodies throughout the state.
The U.S. Census doesn't provide clear answers, because it considers being Hispanic or Latino separate from race. On government forms, Zurita sometimes marks black, sometimes "other" and couldn't remember if she ever marked Latino.

Adding to the confusion, Zurita later referred to her Spanish grandmother as Mexican. The attorney sought to clarify: "So she was from Spain, but her heritage was Mexican?"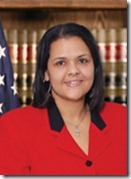 Beyond Spotted Dick: The Story Behind English Cuisine
How, for two centuries, has a country with so many resources-creams and butters and handmade cheeses, a practice of grass-feeding sheep and cattle, wild fish, abundant game-produced such a spectacularly loathsome fare? ...The simple good ingredients were there: why weren't people using them?
English food didn't always suck. In fact it was considered quite good until the Victorians got hold of it.
Garlic fell out of fashion. The wonderful spices that had been a mainstay of English cooking since medieval times fell by the wayside. Instead, Victorian cooks, armed with their copy of "Mrs Beeton's Book of Household Management," came up with dreary dishes of brawn (head cheese) and mock turtle soup made with a calf's head, ham and a pound of butter; vegetables were over-boiled and limp.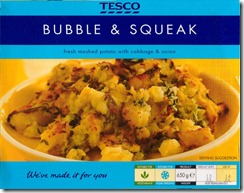 Well it is a slippery slope from possessing a vajayjay to being a full citizen of Slutsville.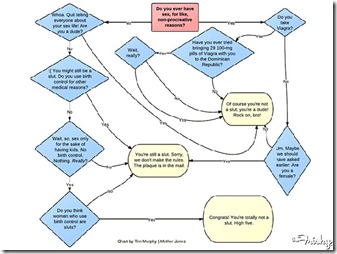 The Yahoo AoSHQ group. Bla bla bla.
And don't forget about the Job Bank.
And my twitter thang.
Tonight's post brought to you by Yoda: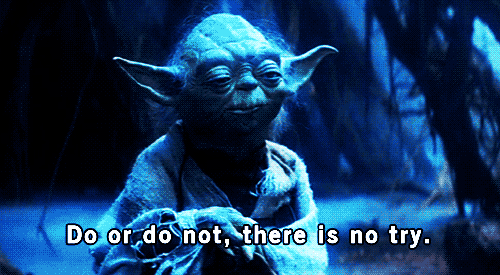 Notice: Posted by permission of AceCorp LLC. Please e-mail overnight open thread tips to maetenloch at gmail. Otherwise send tips to Ace.

posted by Maetenloch at
10:13 PM
|
Access Comments