« Obama Administration: No, We Are NOT Working To Lower Oil Prices
|
Main
|
Michigan and Arizona Results »
February 28, 2012
Was It Over When The Japs Bombed Santa Barbara?
Hell no - not by a long shot.
CDR M covered this last week but in case you missed it last Thursday was the 70th anniversary of the first Japanese attack on the US mainland.
On February 23rd, 1942 a Japanese submarine shelled the Ellwood oil refinery, just north of Santa Barbara, for 20 minutes from off-shore. Despite firing 25 shells it only did minimal damage to the refinery and the nearby pier. However panic ensued and the reports of another sub off the coast the next night resulted in the infamous battle of Los Angeles which was the basis of the movie, 1941.
There were other submarine-based attacks on the American mainland during the war but luckily they had little impact.
The Japanese submarines assigned to duty off North America continued to operate against allied shipping; in addition, they bombarded Fort Stevens along the Columbia River and attacked a Canadian lighthouse on Vancouver Island. Despite being ordered to attack capital ships whenever possible, the submarines ultimately engaged only in attacks against merchant vessels and minor bombardments of targets ashore. Also, two air raids were launched via submarine, in a failed attempt to start a forest fire in southwest Oregon.
It's always interesting to go back and read contemporary accounts of a historical event since there are often nuances and details to the story that have been lost in the intervening years. Plus we have the luxury of knowing how things turned out.
So here is the story as it appeared in a Los Angeles paper a day after the attack. Bonus points if you can name FDR's 'surprise' for the Japanese off the top of your head.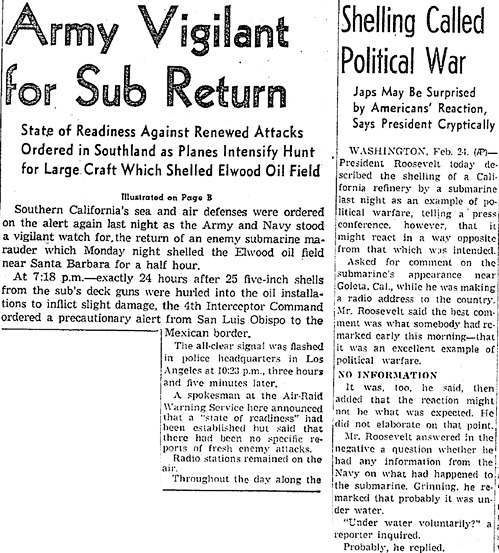 posted by Maetenloch at
07:57 PM
|
Access Comments