« Movie Trailer Roundup. [dri]
|
Main
|
The Daily DOOM »
February 19, 2012
Overnight Open Thread (2-19-2012)
Newt Fanciers Throughout History
Back when Newt Gingrich was enjoying his first burst of popularity (then second, now third?) Mark Steyn made a comment about the rise of the 'Newt-fanciers". Well as soon as I heard the term I could only think of a single name: Gussie Fink-Nottle, the famed newt fancier of PG Wodehouse's Wooster and Jeeves stories.
And it turns out that the Anchoress had the very same thoughts. And needless to say that sent me on a jag of re-reading Wodehouse's stories and books. The Anchoress recommends starting out of order with The Code of the Woosters, but I still think it's better to begin with Right Ho, Jeeves.
Bertie Wooster is of course the intellectually negligible London gentleman bachelor whose gentleman's personal gentleman, Jeeves, is continually getting him out of scrapes and unwanted engagements. And along with them comes a whole collection of wonderful characters including Fink-Nottle the hapless newt fancier, Sir Roderick Spode the wannabe dictator, the fearsome Aunt Agatha, along with <shudder> The Bassett woman to whom Bertie ends up engaged several times.
True confession: I own the complete DVD collection of the BBC Jeeves and Wooster series with Hugh Laurie and Stephen Fry and whenever I start feeling down about the state of the world (more frequent these days) I throw a random disc into the player and within ten minutes I'm feeling much, much better.
And whenever I read the stories and books I always hear them with Laurie's and Fry's  voices. For stories that are getting close to a hundred years old - other than a few slang terms that have fallen out of  favor - the prose seem remarkably modern. I think Wodehouse purposely had Bertie speak in a super-casual imprecise slangy way to show how unserious and lighthearted he was - but a century later It turns out that we all speak Bertie-style now.
It's hard to find Wodehouse quotes short enough to give you the full flavor but here are a couple to whet the old A.
In Society circles, I believe, my Aunt Agatha has a fairly fruity reputation as a hostess. But then, I take it she doesn't ballyrag her other guests the way she does me. I don't think I can remember a single meal with her since I was a kid of tender years at which she didn't turn the conversation sooner or later to the subject of my frightfulness. Today, she started in on me with the fish.

"Bertie," she said - in part and chattily - "it is young men like you who make the person with the future of the race at heart despair!"

"What-ho!" I said.

"Cursed with too much money, you fritter away in selfish idleness a life which might have been made useful, helpful, and profitable. You do nothing but waste your time on frivolous pleasures. You are simply an anti-social animal, a drone --" She fixed me with a glittering eye. "Bertie, you must marry!"
As a rule, you see, I'm not lugged into family rows. On the occasions when Aunt is calling to Aunt like mastodons bellowing across primeval swamps [...] the clan has a tendency to ignore me. It's one of the advantages I get from being a bachelor -- and, according to my nearest and dearest, practically a half-witted bachelor at that. "It's no good trying to get Bertie to take the slightest interest" is more or less the slogan, and I'm bound to say I'm all for it. A quiet life is what I like.
"Beginning with a critique of my own limbs, which she said, justly enough, were nothing to write home about, this girl went on to dissect my manners, morals, intellect, general physique, and method of eating asparagus with such acerbity that by the time she had finished the best you could say of Bertram was that, so far as was known, he had never actually committed murder or set fire to an orphan asylum."
'There are moments, Jeeves, when one asks oneself, "Do trousers matter?"'
'The mood will pass, sir.'
And if you're not into the whole reading and ciphering this, here are some video clips:
Gussie expresses his admiration for the newt
Engaged to The Bassett, Bertie fails to retrieve a book
Half of Americans Are Now Federal Parasites
Okay that's harsh - but when half of all Americans now pay *no* federal income taxes whatsoever, they're receiving federal government services without paying for them. And of course that leads to the moral hazard of supporting ever higher income tax rates since they'll never be subject to them.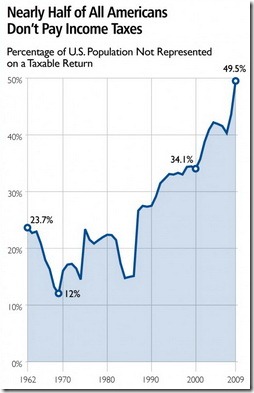 Looking For A Conservative News Portal?
Then go to Badblue.com. It's like Lucianne or Drudge but more comprehensive.
Need an easier and faster way to read the most important stories from all of your favorite blogs and news sites?

BadBlue.com monitors Twitter to determine which news stories are most important, based upon retweets and discussion. It runs 24-by-7 monitoring hundreds of blogs and new sites.

While it may look a bit like the Drudge Report, there are many differences. For instance, you can find the top stories that are trending now, over the last 24 hours, the last week, or even the last month.

You can also track the popularity of each story over time.

If You Believe in Conspiracy Theory X, Then You'll Also Believe in Not X
One of the hallmarks of the conspiratorial mindset is that it's freed from the hobgoblin of logical consistency. So if X is true then Not X is probably also true - because the one absolute consistency is that There Must Be A Conspiracy.
In Study 1 (n=137), the more participants believed that Princess Diana faked her own death, the more they believed she was murdered. In Study 2 (n=102), the more participants believed that Osama Bin Laden was already dead when U.S. Special Forces raided his compound in Pakistan, the more they believed he is still alive.
They're young Southern belles and they hunt. A lot. And they're very good at it.
10 More of the World's Strangest Conventions
Whatever your kink, quirk, fetish or niche interest is, well there's a convention for it.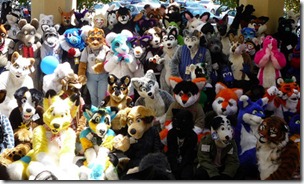 How Your Sex Toys Are Made (NSFWish)
The Ningbo Yamei toy factory in China produces 13 different models of blow-up dolls and vibrators too. So if you were wondering how your inflatable or vibrating special friend got made, well this is how.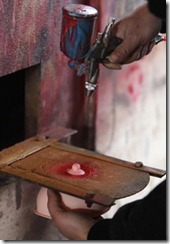 Weekly AoSHQ Commenter Standings
Top 10 commenters:
1 [504 comments] 'Vic' [70.75 posts/day]
2 [473 comments] 'Robert'
3 [417 comments] 'CoolCzech'
4 [388 comments] 'Y-not'
5 [356 comments] 'soothsayer'
6 [351 comments] 'kbdabear'
7 [305 comments] 'DC in Towson'
8 [270 comments] 'MikeTheMoose Now Researching How to Awaken Azathoth'
9 [269 comments] 'Jane D'oh'
10 [260 comments] 'nevergiveup'
Honorable Mention:
14 [254 comments] 'ace'

Top 10 sockpuppeteers:
1 [102 names] 'kbdabear' [14.32 unique names/day]
2 [52 names] 'Billy Bob, pseudo-intellectual'
3 [47 names] 'Rick Santorum'
4 [45 names] 'Soap MacTavish'
5 [42 names] 'Romeo13'
6 [41 names] 'Pimpbot 5000'
7 [38 names] 'Cicero'
8 [35 names] 'SantaRosaStan'
9 [34 names] '18-1'
10 [27 names] 'NC Ref'

The group. Yeah.
Where it's at - the Twitter
Tonight's post brought to you by the progress of drinking technology: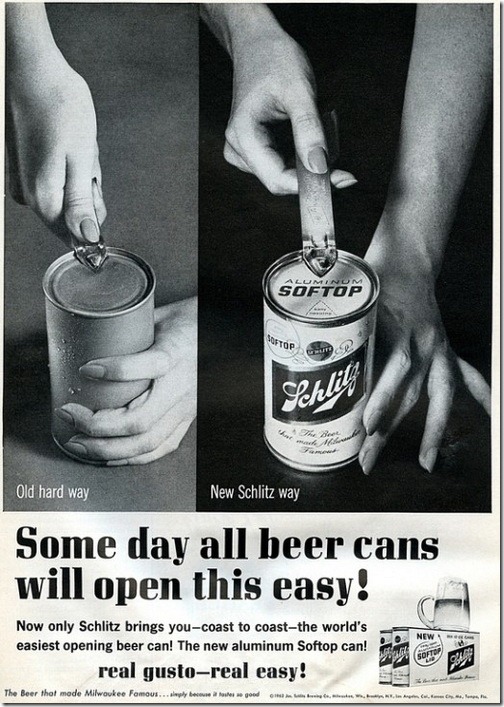 Notice: Posted by permission of AceCorp LLC. Please e-mail overnight open thread tips to maetenloch at gmail. Otherwise send tips to Ace.

posted by Maetenloch at
09:08 PM
|
Access Comments