« Top Headline Comments 2-16-12
|
Main
|
The Daily DOOM »
February 16, 2012
Asylum Productions Announces "We Will Not Turn Down A Single Pitch For A Movie" Policy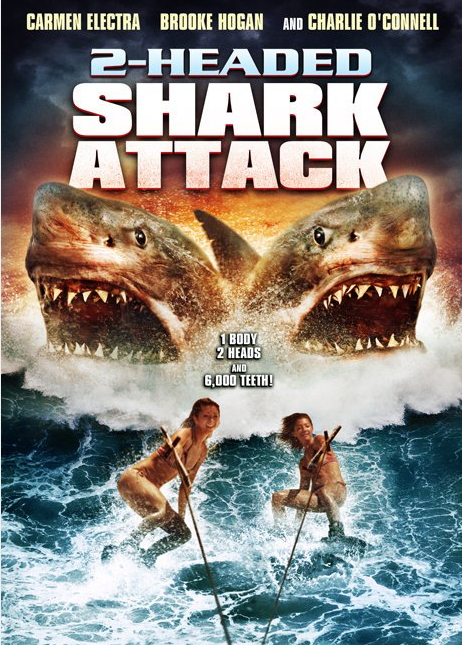 You had me at "Brooke Hogan," but the 2 Headed Shark with 6000 teeth cinched it.
Yes, it's real.
Kind of. It exists. But it's... you know, it's not really real. Is it a real movie when the whole point is to essentially play a $500,000 practical joke?
This production company, The Asylum, has brought you such fare as Mega Shark, and then, of course, Mega Shark vs. Giant Octopus, and, because you demanded it, Mega Shark vs. Crocosaurus.
Because I'm just looking to break in to the business, and because I believe these guys will literally not turn down a single pitch, I offer, optimistically, my top twelve pitches for Asylum.
Fingers crossed.
Top Twelve Rejected Golden Movie Pitches For Asylum
12. Monkey Gun. A small-time crook discovers a high-tech gun which shoots Monkeys out of it. Monkey Gun.
11. The Haunting of Stacy's Bosom. Stacy's bosoms are haunted by restless Micmac Indian spirits. The Haunting of Stacy's Bosom.
10. Jenga. A vacationing family is menaced by a giant animated Jenga puzzle the size of a truck. "Don't pull the wrong block!" Jenga.
9. Murder Bucket. A man is possessed by the spirit of lethal bucket. Murder Bucket.
8. PK Rabbit. A gardener awakes from a coma to discover he has the psychic power to lift and throw rabbits with his mind. PK Rabbit.
7. Knucklehead. An evil cosmetic surgeon replaces his model ex-girlfriend's face with nothing but knuckles from medical cadavers. She gets revenge. Knucklehead.
6. Toilet Shark. Not what you think, but a whole new spin. It's a giant shark with a toilet for a head. Toilet Shark.
5. Johnny Flapjacks. A man recovers from a head injury and can see the future in the markings on pancakes. Johnny Flapjacks.
4. Hammersquid, A mad scientist and recreational carpenter creates a squid with hammers at the end of his tentacles. It hits people. Hammersquid.
3. Grizzled. A man receives a heart transplant from a grizzly bear. Horrified to discover he now craves honey, fish, and rape. Grizzled.
2. Spider Rain: Terror in New York City. It starts raining spiders in a Canadian city that sort of looks like New York. Spider Rain.
...and...
1. The Munge. A prostitute contracts a case of The Munge so bad, it kills her clients and transforms them into foul-smelling Munge-Zombies. The Munge.
Hammersquid by @Shikanominarazu, Spider Rain by @NYKensington.
The Two Headed Shark... Is Real? Or an internet goof. I don't know which.
From Tim Blair, via JWF, who notes that shark attacks are predicted to double. Because of global warming.
"You know who I was thinking...? Brooke Hogan."
"Brook Hogan? Oh, YES! She's great, she's great!!!"

posted by Ace at
08:18 AM
|
Access Comments