« The "Out-Of-Touch" Narrative Begins
|
Main
|
Saturday Morning Open Thread »
February 03, 2012
Overnight Open Thread
Does Your State Suck At Science? California ranked as the best state for science curriculum. Seriously? Well that does not seem to match up with results. Is California Really Serious About Science?

When California students enter high school, they're already behind in science. Their fourth and eighth grade scores are among the nation's lowest (PDF). Should this really surprise us? After all, science is on the back burner in the state's elementary and middle schools. Large majorities of teachers in grades one through six say they spend fewer than two hours a week on science. That's less than the national average of 2.3 hours, which is hardly much to aspire to. The state's educators know that there is a problem. In a survey last year, less than half of its elementary school principals said their schools offer strong instruction in science.
Check your state education scores here at the
NAEP site
.
Useless Facts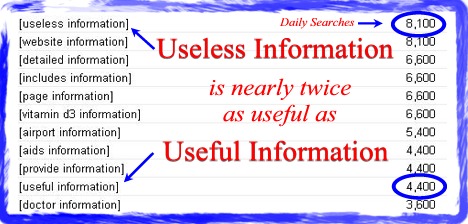 Some interesting Useless Facts.

TYPEWRITER, is the longest word that can be made using the letters on only one row of the keyboard.
The average human eats 8 spiders in their lifetime at night.
More people are killed by donkeys annually than are killed in plane crashes.
All of the clocks in Pulp Fiction are stuck on 4:20.
The average ear of corn has eight hundred kernels arranged in sixteen rows.
Smartphone Dating Trends
So morons, where do y'all fall into this debate? Android Users Bathroom and Bedroom Secrets Revealed.

The survey, of people who are currently single, found 62% of Android users have slept with someone on the first date, compared with 57% for iPhones and 48% for BlackBerry. There's no figure for Windows, but then again if you set your heart on a Windows Phone 7 handset, you're probably used to delayed gratification.

Of the respondents, Android users were also most likely to have had a one night stand. It may well be that the smartphone is a correlation red herring: Android users are also most likely by some distance (72% compared with 58% for iPhone and 50% for Blackberry) to have used an online dating site, which could be a better indication of sealing the deal on day one.

Meanwhile another survey suggests Android users are most likely (87%) to have used their smartphone while on the toilet, with BlackBerry (84%) a solid number two and iPhone coming last at 77%. That may well back-up a recent British study that found 92% people had some form of bacteria on their phones, with 16% of handsets harboring E.coli.
Drinkin' News
OK, first the good news. Secrets Of Red Wine Chemical Discovered. And now the bad news. Well not really bad news as long as you don't mind a lot drinking. You'll need to drink 600 bottles of wine to begin to notice any health benefits. Just for you morons, 600 bottles translates to 150 boxes of wine.

Doggeh Loves Ping Pong
Free Legal Advice
Alright 'ettes, don't try this one when you get pulled over. Woman Says Her 'Big Breasts' Hindered Her DUI Test Performance. Uh-uh. Right.

When another deputy said they were going to perform roadside tasks, Raymond told the deputy he "needed to understand that she is big chested," saying big bosoms make balancing difficult. Asked if she had any injuries, Raymond said she had big breasts and whiplash.

During one test she started to dance.

"I asked her if she wanted to attempt the task and she stated if I hold her hand," an affidavit states. "I asked her again if she would like to attempt the task and she stated not really because she has big breasts."

The deputy told her to keep her hands by her side and "she stated hell no not with these. Telling me again she can't do it, not with her big boobies."

The affidavit did not specify a size for Raymond's breasts or even give a ballpark estimate.

The deputy later stopped her when she started taking off her clothes to display her bosoms.
Speaking of legal stuff, this is The Best Letter Evah Written To A Lawyer.
Gun Pron
WTF?
Just what the hell IS in the water in Minnesota? School Playground 'Rape Tag' Raises Concern.

Freeze tag during recess seldom raises eyebrows, but a variation of the game known as "rape tag" among students at a Minnesota elementary school has alarmed administrators and parents.

Principal Bill Sprung of Washington Elementary School in New Ulm sent a letter home this week to parents to alert them to the disturbing game, which was described as similar to freeze tag, "except that a person had to be humped to be unfrozen," the letter states.
Drunken Sailor
My, my. The standards in the Navy have fallen. I've had my fair share of drunken escapades (many of which remain highly classified) but nothing comes close to being this pathethic. Drunken Sailor Opens Wrong Door. Jeez. An 80 year old woman?
h/t Genghis

Tonight's ONT brought to you by one lucky bastard named Bill Murray:
Notice: Posted by permission of AceCorp LLC. Please e-mail overnight open thread tips to maet or CDR M. Otherwise send tips to Ace.
PUT TEXT YOU WISH TO USE AS VISIBLE LINKING-LANGUAGE HERE
&topic=world_news">

posted by CDR M at
10:00 PM
|
Access Comments