« Liveblogging the SOTU Campaign Speech
|
Main
|
Obama's Rerun SOTU »
January 24, 2012
Overnight Open Thread
The drugs.....I think......they're working.&lt/shatner&gt
Great Geek Debates: Disney Princesses vs. Hayao Miyazaki Characters
My 5-year-old is just now finishing her education about the difference between real and pretend. Kindergarten seems to help. I cringe when she plays dress-up and pretends to be one of the princesses from the Disney canon. It just creeps me out, like I am watching my child pretend to play Britney or Lindsey or their apprentice Miley, all three of which got their start as child stars with Disney.

Which is why I am grateful my geek instincts led me to be a somewhat early adopter of Hayao Miyazaki and Studio Ghibli anime. I have been hooked since I first saw Spirited Away, and I have found his work to provide a needed vaccine for my girls against the creeping illness of princess-itis.

And Wecks makes an excellent point in noting that Disney princesses are mostly just archetypes who react to others while Miyazaki's female characters are generally full-fledged persons with their own motivations and desires.

One of the major reasons Disney princesses are so effective as marketing vehicles for children is they distill what it means to be a girl or boy down to a highly simplified formula easy for young children to grasp. Put on a princess dress and I am a girl. Wear a sword, I am a boy. Such stereotyping works really well for a 3- to 6-year-old mind which is just beginning to grapple with gender differences and their consequences. As effective as these stereotypes can be at selling princess products to young girls, these oversimplified notions of gender become problematic when you examine what a princess does.
In contrast, Miyazaki's female leads offer a far more complex picture of what it means to be a person. They often have agency outside of their relationships to men. In Spirited Away, 10-year-old Chihiro risks her own safety to save her parents. The romance in the plot is tangential and works alongside this mission, rather than being a central focus of her life. This is true for many Miyazaki films, from Castle in the Sky to A Whisper of the Heart, which Miyazaki wrote but did not direct.
To me it's telling that most Disney princess stories fail the
Bechdel Test
while Studio Ghibli stories do not. You don't have to be a feminist to appreciate well developed characters with their own independent story arcs.

Shocker: #Occupier Stories of Being Unfairly Foreclosed On Are Mostly Bullshit
And the press is decidedly uninterested in doing even the most rudimentary journalism to check out their stories.

The reality behind the often reported story of an ACORN member who is part of the San Francisco Occupy movement is far more complex than the mainstream press has told the public. Donna Vieira, a frequent spokesman for the 99% who tells the heartrending tale of having her home foreclosed on, is actually referring to a second home in another state that she and her husband paid nearly $750,000 for. It's an example of how the press has been negligent in doing even basic checks to get to the reality behind the media myths of the Occupy movement and how a disparate group of people with their own agendas have glommed onto the Movement.
So the bottom line is that the Vieiras bought a second home in Reno for $750K at the height of the housing bubble. And when its value dropped they chose to stop paying the mortgage and are trying to stick the bank (and us) with the loss. Meanwhile they still live in their very nice first house and send their daughter to a private school. Cause they're all being oppressed by the 1%.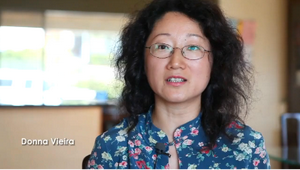 The Real Iron Lady
Don't let her only be remembered through a movie made by liberals who despise her and everything she stood for. This is the real Iron Lady.

NYPD Developing Portable Body Scanner To Detect Guns and Knives

That's why the New York Police Department teamed up with the United States Department of Defense three years ago, and began developing a portable scanner that can remotely detect the presence of a gun on a person's body. The NYPD announced the project yesterday.

The device uses infrared light rays to image radiation being emitted by a person's body. Wherever a solid metal object such as a gun is blocking those rays from reaching the body, a silhouette of that object will appear on the scanner's screen.
Well it sounds great for certain situations but also a bit intrusive and 1984ish too - especially in the hands a Mayor Bloomberg. But if you read the article carefully, it's really just thermal imaging and only has a range of a few feet at best so we're not quite at the Total Recall scanner stage. Yet.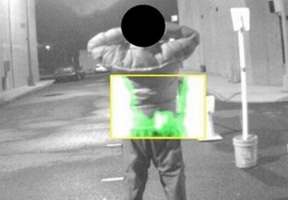 How to Make a Highlighter Stun Gun
I'm pretty sure that this is most definitely NOT TSA-approved. On the other hand there's a pretty good chance they won't be able to detect it, so maybe I should build and carry one just in case. And it probably won't show up on a body scanner either.

You Will Need

Materials:
A Highlighter
A disposable Kodak camera
One 300V 10uf-80uf capacitor (can be found at most electronics stores, or online here)
Rechargeable AA battery
Miscilanious wire
A temporary switch (can be found at most electronics stores, or taken out of most electronics—make sure they belong to you before you dismantle them, or found online here)
Two needles (sewing needles work fine)
Hot glue
Electrical tape

Tools:
Hot glue gun
Wire cutters
Soldering iron
Solder
Flux (unless you have flux-core solder)
Why I Don't Smoke
Because it's bad for my electronics and filters. Gotta stay healthy for the Alliance!

Teenager Sees Record For First Time
Here John Scalzi's 13-year-old daughter sees an LP record for the first time.

This is... This is... What? What?! This is huge! This is like ten CDs in one. How many songs does it have on it?
Ah the joys of being born in 1998 and then later discovering your parents were utter tech retards forced to work with analog stone knives and bearskin rugs.
The Yahoo AoSHQ group. You know the way.
Tonight's post brought to you by the power of ASCII: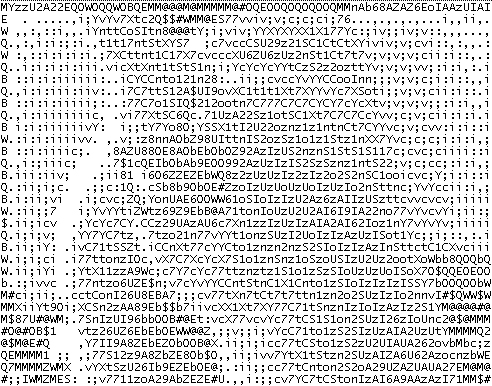 Notice: Posted by permission of AceCorp LLC. Please e-mail overnight open thread tips to maetenloch at gmail. Otherwise send tips to Ace.

posted by Maetenloch at
09:42 PM
|
Access Comments