« NFC Title Game, 49ers and Giants
|
Main
|
Top Headline Commetns 1-23-12 »
January 22, 2012
Overnight Open Thread
Well I'm back. But somewhere along the way I picked up a nasty cold. So I'm about 17% more retarded than usual at the moment. Adjust your ONT expectations accordingly.
Look Out Meggie Mac - There Is Another
Another contender that is for most ignorant offspring of a politician. The new retardette in town is daughter of Nancy, Christine Pelosi who is very, very concerned that corporations are allowed to buy ads and have free speech too:

On this second anniversary of Citizens United, the court decision equating corporations with people, American women must join together to combat its nefarious effects on our lives and ourt[sic] families. In the past two years, Citizens United has allowed corporations to flood the airwaves and the corridors of power with anti-women legislation restricting women's health, worker's rights, and voting rights. We must fight back.
Time to up your game Meghan.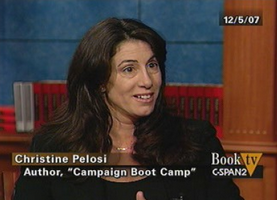 The Arrogance of Americans Calling Themselves Americans
Europeans love to point out that the US is not the only country in the Americas so why do we insist on calling ourselves Americans. But of course they're wrong.

The term is as absurd as "États-Unien" (FR: "United-statesian"), and I hear it more and more.

My simple retort to the pinheaded who argue to me that they have the right to define the terms by which we Americans describe ourselves is to enlighten a lower being and ask how many other nations that have the word "America" in their name.

In ignorance, the answer nearly without fail is "all of the nations in the Americas." I then ask them to name them.

The only nation other than the Unites States of America that has the word America in its' name isn't in the Americas: it's American Samoa.
16 Year Old Dutch Girl Sails Around the World
And had to fight her government to be allowed to do it.

Dutch teenager Laura Dekker finished her solo sailing journey around the world in good spirits, despite endless debate about the terms under which she is allowed to be at sea.

She completed her 518-day trek today after docking her yacht Guppy in St. Maarten, ending a yearlong expedition that supposedly made her the youngest person ever to sail alone around the globe, though her trip was interrupted at several points.

Ms Dekker, 16, faced several court cases from the time she announced her intentions to travel the world at the age of 14. She said government organisations tried to deter her from her journey, and because of that, she may not return home to the Netherlands.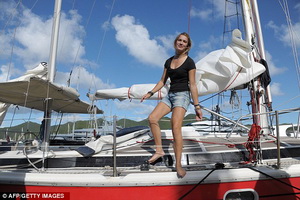 Bonnie And Clyde's Guns Go On Sale
And fetch $210,000 for Clyde's Thompson sub-machinegun and Bonnie's Winchester shotgun.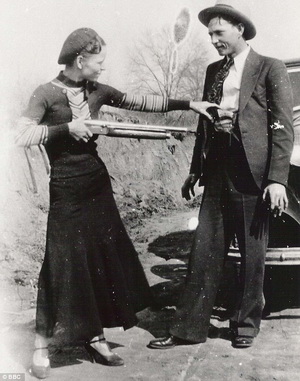 How Houston Handles Escaped Tigers
Who ya gonna call when there's a tiger on the roof?

The Beauty of Yosemite
A beautiful timelapse sequence from the park.

Five Wikipedia Games You Can Play

wikiAata is a puzzle and a guessing game rolled into one. Gameplay is based on simple rules – you are given a view of a starting Wikipedia article and an ending article. Your job is to go from the first to the last article using the hyperlinks in the articles. You have to reach the ultimate article using only the specified number of clicks allowed for the puzzle. You can use the tabs in the game to move back or view the ending article. You have to sign-in with your Google account. The points system is based on the time you take to finish the puzzle.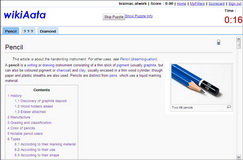 Weekly AoSHQ Commenter Standings
Top 10 commenters:
1 [639 comments] 'Vic' [89.71 posts/day]
2 [628 comments] 'CoolCzech'
3 [480 comments] 'soothsayer'
4 [334 comments] 'Robert'
5 [331 comments] 'Tammy al' Thor'
6 [329 comments] 'Niedermeyer's Dead Horse'
7 [327 comments] 'AllenG (Dedicated Tenther) says 'No' to RINO Romney'
8 [321 comments] 'ambrosia'
9 [297 comments] 'Entropy'
10 [279 comments] 'yankeefifth'
Top 10 sockpuppeteers:
1 [55 names] 'al-Cicero, Tea Party Jihadist' [7.72 unique names/day]
2 [52 names] 'Billy Bob, the guy who drinks in SC'
3 [49 names] 'kbdabear'
4 [46 names] 'CoolCzech'
5 [45 names] 'Captain Francesco Schettino'
6 [45 names] 'Meremortal'
7 [44 names] '18-1'
8 [31 names] 'The War Between the Undead States'
9 [30 names] 'bergerbilder'
10 [30 names] 'Far-Right RINO'
The group. Yeah.
Tonight's post brought to you by Clapton and Murray: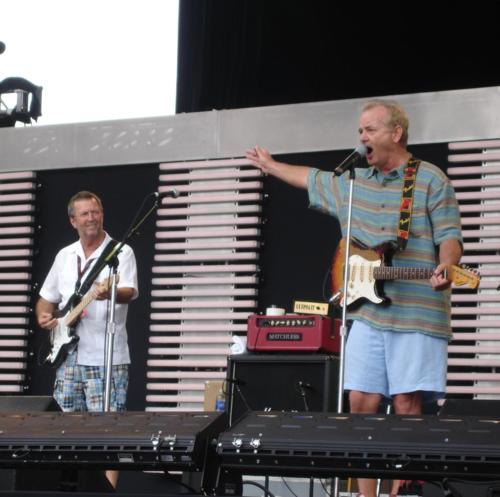 Notice: Posted by permission of AceCorp LLC. Please e-mail overnight open thread tips to maetenloch at gmail. Otherwise send tips to Ace.

posted by Maetenloch at
09:45 PM
|
Access Comments