« Reminder: Archer on at Ten on FX
|
Main
|
Top Headline Comments 1-20-12 »
January 19, 2012
Overnight Open Thread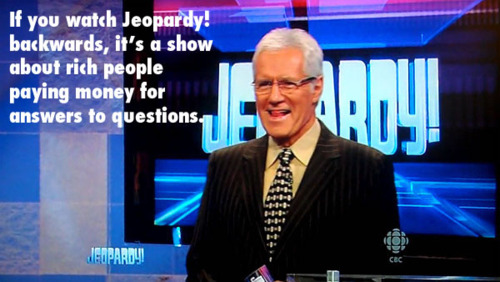 Ah, good evening morons. I'm filling in for Maet while he's off doing something somewhere. So get your tasty beverage and pull up a seat. It's time for the ONT.
Now, how many of you morons would've done the same damn thing as this guy? Jeopardy Contestant's Naughty Answer Sweeps The Web.

On Monday night's show, Jeopardy host Alex Trebek posed the question: 'A blow to the back of the neck is the punch named after this animal.'

A bespectacled and sweater-vested Mike immeditaely buzzed in: 'What is a donkey?' referring to a sexually graphic and violent act rather than the correct answer, 'What is a rabbit?' which refers to a punch often used in boxing.

Trebek tried to stifle his giggles as a stunned audience sat in silence until another contestant buzzed in with the right answer.
Video of this moment below the fold.

The Science Of Farting
Wow. In Space, No One Can Hear You Drop An Air Biscuit. They really did cover all the bases back then in the early stages of space exploration.

Humans produce two flammable gases: hydrogen and methane. Flammable gases accumulate in an enclosed space and can ignite. Astronauts are humans who spend lots of time in enclosed space. The logic is irrefutable. So, what's the risk to farting astronauts?
Female Soldiers From Around The World
It Is Not Wise To Upset The Ginger Mafia
I had no idea that gingers had their own protest going on. Redheads Get Tired Of Bias, Stereotypes.

Patti Stanger, host of "The Millionaire Matchmaker," is making carrot-tops see red.

Stanger, who has often criticized redheads on the Bravo reality show that sets up rich men with comely women, is the target of a new Facebook protest campaign cheekily called "We Are the 2 Percent." "Redhead discrimination is overlooked, laughed at, and swept under the rug," writes campaign instigator Erin Roche. It's an "accepted form of racism."
Classic War Plane Pron
I absolutely love classic war planes. Here's the P-51 at Flying Legends 2011.
Iranian BS Of The Day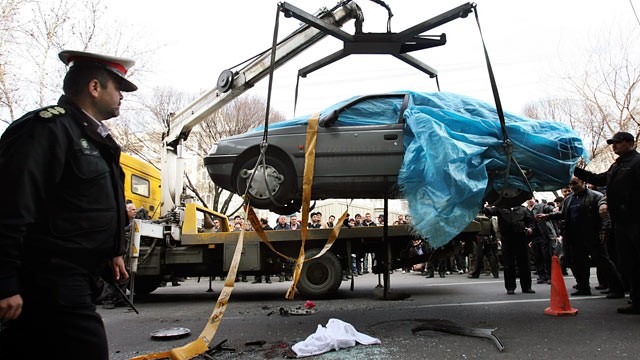 Um right. After Nuke Scientist Blowed Up, Iranian Students Switch Majors To Nuclear Sciences. Sure they did. At gun point. But even if true, Mossad is gonna need a lot more explosives. Or just blow up the school and make it look like Hamas did it. I'm sure that's what Jack Bauer would do.
Dumb Criminals
Probably not the thing you want to brag about in jail with Bubba. Couple Caught After Trying To Blow Up Car With Flaming Tampons. Jackasses.
Be On The Lookout
Be careful out there when you are surfing the interwebs in public or gettin' some cold cash out of the ATM. Guerrilla Shoulder Surfing is becoming a problem so check your six before puttin' in your pin or password.
Tonight's ONT brought to you by:
Notice: Posted by permission of AceCorp LLC. Please e-mail overnight open thread tips to maet or CDR M. Otherwise send tips to Ace.
PUT TEXT YOU WISH TO USE AS VISIBLE LINKING-LANGUAGE HERE
&topic=world_news">

posted by CDR M at
10:00 PM
|
Access Comments